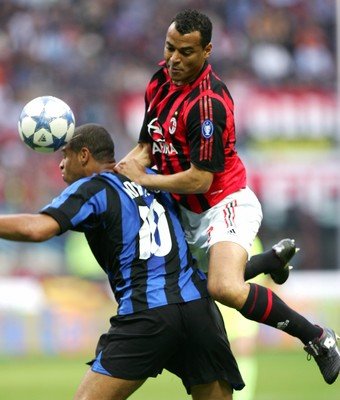 ShareThis
This week, Burdastyle lives la maschile vita.
FUTBOL
; Food and fashion may be Italy's most successful exports, but the two truest Italian passions are soccer and scandal. For futbol the natives are genuinely mad, crazy for the national team that won last year's World Cup with a head-butt, and crazier yet for their local league teams. Two of the most famous of these are Milan's long-dueling Inter and A.C. squads, and no trip to the city is really complete until you've watched one team or the other play San Siro stadium. Seeing them play each other is a dangerous game, however: Italy has had an uptick of English-style soccer hooliganism, with the rioting at one recent match resulting in the death of a cop trying to break up the crowd. Scandal! And doppe scandal now that the Italian Cabinet has voted to make many teams Milan's included play behind closed doors until their stadiums are up to security snuff. If the Italians seems a little down this fashion season, now you know why.
Playlist's Best of the Rest:
1. Fructodent. I have a stupid habit of going to Europe and shopping for drugstore products. This habit is stupid because either I waste a bunch of Euros on stuff I hate, or I wind up loving something I can't get my hands on back home. A long time ago, I fell in love with Fructodent, Italy's bizarro-toothpaste that comes in flavors like Lemon and Sage, Aniseed and Mint Chocolate. It's not that Fructodent tastes delicious, exactly, but every flavor is an adventure for your mouth. There's something less exciting about it now that Fructodent is finally available at CVS, but that said, it's still the most exciting toothpaste around.
2. The Best of Youth. There are many films that recommend themselves as paradigmatically Italian, and what with Criterion Collection's excellent new DVD release of Bicycle Thieves, it's tempting to go with Vittorio De Sica's spare, neorealist classic. The Best of Youth, however, is like a living encylopedia of recent Italian history, as seen through the eyes of one large and combustible family. Even cynics cryand not only in sadness, but also from joy.
3. Cambiofaccia. The three young designers behind Milan's Cambiofaccia perform updates both literal and visual on vintage furniture; known for tricking out décor destined for the dump, Cambiofaccia recently launched an original line of furniture that hews to its new-meets-old aesthetic.