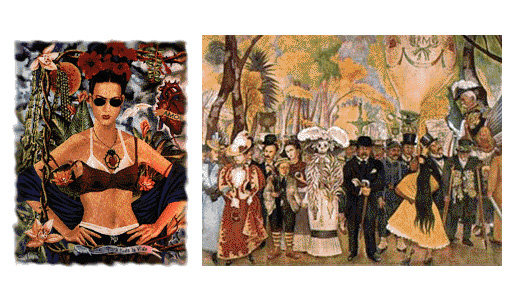 ShareThis
National Independence Day in Mexico, since this is not a history blog I won't go into any details on Mexico's Independence, nor about the celebrations itself what comes to my mind though is an "undercover" icon of Mexican culture: Frida Kahlo, Mexican painter (1907-1954). For a long time she was known mainly as wife of Diego Rivera, one of Mexico's most important Mexican artists thanks to his murals which cover some of the most important political buildings in Mexico City. Some may portray Frida as victim of her diseases, her husband and more general as victim of a chauvinist culture. Others see in her a feminist hero, a fighter, who conquered the agony of her life through her art and incredible will to live. Many of us know her style through her numerous self-portraits, and not least through the film "Frida" directed by and starring Salma Hayek. But hardly anyone knows and she herself might have never imagined it, or maybe she did? that the combination's of her folkloric costumes have turned her into a "fashion icon", inspiring not just individual women but the masters of Haute Couture, such as Jean Paul Gaultier.
But let's look at her style in a little bit more detail: Frida wears dresses inspired by different ethnic groups of Mexico. Two very basic types of dresses are the huipil, a basic rectangle of cloth, handwoven, with openings for the arms and a neckline, decorated with intricate embroidery. The other is the quechquemitl, a shawl type of thing which although in its essence really simple, leaves endless possibilities for variation.
The Museum of Arizona shows nice details of traditional designs of both, the huipil and the quechquemitl – maybe they'll inspire you to make your own Frida Kahlo collection.
P.S. Can you spot Frida in the painting by Diego Rivera?