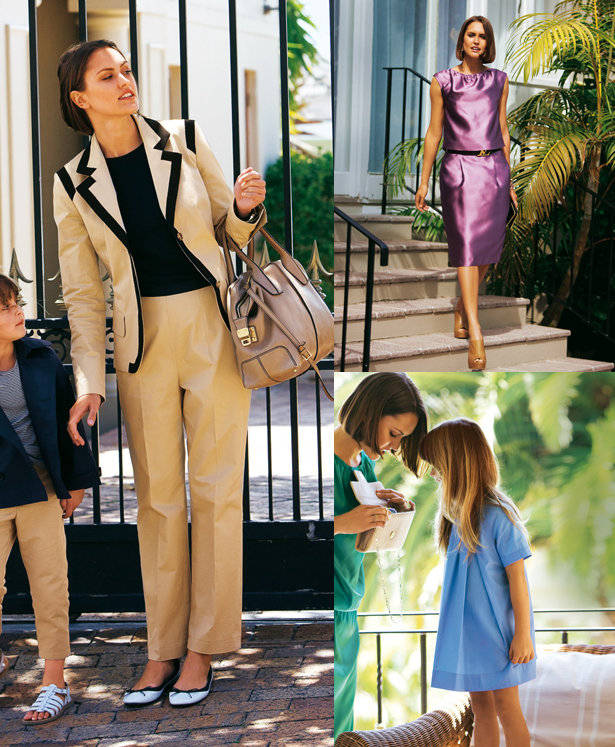 ShareThis
This big spring collection has designs for women, boys, and girls. You'll find casual dresses and tops, a pantsuit, and essentials for kids. These designs are from the April 2011 issue of BurdaStyle magazine.
The Pleated A Line Dress go-to pattern for little girl's dresses. The A line silhouette is classic and easy to wear, and dressed up with a few little pleats. Dress it up or down with lightweight poplin or a crisp satin.
Silk jersey drapes and flows in a breezy Batwing Shirt. This is a relaxed top for carefree spring afternoons. Wear it with something easy like leggings.
You can wear these slim Creased Slacks for any occasion. They aren't too tight or baggy, just a standard trouser that works with all your blouses and blazers.
Make the Pleated Sleeveless Top in all her favorite Easter egg colors. This airy pleated tunic zips up the back and has a fun A line cut.
Match these Suit Trousers perfectly to your suit jacket with a contrast ribbon waistband. They're not too tight or too wide, ideal for that important interview or client meeting. A neat blazer is enhanced with bold contrast trim at the lapels and shoulders. It's easy to build a professional suit by matching your blouse to the ribbon trim.
This Silk Blouse is sporty and elegant at the same time, with concealed buttons and a simple pointed collar. Make it in silk satin to tuck into your work pants and skirts, or sew it up in a light cotton for the summer.
Light up the room in a straight Satin Skirt. You can wear this one all day—- it has a little room to move with pleats and a walking vent, plus pockets to hold a few essentials. Make a fun spring suit with a matching top.
Every boy needs a basic pair of slim cut Trousers. These are slightly cropped so he can show off cool sneakers, or just keep his hems out of the mud. The Sailor Jacket has all the style of a peacoat, lightened up for summer! This detailed jacket has pockets, buttoned cuffs, and a high collar for a polished warm weather look.
This Drawstring Jacket has more detail than meets the eye. The pleated high collar is unexpected, pockets are hidden at the waist, and drawstrings and elastic tighten the sleeves and waistline.
Show your sophisticated side in this suede sheath dress with a split V neckline. It's fitted at your natural waist to flatter your figure with hidden pockets at the hip.
White Bootcut Pants are so chic and summery. Wear them with anything and you're ready for spring! This pair has a bootcut shape that works perfectly with summer heels.
Need something to match? You can make the Gathered Neck Top in an afternoon! The gathered neckline is easy to sew and has big impact, especially in a silk with some body.
This A Line Skirt has plenty of volume so you can twirl and dance those spring afternoons away. Satin with some body works for parties, or try a floral for a retro look.
It doesn't get any simpler for spring than a tank dress with an elastic drop waist and pockets. Jewel toned satin dresses up the loose silhouette.
The girly girl in your life will love this twirly, Flouncy Skirt. Generous pleats are so cute and make the skirt easy to move in, and she can help pick out a ribbon for the waistband.
This is the collection for spring get togethers and Easter egg hunts. Satin shines in pastel colors, but you can always make these pieces more casual in a floral print!
Happy sewing!