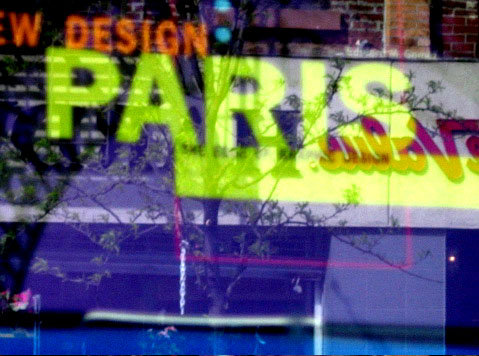 ShareThis
This week, BurdaStyle celebrates Parisian perversity.
Jean Luc Godard once said that all you need to make a movie is a girl and a gun. Not true: You need a camera. Anyway, I've been thinking about Godard's bon mot as I've been thinking about Paris, and about fashion, and I've decided that the girl + gun equation is really primary when it comes to understanding the City of Lights.
I've gotten ahead of myself.
I watched Marie Antoinette again the other night, and so along with Godard I've been thinking about Versailles. Really, after "let them eat cake," the reign of terror, etc., you'd think the Republique would have evolved in the direction of the unwashed masses. But in Paris, at least, Versailles lives on: The correct way to tie a scarf; a baguette's appropriate crust-to-fluff ratio; the Academie Francaise. It's hard to divine the essential French, because the essentially French thing is to cultivate, codify, aestheticize; to put some distance, in short, between ourselves and our own beastliness. I imagine the Jacobins trying to scrub off all that lacquered gentility, head by head by head, only to discover after all the blood that there was nothing there below the polish. I digress.
Another thing about the French: I'm fascinated by the phenomenon of the jolie-laide, literal translation "ugly-pretty." Jeanne Moreau; Anouk Aimee; Charlotte Gainsbourg. This is really quite specifically French: I can't think of another society that's developed a cult of sex appeal around unconventional beauty. It's no wonder Sofia Coppola landed there, shacked up with her pop star cum aristocrat: Here in the United States, after all, we tend to venerate the jolie-blah, a different kind of not-quite-pretty. (See: Mandy Moore, Jennifer Aniston, the whole "girl next door" category of actress.) The weird thing about Sarah Jessica Parker is that she almostalmostqualifies as an American jolie-laide, except that her persona is totally jolie-blah. That's why SJP was such perfect casting as Carrie Bradshawbeing both unprepossessing and apple pie made an otherwise repugnant character charming and relatable. She's just like us! That's the American thing; the French thing is mystique. J'en sais quoi. ButI digress.
Only sort of, though. Because the mystique beloved of the French, I surmise, goes back to Godard and it goes back to Versailles and it goes back to the jolie-laide. All of it revolves around this tricky negotiation between beauty and riskthe girl, beauty, the gun, risk; jolie, beauty, laide, risk. Some of the most flawlessly breathtaking actresses of all time have hailed from France, but it seems the favorite hobby of most French directors to give those mannequins tragedies or perversions that make them not relatable, cf. Carrie Bradshaw, but dangerous. That's mystiquewondering whether that woman with the perfectly knotted scarf, the one taking daggered steps down the boulevard with her bag of apples from Fauchon, would try to seduce you, or do you in with her Hermes, her stilettos, or her poison fruit. Kinky.
And watching Marie Antoinette it occurred to me that the decadence of the place generated less from a desire for luxuryI mean, enough's enough for anyone after a whilethan from the royals' ambition to keep topping themselves with ever more outré refinements. See the movie for yourself: The hair and the pastries just keep getting taller. Which brings me back to fashion, this being Paris Fashion Week and all. It's on the runways that the legacy of Versailles makes itself most explicit: The designers who succeed in Paris aim for styles ever more outré, and sewing ever more refined. Much fashion in Paris, the center of the known universe as far as these things go, can be summed up by the list of designers who, season in and season out, embrace and elaborate some beautiful and risky idea, one that looks a little jolie-laide at first. Historically: Mme. Gres, Coco Chanel, Christian Dior, Yves Saint Laurent, Cristobal Balanciaga, Thierry Mugler, Azzedine Alaia. Currently: Azzedine Alaia, Jean-Paul Gaultier, John Galliano, Karl Lagerfeld, Alexander McQueen, Alber Elbaz, Hussein Chalayan, Nicolas Ghesquiere, Stefano Pilati, Marc Jacobs at Vuitton, and now Olivier Theyskens, reemerging at Nina Ricci after the Rochas implosion. They're all girls with guns, in a way. And the joy of Paris Fashion Week is waiting in suspense for them to hit the unknown target.