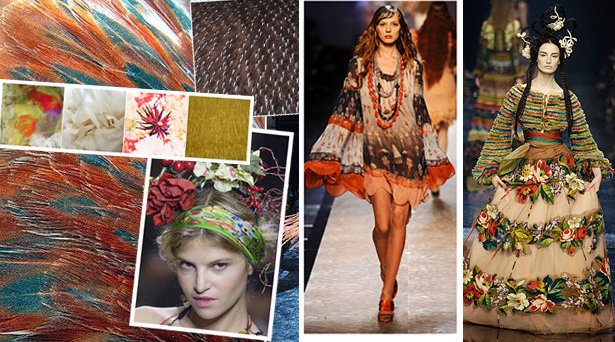 ShareThis
Are you a fan of handiwork: crochet, embroidery, beading? Do you love bright Liberty of London prints? Folk Art has had a stunning influence on fashion for centuries. Read more to see how you can incorporate some color and fun into your own wardrobe!
The Jean Paul Gaultier Fall 2005 Couture Show displays folk art's influence on fashion design with inspiration ranging from Russian decorative trimming to velvet rich with embellishment. The following images are from the above mentioned collection.




The Look: Bold and beautiful floral printed fabric can create a rich folk art look. Gaultier, Kenzo, Prada and Erdem all use graphic floral prints in their stunning collections.




Try Mixing Silks: My favorite fabric on the planet is silk. I think the process of fabric production is amazing, and if you're against the idea of interrupting silk worms' natural life cycles, raw silk (which does not harm silk worm cocoons) is just as luxurious, strong and supple as pure silk. Printed silk organza, white layers of tulle, printed silk charmeuse, metallic silk.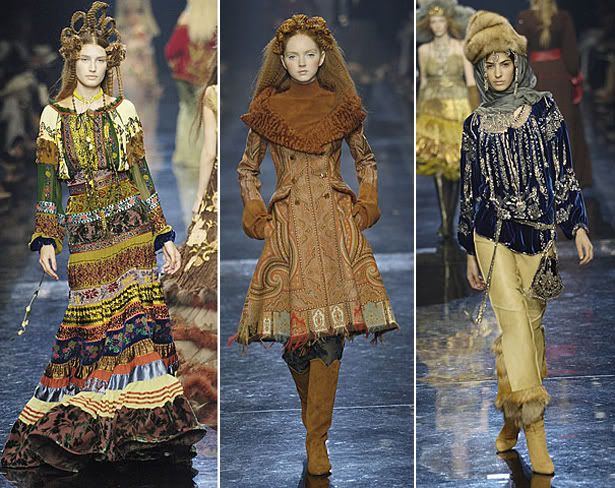 The Look: Petticoat style peasant skirts make for a folkloric silhouette when you mix and match various colored gingham and bright prints. Damask and brocade (or upholstery fabrics with the hem left raw unravel the many color of the weave). Mix velvet with metallic or colorful trimmings. Try to find vintage trim like the Russian examples below with bright colors and sew to the hem of your skirt while mixing bold colors and prints to make the look rich and fun.




Try Trim: Vintage Russian trim, colorful fabric tape or bold colors make the look pop. Don't be afraid of being too colorful.




The Look: Feathers (you can find inexpensive synthetic or take a plunge and source some real ones) to embellish the sleeve openings and hems of skirts and dresses. A simple feather in the hair can emulate this look without going over board.





Try Feathers: Blue tipped feathers, carbonated chicken feathers, ostrich feathers.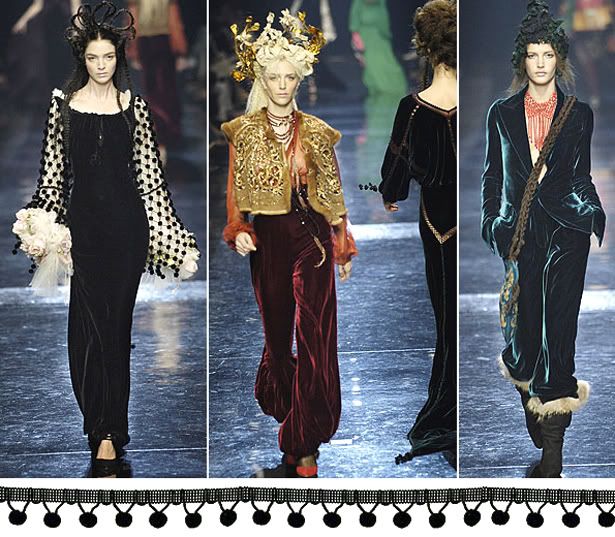 The Look: Velvet in deep gem tones create a rich, regal look. Try adding a simple ball trim to a scarf, hemline or neckline to get the look.





Try Velvet: A woven tufted fabric in which the cut threads are evenly distributed, with a short dense pile, giving it a distinct feel. A common type of upholstery is cut velvet, which has a pattern cut out from around uncut loops of pile. Crushing the velvet pile can produce two additional types of velvet, crushed velvet and panné velvet. From left: Burn out velvet, crushed velvet, silk velvet, printed velvet.