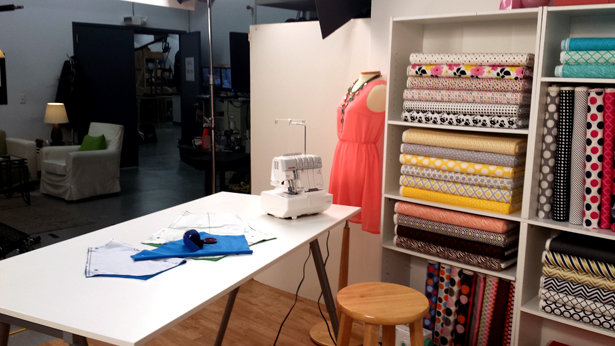 ShareThis
As you may know, about a month ago our subscription BurdaStyle Video Site launched, and I could not be more excited about it! It is a great resource for everyone including beginner and advanced sewers. New videos are added to the site weekly, and you can preview all the videos you want. Recently Denise and I spent a week filming more videos in Cincinnati at F+W Studios to build the BurdaStyle Video archive. Check it out!
This time we had a whole week to film, so that meant we needed to plan for a lot of videos. We managed to film over 65 videos, everything from sewing, pattern making, tailoring techniques, and machine navigating. Check out the video site here.
Before we started filming, we needed to retouch the Burda set which meant we had to dig out our hammers and hang all the pictures back up. We also rearranged all the lovely fabrics we received from Camelot Fabrics on the shelves. I love the way the bright colors in the fabric brighten up our set! They also came in handy when we needed extra fabric for a video.
We also have Denise and I on our last day of filming (it went so fast). Denise was prepping fabric for a video, while I just finished filming "How to sew a ribbed neckline" and thought I would have a little fun with the sewing sample. The whole process was really exciting, I had a lot of fun coming up with neat videos ideas and then executing them on camera.
Here I had a little wardrobe malfunction at the start of day 2, but lucky my needle and thread were in reach so I could sew back on my button. Thanks Denise for capturing this moment, but luckily she didn't capture the moment were I spilt my coffee all over my fabric preps for the day (good thing we had a lot of extra fabric).
We said farewell to the hardworking F+W film crew, and packed up our Janome and Husqvarna sewing machines and sergers. It was a long week, but we managed to get through it with a lot of hard work, planning, and even more laughs.
Subscribe to our video site and check back weekly to see which new videos get added weekly! Also feel free to contact us with your video ideas that you would like to see.
Happy Sewing!
Meg