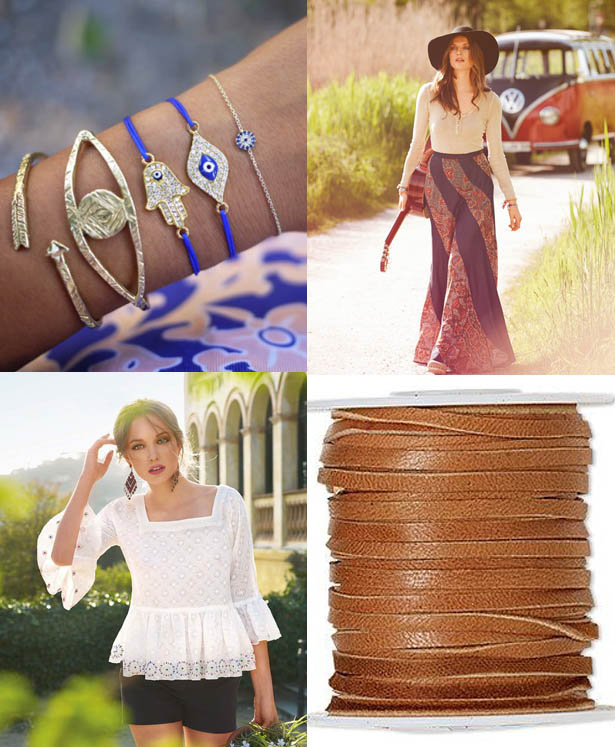 ShareThis
Try this quick and easy bracelet DIY for summer! It's a fun project to wear with all those summer outfits.
It's almost festival season! One of our favorite things about warmer weather is the start of outdoor concerts, farmers' markets, and music festivals. We spend so much time stitching and blogging at the Burda office that it's nice to cut loose with some sunshine and tunes. Simple DIY jewelry projects are just the thing to take with you on long afternoons at the park or beach. All you need to create these bracelets is leather or silk cord and a few stunning charms from Fire Mountain Gems.
We're starting this DIY series with the easy infinity charm bracelet. Made with one statement charm and leather or silk cord, these are dainty pieces you can mix and match with all your other bracelets. Start a whole stack of summer accessories!
You'll Need:
silver charms, like these from Fire Mountain Gems
suede or silk cord
Instructions:
TK, we will photograph all steps to create these DIY charm bracelets.
Pair your new bracelets with some comfy cute bohemian patterns. The Embroidered Peasant Top gives instant folksy appeal to a pair of cutoffs. We also love pairing a worn in tee shirt with a pretty bohemian skirt. Try the Swirl Skirt with sneakers or sandals for a casual outfit.
Happy crafting!