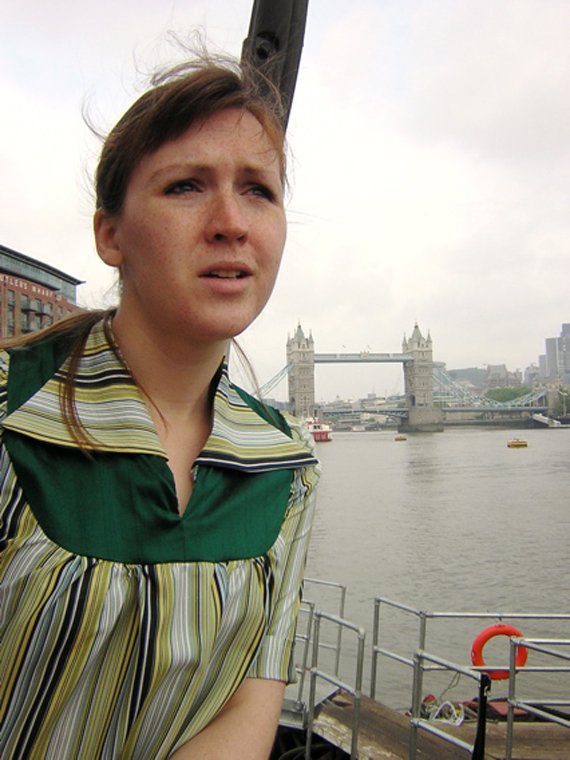 ShareThis
We would like to introduce to you a new blog category: Featured Member! Many members of the site have been very active and supportive, and we think they should be in the spotlight. We prepared a set of questions that will be posed to the respective user.
Today we are featuring Melissa Fehr, known to the sewing community as Squirrellypoo.
What was the 1st thing you made? How did you start sewing?
Like most people, my first sewing experience was in Home Ec class at school. As part of the curriculum we did a "sewing machine driver's test" where we had to trace progressively curvier lines on an unthreaded machine and got points deducted for any needle punctures not on theline! My mother always had an ancient 70s green Kenmore sewing machine while I was growing up but I didn't really get interested in sewing until I moved abroad and my sister-in-law gave me her old machine when she upgraded. So even though I made the odd (very poorly made and often misguided) item on my mother's machine when I was younger, I count as my first item a kelly green A-line skirt with a white satin ribbon trim since it was the first thing I made myself on my own machine. I wore it every summer right up until last year, when I lost to much weight for it to stay on my hips!
What role does sewing play in your life?
Sewing is my main hobby, and my #1 way to relax in the evenings. I used to be very artistic when I was younger, but lost the knack for drawing when I was at university and too busy to practice much, so sewing is also my main creative outlet. Where others might sit in front of the tv or surf the internet in the evenings, I'm usually in my sewing room,
sewing a seam or two or pressing a few pieces or tracing out the patterns for my next project. I've always got at least one project on the go, and I'm always thinking about three projects in advance, so by the time I actually get to sewing something up, I've already been thinking about it and planning it in my head for a few weeks!
What is your favorite and what is your least favorite thing about sewing?
My absolute favourite part is the first time I get to try on the garment I'm making, even though it means getting stuck with pins, as I can actually see how it's going to work on my body as the finished product. I love my dressmaker's dummy, but there's just something about seeing it on yourself for the first time that makes it that much closer to reality.
My least favourite part is any hand-sewn hem! I'm far too impatient to sew at a handstitched pace and the hem is usually the last part of a garment. By that point, the hem just seems like an afterthought that needs doing in order to officially move it into my wardrobe!
If you could make something for anyone who would it be and what would you make?
Last year I actually fulfilled two long-term sewing dreams – I made a full Santa costume for my father, who looks so much like Santa Claus anyway (big belly, white beard, belly laugh, and big red nose!) that on Christmas Eve he fooled my young nice and nephew for about twenty minutes in the costume! My other accomplishment was making the dress of her dreams for a very good friend's 30th birthday. She chose a pattern and the fabric and was involved at every step and looked absolutely stunning at her big party. She'd done so much for me over the years that it was really fulfilling to do something so nice for her.
So right now I'm still so thrilled with both of those that I haven't got any huge aspirations beyond my smaller upcoming plans for myself!
What are you looking for on our site? What do you think should be improved and what do you really like?
I really love the whole concept of BurdaStyle, that it's moving sewing into something that can be hacked and adopted into something that's completely yours, instead of being rigidly implemented by a few select companies and must be done a the set way. You don't even need to go out and buy a pattern, you can do it all at home no matter where in the world you are and have something fabulous you can share with others. I love seeing creations that others have made which made me look at patterns in a new way – ones I didn't consider before are suddenly coming alive in my mind as my next project!
I'm really pleased to hear you're bringing my suggestion of a fabric-amount-to-pattern calculator into the next phase of the site! That's something I've always wanted, as I tend to overbuy fabric and I'm often left with odd amounts that are too big to throw away but too small for most patterns. So having a way to plug in a measurement and be told what I could make with that amount is really exciting!
You can find out more about Melissa in her blog Fehr Trade and here you can have a glimpse into her sewing room!