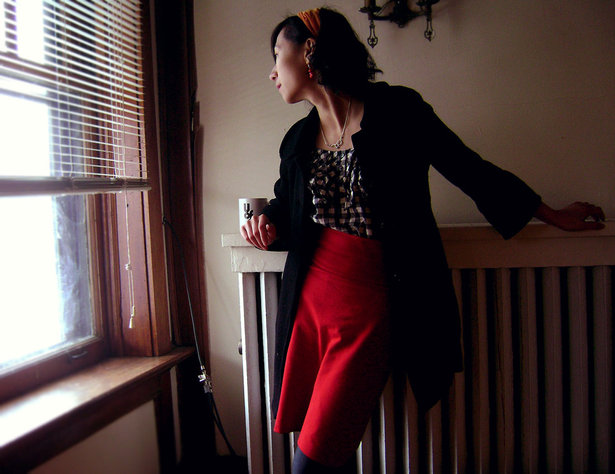 ShareThis
1. Where are you from and/or where do you live?
I am from Anhui, China, but have been in the states for very many years now. Currently, I live in Chicago where I am a Biochemistry student at the University of Chicago.
2. How did you start sewing?
My mother taught me how to sew when I was a little girl because I was very careless and my clothes always needed lots of fixing. It wasn't until college when I became involved with the student fashion organization that I began to sew clothing. I have been designing for our quarterly fashion shows ever since and many of the projects in my studio are from these collections. My favorite one is the Grey Reverse Dress; it marks a point in time when I had finally grown into a steady design aesthetic. The construction of it is also one of my favorites since I have very limited fabric and had to consider some clever topologies.
3. Try to describe your personal style in 5 words or less!
Bright, unconventional, minimal
4. Do you have a style icon who inspires your sewing projects? Where do you go to get inspired?
One of my biggest inspirations is motion. To me, movement is the difference between something merely existing and taking on the sense of life. I am especially inspired by Elie Saab and Chris Benz because their designs always display strong visual movement and effortless fluidity. I also look at a lot of art work, particularly watercolor paintings as the pigment is a record of water motion. People watching is a favorite inspiration seeking activity of mine as well. It's always surprising how many interesting things you see on a busy city street: the traffic patterns, the way crowds of pedestrians cross streets without running into each other, the way people who walk together dress alike…it's all very creativity inducing!


Inspiration
5. What time of year do you find yourself most creative?
I have to say that I am most creative when I am very busy, which is rather unfortunate because it is then that I do not actually have the time to carry out all my ideas. I think it has something to do with my brain trying to make sense of too many things at once. Needless to say, I have a huge pile of projects I started last finals week.
6. Tell us about your sewing experience.
I mostly sew at the University's studio, but also at home hunched over a tiny Brother if I am too lazy to go. I am mostly a morning sewer, but since I only sew on the weekends and I wake up at noon frequently, I guess it would fair to correct that to afternoon sewer. When I sew, I don't do anything else—you could say that I go into a trance.
7. What is your dream sewing project?
I want to make the most spectacular couture gown when I get married—little mice stitches and all.
8. How long have you been a member of BurdaStyle?
I have been at BurdaStyle member since March 2010 and I visit pretty much everyday. I just love seeing the creativity of the whole community and all the incredible projects everyone makes. All of the patterns are very accessible and it's its just a very nice place to have non-judgmental conversation about sewing and fashion.
9. What is the most frustrating thing about sewing for you? What is the most rewarding?
I love conceptualizing garments, the cutting, the planning, the fabric picking. The construction is a little less rewarding because often times the sewing itself gets very tedious, but it's still very rewarding to see the garment take form. The most frustrating thing is finishing a garment. Maybe it's just the painter in me, but I find it incredibly difficult to stop working. There always seems to be some small detail I want to correct or some little embellishment I'm itching to add.
Check out seinde's Top Ten favorite member creations!