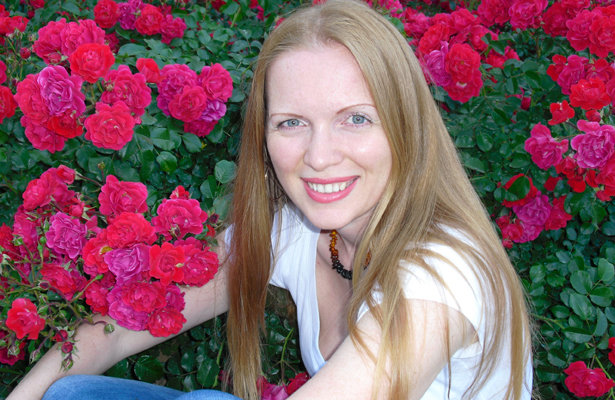 ShareThis
This week we share our interview with amazing BurdaStyle member Redsonia.
Where are you from and where do you live?
I was born in a small town of Biaroza that means "birch tree", as it is surrounded by a birch forest, in Western Belarus near the Polish border. Belarus, formerly the Belorussian Soviet Socialist Republic of the USSR, is a small country that borders the northeast part of Russia and Europe.
After graduating from Linguistic University I worked for one year in a private Language School in Poland, after which I moved to Germany where I lived in Dortmund and studied in Bochum University for about two years.

2006 was a great time that completely changed my life: I went to Turin, Italy as a volunteer for XX Winter Olympic Games and found there my love and a new job. Currently I live in a very beautiful place of the Northern Italy's Piedmont region, between the Maritime Alps and Ligurian Riviera, in the land of Barolo wine and truffles.



This is a view of the alps from my apartment in Italy.

How and/or why did you start sewing? Do you have any other hobbies besides sewing?
During my childhood I spent a lot of time with my grandmother who is a self-taught seamstress. My best toys were different pieces of fabric and fashion magazines of that time. I remember 1990's as a period of great crisis, we were receiving rationalized food portions and no good clothes were available. My classmates didn't want to walk along with me because I wore an old fashioned coat of my aunt. So, I actually started sewing out of necessity and also to express my personality. I took sewing classes offered by Professional Training Centre at my school and bought my first Burda Moden magazine in 1994. My first dress was a huge success: I was beaten heavily by older girls for standing out of the herd in a local disco club.



During university years I became a member of historical reconstruction club and sewed mostly medieval costumes. I sewed [this] red wool dress with golden stripes and blue dress with silver lilies with a Burda pattern from November 1994. There are about 200 lilies, each stitched over with zigzag.

My username is a nickname a friend came up with for me sustaining that I looked like Brigitte Nielsen in the film Red Sonia.

Besides sewing I am an avid language learner, I speak English, Italian, German, Polish and now I am studying French. My example in this field is Kato Lomb, a Hungarian polyglot who earned her living with 16 languages which she learned mostly by self-effort, as an autodidact. My other hobbies are cooking and reading.




Tell us about your sewing experience.
I feel that my strengths lie in organization and time management. I never start a project if I haven't finished the previous one. I carefully read the pattern instructions and buy all necessary notions beforehand. Having started sewing again after more that a 12 years break, I usually tend to choose simple projects, trying to learn step by step, increasing difficulty slowly with each piece of clothing. Inspired by BurdaStyle members I want my garment to be beautiful inside the same way as outside. This year I took a fashion design course in Turin Fashion Institute to learn pattern making and some advanced sewing techniques.



My crafting space used to be on the kitchen table, but since we moved from Turin I have my own sewing studio. It's the smallest room in the apartment (2.5 m per 4 m), I painted it white to give extra light reflection. I didn't purchased any special furniture, just recycled one that I had, the table is big enough to host my Janome sewing machine and Brother serger and the cupboard with glass doors is perfect for looking at all pretty fabric and have a visual control over the growing stash. I gave new life to the ironing board by sewing the perfect cover in bright IKEA fabric. I love how it feels to work here. The music is a must while working with fabric, my favorites are Rainbow, White Lion, Pink Floyd, Rush, Dire Straits and Magnum.

A lot of my inspiration for sewing ideas comes from the various blogs and sewing sites that I read in different languages. The web is so rich on talented and creative people.



My style icon has always been my mother.

What is your dream sewing project?
I am dreaming of sewing a luxuriously soft cashmere coat in a figure-flattering shape using the best tailoring techniques.



So far my greatest sewing achievement is my Electric Blue Coat, [made from the Two Tone Coat pattern.]

What is the most frustrating and most rewarding thing about sewing for you?
I find sewing is incredibly rewarding because it's so tangible. Today my wardrobe consists of 90% of unique handcrafted garments created by me and appropriate for everyday wear. I find it frustrating that my sewing machine no longer satisfies my growing need for creativity.

If you were to give a beginner one piece of sewing advice what would it be?
Do not be afraid to experiment. Sew, rip, sew again, give up, get back to it and start sewing with more enthusiasm. After all, you're not a surgeon who has no right for mistakes, your activity will harm no one, the maximum damage you can make is to stab yourself with a pin or ruin a fabric. And as for fabric you can always alter it to be something else.