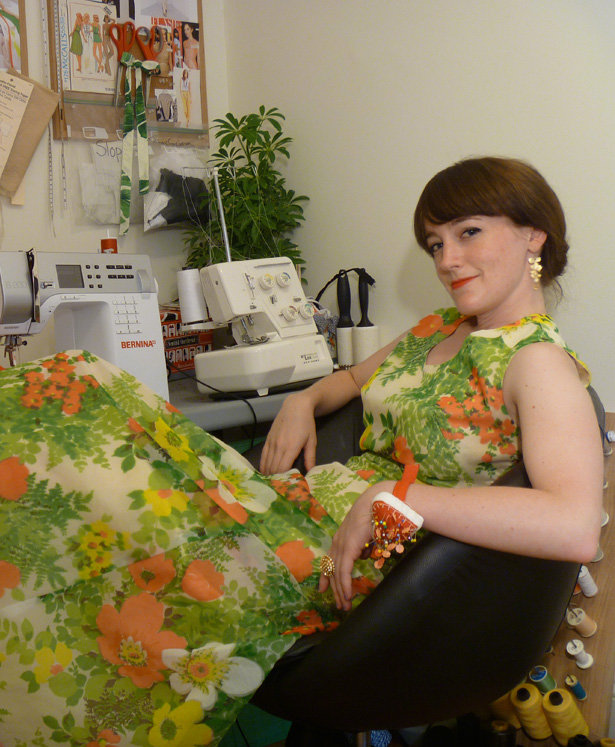 ShareThis
Meet Katy Patzel, our latest Featured Member! A scientist by day and stitcher by night, this trendsetter loves bright colors and prints. Read on to see her sewing life.
Where are you from originally, and where do you currently live?
I grew up in little old Salem, Oregon, back before Oregon and Portland in particular were so cool. That state really got hip after I left for college in California. I'm assuming my departure had nothing to do with the state's popularity. Now, I live in Boston. Go Red Sox!
What do you do besides sewing? Do you have a day job?
By day, I work as a research fellow studying a rare genetic disorder called Huntington's disease. You might have heard of it from the popular TV series House. In the evenings, I change identities and teach sewing classes at Grey's Fabric and Notions.
When I'm not sewing or working I enjoy cooking, thrifting, and traveling.

At Grey's Fabric and Notions
How and when did you start sewing?
I taught myself to sew in high school. This process produced quite a few gems along the way. I will forever regret throwing away my first pair of self made pants because they would be great for a laugh. Think paisley corduroy boot cut with side zip. Yikes! Crazy pants aside, it is simply amazing how much you can learn from pattern instructions!
Do you prefer to work from patterns, or draft your own?
I work primarily from patterns. However, more and more I make alterations to the original design. I am forever adding flies to pants or Frankenstein-ing patterns together.
How would you describe your personal style?
I would describe my style as current, bold, and a little playful.
Patzel's House Dress and Butterscotch Blazer with Wool Iris Shorts.
What's your sewing secret weapon?
Patience.
Who or what inspires you? Shop windows, magazines, vintage patterns…
I'm very inspired by people around me. I have a sewing blog with a close friend, Ashley Laney, and we are always bouncing ideas off one another or sending links to inspiration we find online. I also had the good fortune to stumble upon a wonderful group of ladies who sew together on Wednesday nights at Grey's. It is a great place to share tips, show off your recent make, or bring in sewing problems you don't know how to fix.
What has been your favorite project recently?
I just completed a pair of black peplum pants using a F/W 2013 Burda Young pattern. A lot of girls will be scared of this pattern because of volume on the hips, and I get that, but the pattern is genius, GENIUS! I've already worn them twice.
Blogging with member Alaney.
If you were to give a beginner one piece of advice, what would it be?
Just go for it! The best way to learn is sew. Sewing blogs and YouTube are a fabulous resource for sewing tutorials.
If you had all the fabric, money, and equipment at your fingertips, what would be your dream garment to sew?
Oh gosh, I don't know. I don't really feel like fabric, money, or equipment have gotten in the way of what I decide to sew. If money grew on trees I might buy a couple leather hides or hoard $40/yard fabric, but I don't think this is inhibiting me. Once you have a sewing machine you can make almost anything.
So true! And now, a few bonus questions…
What's your sewing soundtrack right now?
The album Sing to the Moon by Laura Mvula.
If you could choose a lifetime subscription to any fashion magazine, what would it be?
Um, Burdastyle! I covet patterns. I couldn't get my hands on a Burda Young magazine in the US so I bought one on a trip to Russia along with the past year of Burdastyle magazines. Basically, I will cross oceans for the perfect peplum pants pattern.
We love peplums, and we love our members!
To see more of Patzel's projects, click through her Burda studio or check out her new blog.