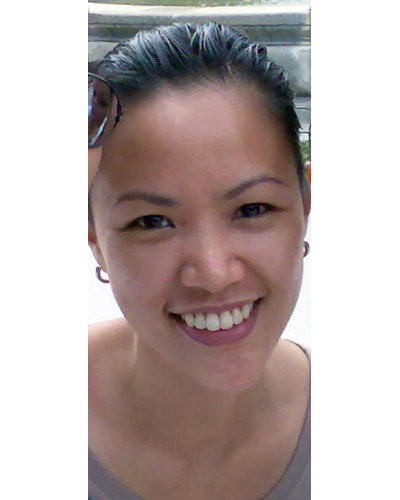 ShareThis
1. Where are you from and/or where do you live?
I'm from the Philippines. I live in Manila but I come from a small city called Baguio – the only area in our tropical country that reaches around 8˚C.
2. What was the 1st thing you made? How did you start sewing?
My mother got tired of me pestering her while she was sewing, tinkering with her stuff, asking her the where, what and why of all parts in the machine – that as soon as my legs were able to reach the pedal on our old singer machine I was taught how to sew. I started out with doll clothes and simple stuff for my "play" kitchen like place mats and small curtains. The first thing I made for myself was a tote bag for school. I advanced to alterations of hand-me-down clothes. I stopped sewing since I've been busy with work, but after a decade of office tasks, I got tired and decided to take a break. A month ago, I started a basic certification course in pattern and dressmaking.
3. What role does sewing play in your life?
Right now, it's what's keeping me busy. I'm an insomniac and this is what I do to make me sleep :) . It's turning into an obsession! I plan to take up fashion design. It's nerve wrecking to think that at this point in my life, I'm switching careers…but what the heck – 30 is the new 20 :) .
4. What is your least favorite and what is your favorite thing about sewing?
I don't like ripping/decontructing seams. This is the one thing I hate but can't do away with. I wish there's a way I could just zap the stitches off. I also don't like layouting the patterns on cloth because I get bored with endless pinning especially with very soft fabrics.
I love making, altering and merging patterns…and shopping for fabrics – I spend hours and hours mesmerized in rolls and rolls of textiles!!! I really don't like to iron clothes but right now, it's becoming a habit.
5. If you could make something for anyone who would it be and what would you make?
I would really want to make the perfect denims for me and people like me who have irregular waist to hips ratio (small waist big hips!) :) .
6. What are you looking for on our site? What do you think should be improved and what do you really like?
BurdaStyle is my caffeine website! It has been a part of my daily routine. Thank you editor for coming up with this baby!! I look forward to the following week when the new patterns are uploaded. I hope we could search for creations via category – like all dresses, tops, etc. Also if we could search for people within our area so we could get acquainted and meet :) .
If you want to find out more about Myk, check out her member profile. See shares her skills in a How To where you learn how to merge the Tara top with the dolman pattern. Check this out here.