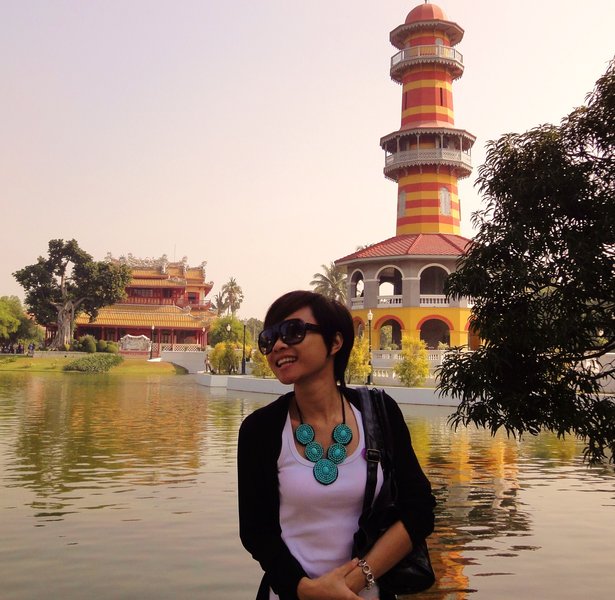 ShareThis
Where are you from and/or where do you live?
I'm from Subang Jaya, Malaysia. I have just graduated with a degree in Food Technology.
How did you start sewing?
I started sewing when I was rather young. I guess watching my mom working wonders with the machine got me to try it out too. I remember that I was always into making my own little projects. I think it started off with making pretty dresses for my Barbie with my mom. Then I moved on to my little pouches, pencil cases and little bags.
I only started sewing clothing for myself a few years back and I have been actively sewing ever since. I always had problems finding clothes that fit well as I'm really petite. And the imported commercial brands that carry petite lines are too expensive for me to splurge on! One day I thought " I could totally make that!", it was a simple smocked top and there I moved on to many weekly projects to fill my wardrobe!

Mcphoon styling some shades as a baby!
Describe your personal style in 5 words or less!
I will say chic, versatile, trendy and cute!

Printed Playsuit and One Sleeve Jersey Dress
Do you have a style icon who inspires your sewing projects? Where do you go to get inspired?
I don't have a particular style icon as I get inspiration everywhere, anywhere and anytime of the day! Sometimes inspiration comes most unexpectedly! However when I feel uninspired, checking out the newest trends and styles through tv, magazines and internet (BurdaStyle!) helps. I love to do window shopping too. That's where I get the idea of the current mass trends and looking at the workmanship does help in making a better draft and sewing skills too!
What time of year do you find yourself most creative?
Different times of the year are good time to be creative differently! For example, nearing Christmas and year-end, it's the best time to get creative with prom dresses, night gowns and Christmas dresses. That's when I get my whole year's load of creative ideas out for dresses! And its like all year round summer in Malaysia, so I whip out sun dresses all times of the year.

Peonies Toga Dress Detail and Cause I'm Just a Girl Next Door
What's your sewing experience like?
I don't listen to music all the time, but I sing most of the time! I like to sew in the afternoon. That's the time I feel most motivated to get to work after being inspired at night and drafting in the next morning, afternoon is time for execution!
What is your dream sewing project?
I wish I would be able to gather adequate skills and courage to make my own wedding dress!
How long have you been a member of BurdaStyle?
I stumbled upon Burdastyle about 3 years back. I have benefited from it with the techniques and patterns. It excites me like mad that I found there is a community who loves to sew just like me! And I have to say I learnt much from the tutorials and techniques posted and its very useful for me who is so new in sewing.
I love to visit to check out other member's projects and muses, I think I try to share projects as often as I update my blog , I love to share with other members what I have done and hopefully they get inspired that way =)
What is the most frustrating thing about sewing for you? What is the most rewarding?
The most frustrating has to be the mistakes done when I'm sewing. I hate unpicking those stitches and it's disheartening to see my fabric being punctured and resewn.
While the most rewarding has to be when a project turns out just like how you imagine or even better! It is the most uplifting and of coz it ecstatic when other people appreciate your creations too!

My Mini Collar is Cute Enough and See Me Through the Eyelets