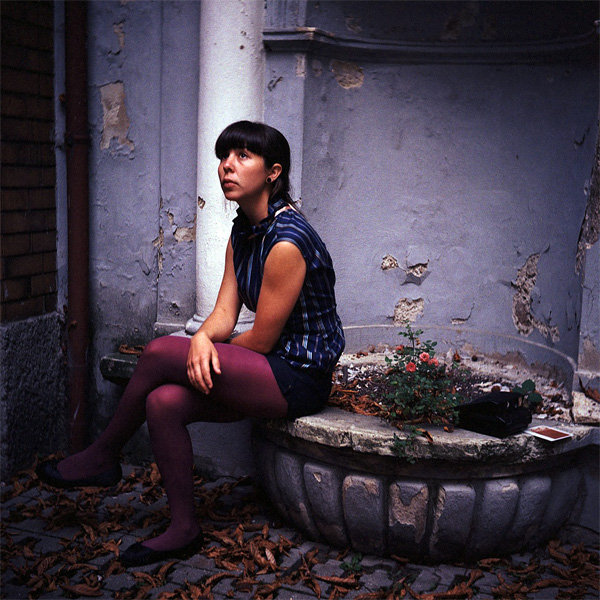 ShareThis
1. Where are you from and/or where do you live?
I am from one of the most isolated capital cities in the world Perth, Australia. Only since moving to the other side of the planet have I realised how isolated Perth is. I currently reside in Berlin.
2. What was the 1st thing you made? How did you start sewing?
When did I start sewing? I can not actually remember because I have always made things. I used to hand sew as I either did not have a sewing machine or my machine was broken. I probably made a bag or case of some sort. I started sewing because I didn't like the clothes at the store, all of the clothes that I do like, I can't afford, and I always need to be making something, whether it be knitting, sewing, cutting, designing, or crafting.
My favourite piece in my BurdaStyle studio is the Peppermint Jacket which I made to enter the "Fashion for a better-looking world' competition for the Australian Eco fashion mag 'Peppermint' (I came runner up.. woo!). I had finished making my Gran's curtains (I REALLY dislike making curtains, so I was glad when they were finished) and I really liked her old curtains So I decided to make a jacket out of them. Everything was running along smoothly. I made the jacket just in time for the competition and took photos of it. HOWEVER I learn a VERY valuable lesson. Aussie sun + curtains + 20 years = a problem. Only after wearing the jacket did I find this out. The fabric (in parts) was very brittle and ripped when pressure was applied. So my advice is to make sure that the fabric is wearable before creating a garment. I have repaired the jacket numerous times, and it is currently worn for Sunday brunches and afternoon teas.
3. What role does sewing play in your life?
The other day I was sitting on the floor, cutting out one of my patterns and my boyfriend looked at me and said, 'Do you every stop?' 'NEVER!' Perhaps sewing is a bit of an obsession for me. I wake up. Sew until it's time to go to work. Work. Come home. Sew again. Go to one of my after work commitments. Then sew again. Since starting my blog fickle sense I have found it even more impossible to stop. Maintaining a blog is a very good motivator as I try to complete outfits for self enforced deadlines. My boyfriend (a photographer) and I enjoy taking photos of the outfits in and around Berlin, or whatever town we happen to be in. Even when I am not sewing I have sewing on my mind, I can link everything back to sewing. For example when I go for a jog I often see how colours and shapes interact with one another and this will give me ideas for garments. I usually have to rush home to write it all down before I forget it.
4. What is your favorite and what is your least favorite thing about sewing?
I actually like the beginning (the designing/construction process/finding the perfect fabric) and end of the project. It is quite exciting when a garment works out like you had envisaged and you get to wear it. My least favourite part used to be cutting out patterns and then cutting out the fabric…. but since making my own patterns I don't seem to be cutting as much. My least favourite part now is finishing the garment off. Most of the time it takes longer then constructing the actual garment. So that can mean I don't wear a garment for a while, as it will be sitting there waiting for me to complete the finer details.


Mahaila's sewing studio in Berlin
5. If you could make something for anyone who would it be and what would you make?
My two loves are sewing and music. The crazy in me would love to create a garment/costume for one of my favourite female artists. e.g. Karen O, Bjork, Natasha Kahn, Kazu Makino, Alison Goldfrapp. A big part of their stage persona is dependent upon what they are wearing. This also has to fit in with the surroundings, the style of music, the venue, and their performance. I always look forward to seeing what they are wearing and would love to make a challenging and artistic garment.
6. What are you looking for on our site? What do you think should be improved and what do you really like?
I love the supportive community and really enjoy seeing peoples creations. I was looking back over some of the projects which were posted a few years ago and I can see how much peoples sewing has improved. The BurdaStyle studios give a good reference point relative to each sewers/designers progress. I also do not know too many people who sew, so it is nice to receive and give feedback to like minded people. In terms of what needs to be improved, I often have technical problems with the site, particularly when uploading photos. I often make an outfit which encompasses more then 1 item, however when uploading my outfit I must chose only one garment e.g. blouse or shorts but not both. It would be nice to see an option in the future which allows multiple choices for the garment type categories.
7. What is your motto?
I don't really have a motto as such… however through my professional background I have learned that there are many ways to create positive change. I believe that the current 'handmade' trend is a positive step forward and I hope that people continue to explore their individual style. Picking up a needle and thread opens up a lot of creative opportunities and is definitely good exercise for the brain!
Check out mahaila's top ten favorite member creations!