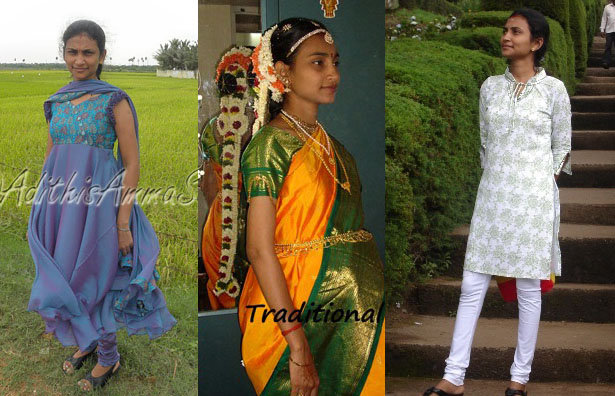 ShareThis
Where are you from and/or where do you live? What do you do other than sewing?
I am from Chennai, India. I was born and brought up here and have lived all my 31 years of live so far out here in this beautiful, traditional, conservative yet caring city of Chennai. I am a SAHM (ex-s/w engineer) who loves pampering her 4.5 year old little princess and an aspiring freelance fashion designer dreaming of launching own clothing line in near future!
If we were to come to your town, where would you take us?
I would love to take you to 'Parrys Corner', mecca for art and craft lovers here in Chennai, from fabrics, notions, stationery, knick-knacks, hardware, sewing machinery anything you name it from 'Pin' to 'Plane' you will get it there. Beautiful landmarks would be lots of temples out here from Kapaleeshwar to Ashtalakshmi, this town is famous for its Temples and its Filter Kaapi (Coffee!) so a visit to traditionall eateries commonly known as a ''Mess'' is also a must to grap your piping hot cuppa.

Luxihere baby pictures!
How did you start sewing?
My Aunt was a professional tailor. She conducted tailoring classes from her 30s until her early 50s. During my school days, I used to spend my summer holidays at her place and hence got interested in sewing. She taught me the basics and the nuances of sewing and is my friend, philosopher and guide, not just with sewing but for life. Sewing is therapy for me. It is a way of life. It signifies my existence. Gives me sheer thrill and pleasure to be able to dream of something and then live it up by sewing it.
Being featured in The BurdaStyle Sewing Handbook has to be the most noted sewing achievement so far. I'm eagerly looking forward to the release of the book, and recently also got a special mention in Dare to Design Contest through mail from Shabby Apple though my design did not make it to top 15.
Where do you go to get inspired?
I get my inspiration from what i see in everyday life, it could be a magazine, tv show, person next door, a flower, a clothes line waving in breeze, my daughter's antics and beautiful smile, it could just be anything that rings a bell to set my creative juices flowing.
Mood containing my muse, inspiration, lovely daughter, her smile, antics, mischief almost everything affects me and inspires me in its own way, I love nature and going on vacations, each vacation has left its mark in my designs, architecture sure inspires me to try different silhouettes, and last but not least my hubby has been a pillar of strength during testing times.
What's your sewing secret weapon? What trick or technique do your sewing projects always tend to include?
Secret Sewing weapon, oh if i were to share then it ceases to be a secret isn't it! LOL! Actually i don't have any such secret sewing weapon per say but I can't ofcourse do without the essential gizmos required for pattern drafting, cutting & sewing. Edge stitch the facing while turning them over, as this trick has taken my outfits from shabby necklines to sleek ones! Literally!
What's your sewing experience like?
I do like listening to music, mostly Indian both Classicial and filmi. Anything which soothes my mind or peps me up depending on my mood. I do sing to de-stress while i sew. I sew in the ''computer room'', that's how we call it. It has the laptop, sewing machine, my fabric stash cupboard and storage space for all my sewing books and accessories. Whenever I hear a bell ring in me to go ahead and sew, I just do, though I try to avoid listening to the bell at night, so as to not to disturb both people at home and neighbors through my sewing motor sound!
What is your dream sewing project?
Dream sewing project would be an exclusive wedding bridal Lehenga (Indian skirt, top worn, and shawl by the bride). I plan to do one for my sister and many years down the line for my daughter!
What is the most frustrating thing about sewing for you? What is the most rewarding?
Most frustrating thing is….. I guess … ripping about the seams using seam ripper
Most rewarding is of course to see and end result and be proud that you created it! Nothing can beat that feeling, the satisfaction, and the gratification!
Check out luxihere's top ten favorite member projects!