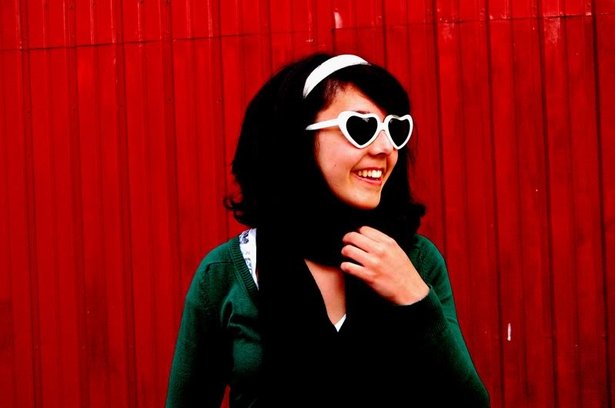 ShareThis
Where are you from and where do you live?
I live in Oviedo, a beautiful but boring city in Asturias, at the North of Spain. I've been living here my whole life. I am a nurse, and now I'm working in developing the software at the new hospital. I started sewing at the age of 14. I'd seen my mom and grandma making their own garments all my life and I become envious, so I took a piece of fabric and it turned out as a skirt.

Laurafm sporting some funky headwear at different ages
My favorite dress at the moment is Wah Wah Waves, I wear it anytime I can! Long story short about the fabric, when I showed up at the fabric store, the girl that works there had saved a few meters for me, because she knew I would love it!

The most recent looks from her studio. Clockwise: Wah wah waves, Let's go to the fields, Silver flowered dress, Psicodelic dress
Try to describe your personal style in 5 words or less!
Elegant and funny, always feminine.
Do you have a style icon who inspires your sewing projects? Where do you go to get inspired?
I always buy lots of fashion magazines, follow a huge amount of websites, but my great inspiration is my grandma's collection of vintage patterns (and the new ones I'm adding to it!). I DO love vintage fashion, 50's and 60's are my favorite period

Laurafm's inspiration collage
What time of year do you find yourself most creative? Why?
The inspiration comes in different moments, but when I have more work to do, or more to study, that's when I want to design and sew more. I guess that when I have more responsibilities, I want to forget them all by doing anything else. I love to spend time at home, choosing from my fabric collection and making my wardrobe bigger.
What's your sewing experience like?
My entire house is my sewing space! We have an antique sewing machine in the studio, and I have an electrical one and an overlock that I switch on wherever I can. We have three closets full of fabric and almost always, everything is a mess. This is my mom sewing (love this pic!)
What is your dream sewing project?
My dream sewing project is to develop my brand into a bigger one. To be able to make bigger collections and see people on the street wearing my creations.
How long have you been a member of BurdaStyle?
I'm a member since I found discovered BurdaStyle (a year ago, more or less). I love the site, some projects are really inspiring and I visit it everyday.
What is the most frustrating thing about sewing for you? What is the most rewarding?
The most frustrating thing is to make the patterns, I'm really bad at that, that's why I'm very into the vintage patterns, they only need few alterations!
The most rewarding is to be able to make the garment you'd like to own, but can't buy at the stores. I remember when a girl ran into me when I was going to college and told me, "that is the most wonderful skirt I've seen!" (I was about to cry).
See all of her feminine creations in her BurdaStyle studio
Check out Laurafm's Top Ten favorite member creations slide show
Laurafm's projects always have great photograhy. Here are some of her favorite photographers:
http://therainwillremain.blogspot.com
http://helenaexquis.blogspot.com
http://www.josefinaandres.com