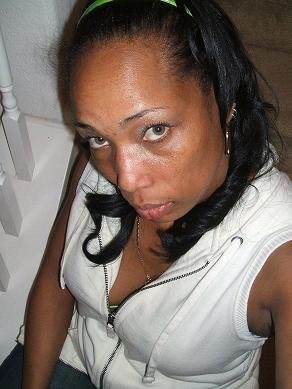 ShareThis
1. Where are you from and/or where do you live?
I was born and raised in Oakland, CA. I currently live in Richmond, CA with my grandmother, daughter and 2 female Yorkies.
2. What was the 1st thing you made? How did you start sewing?
I am not sure but I think it was a pair of YELLOW PANTS (hated them) that did not turn out so well when I was about 15 yrs old. My mother suggested that I sew so I could get more money for shoes for school.
3. What role does sewing play in your life?
It plays a valuable role for me because it relaxes me, allows me to be creative, people admire what I sew, and I make money at it. I can make gifts for people that no one else will have. I like being original. Also, it allows for me and my 16 yrs old daughter some bonding time.
4. What is your favorite and what is your least favorite thing about sewing?
My favorite thing I like about sewing is FABRIC. There are endless textures, colors, and prints. Also, I rather sew than do my homework (I am currently a Grad student at University of Phoenix). I like making clothes before I go to church or work (when I have a job). I like knowing if I need something to wear I can make it in a matter of hours.
My least favorite things about sewing are needles breaking during a project, using the seam ripper when I did something backwards, my machine does not have a sound for when the bobbin is empty, cutting out patterns, and finding that the garment does not fit on my Duct Tape Dress Form (I really need assistance with making one that is correct. My daughter and I have done it twice).
5. If you could make something for anyone who would it be and what would you make?
I would make God a pillow to rest His head on. Because He has blessed me and countless others with the talent of sewing that allows us to be creative.
6. What are you looking for on our site? What do you think should be improved and what do you really like?
When I come to burdastyle I am looking for patterns, ideas, and what is new. I think you should improve the emails that go to our personal address. I received an email from Burda that was in another language. I could not read the email. Editor's note: Oh no! We always send out mails in English – Please tell us if this happens write to answers@burdastyle.com
I really like that you offer Free Patterns and optional patterns to buy. Also, I like that Burda exist.
If you want to find out more about Katrena, check out her member profile!
And: We want to make our blog entries the most relevant to you. Please tell us in the forum what questions you would pose! What are you interested to know from other users?