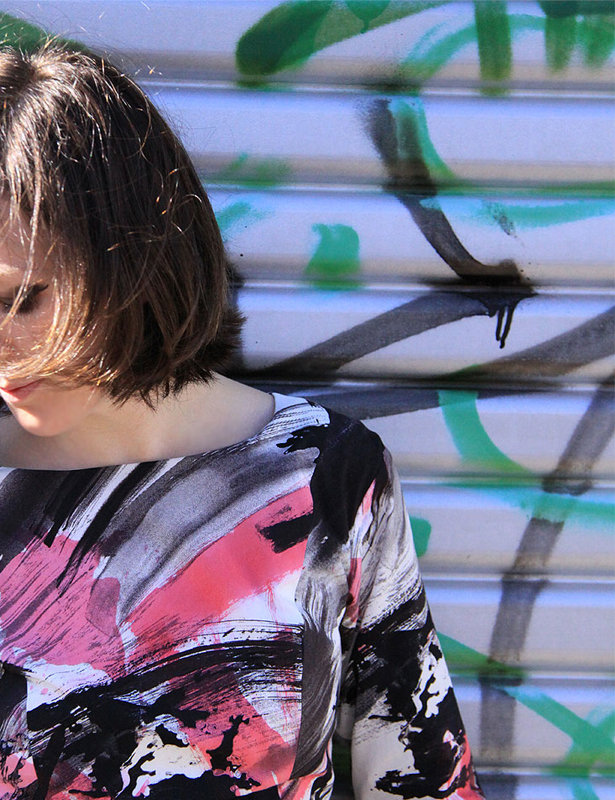 ShareThis
Where are you from and where do you live now?
I grew up on a dairy farm in the state of Victoria, Australia. Fascinating as cows can be, I yearned for the bright lights of the big city, so sat down with my dad at the age of 18 and told him the sad news.
Me: "Dad, I've been accepted into a uni course in Melbourne, so I'll be moving there at the end of summer."
Dad: "What? The local community college doesn't have a course for you here?"
Me: (Trying to stifle the screams of horror in my head at being stuck in a one-cow town) "Er, um, sadly no. So long!"
After all those years I'm still in Melbourne, and love it. Great city, great people but most importantly – great fashion! I'm lucky enough to work for Tessuti Fabrics, and am a very happy mum to my daughter, who is 6 and is turning into a little seamstress (gee, wonder where she gets it from?!)

Baby Jorth!
How did you start sewing?
Ever since I was a wee little thing, I've loved making things. I remember finding my dad's old work socks – those horrid, fluffy acrylic numbers that are so dense that no hay seeds can penetrate them – and cutting them up to make Barbie dolls clothes. Warm though Barbie may have been, it wasn't really a good look for her, so I'm quite glad I've improved since then! I took sewing at school, but my sewing skills didn't really take off until I studied fashion at the Royal Melbourne Institute of Technology (RMIT)
My favourite project in my BurdaStyle studio would have to be my graffiti dress. I had some amazing black and white fabric, and knew the style of dress I wanted to make up, but was worried that the b&w print would wash me out too much. Then I had the fantastically brilliant idea of painting the fabric, so I bought a small tube of fabric paint, diluted it a bit and my daughter and I set to work decorating the fabric with bright pink paint. At one stage my girl looked up at me with a delighted look on her face and declared "This isn't usually how we make a dress, is it Mum?" Nope, kiddo, it's not – but gee it was fun! The dress came out a treat, and is an incredible conversation piece.
Describe your personal style in 5 words or less!
Tricky! I think my style would be best described as unique, bright, daring Jorthy chic! I often get people saying "Oh, I wish I could wear what you wear", to which I reply "Do it! You only live once, you might as well have fun!"
Having said that, I'm also a rather pragmatic dresser. I hate being cold, and I ride my bike everywhere, so I need to stay warm and be able to move around in my clothes. Functional yet funky is my motto!
I also love details that elevate a piece from the ordinary. The sorts of things that catch your eye, and make you look twice – a pleat where there oughtn't be one, or stripes heading in totally the wrong direction. Something that shouldn't be where it is but gosh gee, it works!

Static Wriggle Dress
Do you have a style icon who inspires your sewing projects? Where do you go to get inspired?
I'm a bit of a magpie when it comes to inspiration – I pick the bits I like from everywhere! Since I don't really follow 'trends', and like to have quite an individual look, I guess I just sew to please myself! I find inspiration everywhere, but the best pickings comes from the art gallery: I can drool over the fashion exhibitions, gaze in delights at clothes worn in times past as captured by the great artists, and people watch all at the same time!
I'm also rather partial to beauty in the female form, especially when certain features have been enhanced: masses of black eyeliner, or bright red lips, or flowers adorning shiny long tresses. Give me glamour, and I'm a happy gal!

Jorth's inspiration
What time of year do you find yourself most creative?
I find autumn to be my most creative time of year. There's something in the freshly chilled air that gets my creative juices flowing, and the thought of bunkering down on rainy afternoons to sew and knit to my heart's content makes me want to race to my fabric/yarn stash and start creating.

Tie Dye Blue Cowl Dress
What's your sewing experience like?
When it comes to sewing, I like to have all my household jobs out of the way before I can sew. My family lives in a tiny apartment, so I don't have a designated sewing room. Therefore I need my kitchen to be tidy, with NOTHING left on the table before I can even begin.
Once the room is cleaned, I shoo anybody out (hate sewing with distractions!) and lug my machines (domestic sewing machine and overlocker) out from the cupboard in the bedroom. I then set up my saucer (for thread scraps), pin cushion and clippers next to the machine, and get the ironing board ready in the bedroom. I usually like to listen to some favourite tunes when I sew – something that I know so well that I can sing along without the music seeming to actually penetrate my consciousness, if that makes sense! The current rotation is Scarlett Johannson and Pete Yorn's Break Up, Elbow's Cast of Thousands, Coldplay's Parachutes and Tchaikovsky's Sleeping Beauty.
I only really sew in the afternoons when the light is good. There's definitely no night time sewing for me, and besides, I need to have everything packed up before my daughter comes home from school so we don't spend our evening tripping over the sewing machine cords! If I'm lucky I get a three hour window to sew in maybe two or three times a week, and try not to sew on weekends, as that is strictly family time.

Jorth's sewing space
What is your dream sewing project?
My dream sewing project is usually the next one I want to do! However, I do have a dream of sewing an entire 1950's wardrobe, using vintage patterns, for myself. That would be followed by an incredible collection of 1930's evening gowns – with invitations to loads of amazing parties to wear them to!
How long have you been a member of BurdaStyle?
I joined BurdaStyle in September 2010, and am kicking myself for not joining this amazing community sooner. I love seeing what talented people from all over the world are making, and pretty much visit every day (yes, sadly addicted to all the inspiring peeps!)

Liberty Shirt
What is the most frustrating thing about sewing for you? What is the most rewarding?
Apart from turning the air blue when putting in zips, the most frustrating thing about sewing for me is the lack of time to do it in! There are so many projects I want to do. Sometimes it feels like the ideas are bubbling out of my head, and I'm racing forever to keep up. I've tried keeping lists, but they are very quickly outdated as I see more and more projects I want to make.
The most rewarding thing about sewing is making something that turns out just right, and then being able to inspire others. I love it when I'm wearing something at work, and people are inspired by it to make their own. It's such a privilege to be able to share this creativity with others. And bucket loads of fun, too!
Check out her Top Ten Member Projects Slideshow!