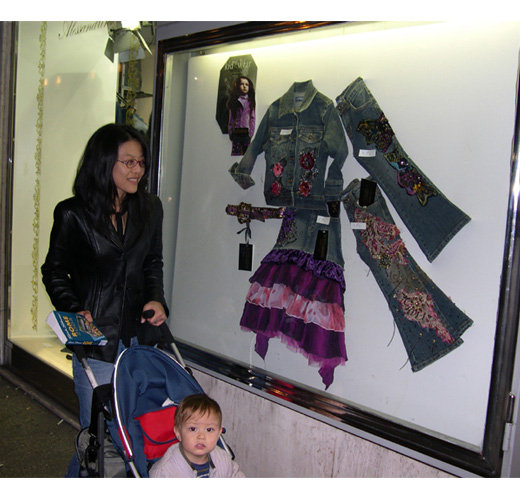 ShareThis
1. Where are you from and/or where do you live?
I was born and grew up in Thailand. I've lived in the USA since 1998.
2. What was the 1st thing you made? How did you start sewing?
Like other girls, my first sewing project was doll clothes.
I was lucky to have my mom and her sister teaching me to sew. They both went to fashion school. My aunt had a tailor shop too so I get to use some cool tools such as fabric covered button and belt makers! But all my doll clothes were hand sewn because, I was not allowed to use the sewing machine.
3. What role does sewing play in your life?
Sewing was on and off in my life, when I don't sew, I make soaps!
To get the long story short, I used to sew and make soaps professionally for little while but now it's mainly for fun and to save money. I no longer buy clothes and soaps.
4. What is your favorite and what is your least favorite thing about sewing?
My favorite thing is sewing of course. My least favorite thing is the finishing
touch details such as making buttonholes, sewing buttons and hemming.
5. If you could make something for anyone, who would it be and what
would you make?
I enjoy making kids clothes too especially for my 4 yr.old son.
Family and friends around me get handmade clothes for gifts even they didn't request them.
6. What are you looking for on our site? What do you think should be
improved and what do you really like?
Burdastyle is an amazing site, I can't even describe
how much I enjoy using the free downloadable patterns and see other creations from around the world, so inspired! For the improvement part, I can't think of any…it's very good as is.
7. What is your motto?
Fine feathers make fine birds. The tailor makes the man.
JJ has done so much on the site! See her many creations and profile here, but also be sure to see the blouse she designed that was chosen in our first design competition, and the Leg-of-mutton Top Pattern she designed and uploaded herself!