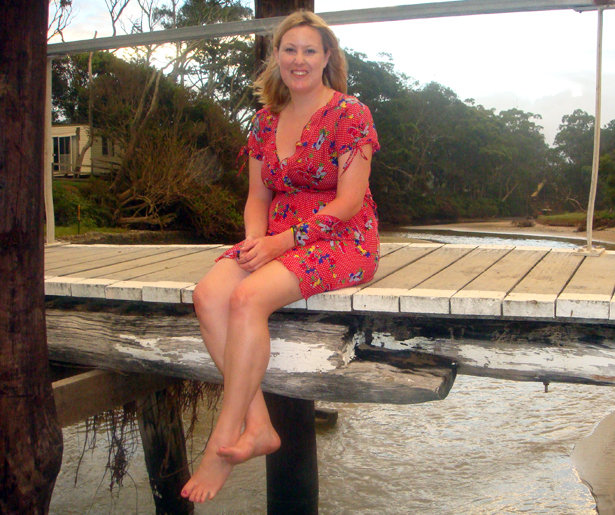 ShareThis
What is your dream sewing project?
There are so many things on my drawing board! I would love one day to become a lingerie designer, so an actual collection that I had designed and made patterns for would be my dream. Also, I'd like to think that in the future, if I get married, I would make my own wedding dress. I think that has to be the ultimate sewing project, doesn't it?!
Where are you from and where do you live? What do you do other than sewing?
I live in London but originally I'm from the Cotswolds (think near Stratford-Upon-Avon: Shakespeare's birthplace!). When I'm not sewing, I may be found baking, but I tend to restrict myself with this, or else my waistline gets out of control. Otherwise, I can be found at my day job as a nurse in the community, which I love!

A young handmadebyfreya.
If we were to come to your town, where would you take us?
If you were to come to town, I think we would start off by having a little French breakfast in my local French Patisserie, Macaron. They make delicious little macarons and have amazing flowering teas. When I go for a run, I have to run past this little patisserie on my way home. The door to the kitchen is usually wedged open and I love the smell as you run past!
After that, I would have to take you to my favorite fabric shop, Fabrics Galore in Battersea. The staff here are amazingly friendly and they consistently have a great fabric selection. If we've still got money left, then I may even persuade you on a trip to the Goldhawk Road (this place is legendary for all it's fabric shops) or I would drag you down to the Victoria and Albert Museum. It's a wonderful museum, and has amazing fashion and crafts exhibitions here. I've even been lucky enough to go behind the scenes into the fashion archives, and I can tell you I was like a hyperactive child in a sweet shop. To finish off, after lots of walking, we'd surely find ourselves somewhere like the Wolseley and have ourselves a rather well deserved afternoon Tea with lots of little scones and cakes washed down with gallons of tea!
How did you begin your sewing journey, and what keeps you coming back to it?
I learned the basics of sewing when I was a little girl, enough to get by and mend things. Mostly, I used to do cross stitch but, encouraged by both my grandmothers, I would try my hand at all sorts of things, like lace making or knitting. Then, a few years ago, I decided I needed a hobby and wanted to get back into being creative. I was going to Carnival in Maastricht, which is where my brother lives and I needed an original costume, so I thought I'd get myself a sewing pattern, thinking 'how hard can it be?' Well, I didn't have a sewing machine then, so needless to say, I struggled! After that, I kept thinking how I would like to get back into sewing and really learn the craft. After browsing many blogs, stumbling across BurdaStyle and getting some books, I started making clothes. I took a couple of courses along the way and now here I am!
Now when I sew, I like the satisfaction of making something myself, and the satisfaction of making an original. I love the creativity of the design process, looking at patterns, choosing my fabrics and deciding how I am going to change design elements to suit me. Sometimes, though, I find myself getting lost in that process as I have more ideas in my head than time available!
What is your most favorite sewing achievement?
To date, my favorite sewing achievement would be my bra and my lingerie collection. I undertook a year long course in lingerie, something that I have always been passionate about and may do something more with later on.
Who or what inspires you?
I get inspiration from other people's blogs, BurdaStyle, the Coletterie, Sew Weekly, magazines, newspapers and people in the streets. I love seeing other people's interpretations of the same patterns that I have, especially when they push the boundary and it makes you think 'wow, I would never have thought to do that!' I love seeing what people wear everyday around us, too. Many a time, I have looked a bit odd and really stared at a girl in front of me on the escalator on the underground as I'm studying her skirt and thinking how I could make something similar!
I'm not sure I really have a style icon as such. I love old black and white fashion photos from the 1930s to 1960s and I love how 'put together' women used to look. I aspire to one day to look as glamorous and smart during the day as in that era. Unfortunately, my job dictates that I wear pretty casual clothes.

HandmadebyFreya's inspirations.
What's your sewing secret weapon?
My sewing secret weapon would have to be my sewing machine. I had a really rubbish machine when I started out, I had no idea what to buy, so I bought something really cheap off the internet without trying it. Not trying it out was my biggest mistake. It was so frustrating when the machine's feed dogs kept chewing everything up! Since I bought my Bernina, I've not looked back. I like to tell my family that if there was a fire in my flat, that would be the first thing I would try and save! The other thing that I couldn't do without is my little embroidery scissors, which I keep on a long piece of ribbon. It was my lingerie teacher that told us all to get one. They give you much more control at cutting away seams and doing fine work.
Techniques that I pretty much always use are the Full Bust Adjustment and adding length.
Tell us about your sewing experience.
My sewing room is a tiny little box room, but it works for me! I mostly listen to the radio or watch TV through my laptop, catching up on things that I've missed when I'm sewing. If I have the energy after work I will try and sew then, but otherwise I can spend a whole Saturday or Sunday getting lost in whatever I'm working on!
Tell us about your BurdaStyle journey.
I've been a member of BurdaStyle for nearly 2 years. I find the site really inspiring and I love seeing what other people are getting up to! I'm not the most prolific commenter but I would say I look at what people are up to every few days, especially when I lose my sewing motivation. It inspires me to go and make something! It's such an inspiring and vibrant community to be part of. I did a corsetry course in the summer and I was recognized by a fellow BurdaStyle member from my activity on BurdaStyle and my blog. I love how small the world can be sometimes!
What is the most frustrating thing about sewing for you? What is the most rewarding?
Apart from ripping out seams? The most frustrating thing is when you spend hours on something, put it on and you don't fall in love with it! That happens to me quite often – I think the perfectionist in me hates it when something comes out less than perfect. And because I know where the flaws are in my own garment, I don't like it.
However, the most rewarding and satisfying part is when somebody compliments you on what you are wearing, and they are completely surprised when you say that you made it. I also love the constant learning of new skills, the satisfaction you get from mastering something new. I love that feeling!
Discover handmadebyfreya's top ten favorite member projects!