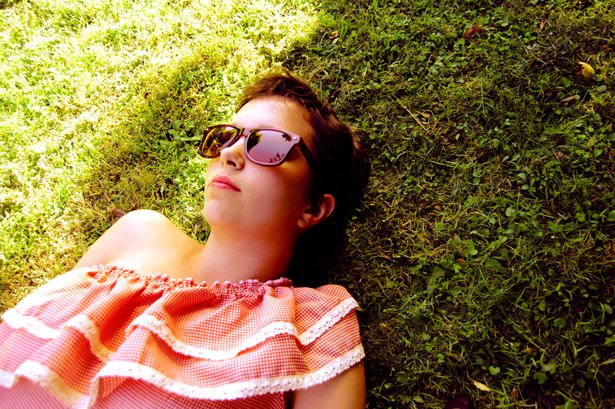 ShareThis
Where are you from? Where do you live?
I am from Whangamata, New Zealand – a town of around 2,000 on the Coromandel Peninsula. I'm currently living in Hamilton, around 1 hours drive from my home town and a first year at the University of Waikato studying a Bachelor of Media and Creative Technologies, majoring in Theatre and Screen and Media studies.

Lil' froggypondd on the right with her younger brother.
How did you start sewing?
I proudly come from a long line of women who took it upon themselves to make their own clothes and when I was a kid I remember my mum making a lot of clothes for me. As I got older I started having more say in the design process. I designed two of my ball dresses and had my mum make them up for me, but as I've gotten more confident in my sewing I've started making my designs up myself. I took Fabric Tech in 5th form at school and this was probably when I realized how much potential sewing has.
Since then I have been in charge of costuming for the drama department at my high school, creating projects in my spare time and scrapbooking potential ideas. My favourite project of my own would have to be my fur waistcoat. I haven't got around to wearing it just yet (although it is still summer in New Zealand), but it was a spur of the moment project which I just happened across the pattern and realised I had some material and BAM I made it in a couple of hours. I also think it's probably the most professionally finished garment I've made – even my mum was proud of me!
Try to describe your personal style in 5 words or less!
Vintage inspired, quirky, eclectic, & fun
Do you have a style icon who inspires your sewing projects? Where do you go to get inspired?
I don't think I could choose ONE person as my style icon – I love old fashioned movie stars like Marlene Dietrich, movies by Sofia Coppola, Hannah Murray's character Cassie from Skins first generation, things which are delicate and soft, vintage looks because they seem to emit more class and elegance than some modern fashion trends.
I have a tumblr and I use it mostly as a scrapbook for things I like. I love going onto websites like Modcloth, Net-A-Porter, Polyvore, LookBook and Urban Outfitters and finding things I like and making notes of how I'd make them or getting brain waves for future projects. I'm also addicted to cutting things out of magazines and newspapers. I have tonnes of blank books I've filled up with pictures I like. A lot of my projects are inspired by things I've seen or tried on, but haven't had the cash to buy. I'm probably more of a traditional sewer in that sense – getting back to the old fashioned reasons of making your own clothes cause it's cheaper that buying them. Although having quite a unique style does kind help when you can dream up fantastic outfits AND THEN make them up and add them to your wardrobe…

An inspiration collage by froggypondd
What time of year do you find yourself most creative? Why?
I would have to say summer because I have holidays and can just spend a week making project after project after project and not feel bad that I'm procrastinating any important assessments or homework…
What's your sewing experience like?
If I'm going to make something, I usually get stuck in try to make it that day. I usually wake up, have breakfast and then get into it. I don't like sewing at night because at home I live in a 1950's state house where the lighting isn't great for sewing. I'm pretty much always listening to music so it's just a give in that I do when I'm sewing too.
Unfortunately, being so far away from home, I can't just go document the wardrobe to Narnia which is my sewing cupboard but you'll have to use your imagination instead. Imagine… Harry Potter's cupboard under the stairs… But the walls are covered in magazine features about floral prints, tie dying, maxi dresses, beach wear, gorgeous shoes, vintage fashion… There are piles of material bigger than you are and cubby holes along one wall with braid, trims, buttons, felt, shoulder pads, everything you need to finish that project of yours…
What is your dream sewing project?
I think my dream project would probably be to have an idea of mine successfully made the transition from my mind to my wardrobe. Most of the things that I've made have turned out pretty well but I've found sometimes I'm a little too ambitious. So one day, when I've made something amazing and don't need my mum to be the instructions translator, that'll be when I've completed my dream project.
How long have you been a member of BurdaStyle?
I've been a member of BurdaStyle since September 2009, because my mum has collected Burda magazines since the 1980s and I one decided to Google it. I love being able to see everyone's projects, knowing that there are tonnes of other people who still sew their own clothes out there. I visit it probably most days – especially when I'm in need of some inspiration.
What is the most frustrating thing about sewing for you? What is the most rewarding?
I get frustrated quite easily when I'm sewing, especially when something is slightly out of my skill range but I still have a brilliant idea that I want to create (see my dream project…) Being a perfectionist doesn't help me make projects to a time frame…but it does mean they're constructed better than they would be otherwise.
The most rewarding thing is when someone says "Oh I like your dress/shirt/skirt etc" and I can say 'Thank you! I made it myself" and then grin like an idiot. Also, when I can have a look around the shops are realise I made the outfit I'm wearing for usually around 1/5th the price they're selling it.
Check out froggypondd 's Top Ten Member Project Slideshow!