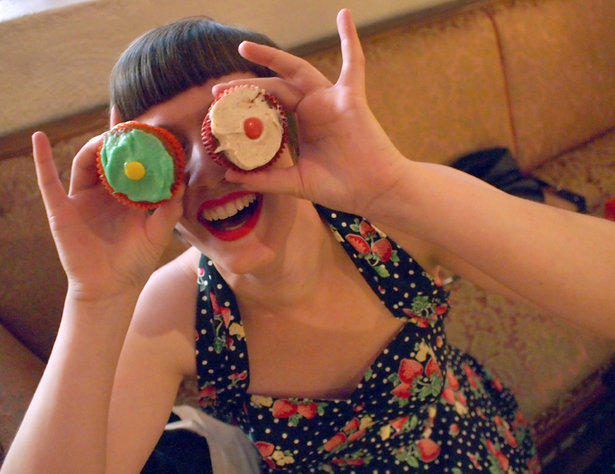 ShareThis
Where are you from and/or where do you live?
I'm originally from Stavanger, Norway, but I have lived in Bergen for the past 7 years and consider myself as a local. I finished my master's degree in medical cell biology one and a half year ago, and I'm currently working on a project that hopefully will turn in to my PhD.
How did you start sewing?
My mum used to sew a lot of clothes for me and my sister, and the sewing machine was always around when I was a kid, so I guess I have always sewn. Also, having both a granddad and a great-granddad who were tailors, and a grandma who sewed a lot, make me think that sewing is in my genes.
I started sewing for real at a one-year boarding school (folkehøgskole) after sixth-form college, where I learnt a lot about patterns and adjustments, sewing techniques, and got introduced to pattern cutting. At some point I thought I wanted to become a fashion designer, and went to London. I changed my mind though, but I keep going back to London
My favourite project in my studio at BurdaStyle has to be my last dress. It feels like I'm finally mastering my basic block from a pattern cutting course I took in London some years ago, and the manipulation of the pattern gets more and more logical. I love the mathematics and logics with flat patterns! This project also made me realize that I need deadlines to finish stuff, and the upcoming event for this dress was a 60s club night, starting with a concert by Peter Berry and the Shake Set, and then great DJs playing great music. The dress was perfect for twisting, and I felt smashing! Oh, and by the way, the dress started with me looking for fabric for a tie for a special guy, and once I saw this fabric I decided that I just had to make a matching dress to go with the tie.

Back to beat – let's hop, skip and jump!
Describe your personal style in 5 words or less!
Feminine. Fribblish. Mad Men. Vintage. Playful.
Do you have a style icon who inspires your sewing projects? Where do you go to get inspired?
I used to look to hot couture and the catwalk fashion, with Vivienne Westwood, along with Yohji Yamamoto, Issey Myiake and Rick Owens, as my greatest inspirations. But I got tired of the contrast between the ordinary world and the hot couture – I wanted extravagancy, but it was impossible to fuse it with my ordinary life. With vintage and rockabilly inspiration, I make (or buy) clothes that work both for the office and under the lab coat, and for meeting up with friends over a coffee or a beer.
If I had to choose one style icon, I think I'd go for Joan Holloway. Her character has got the extravagance I love, and her posture is gorgeous. The costumes from Mad Men are in general very inspiring, but I also get tons of inspiration from sewing blogs and vintage patterns. Gertie from Gertie's New Blog for Better Sewing was probably the first sewing blog I started to read regularly, and she has both style-wise sewing-wise become an icon.

Inspiration
What time of year do you find yourself most creative?
If I only knew my own creativity pattern… My creativity depends on so much more than the time of year! Sunshine in the autumn can for instance be very inspiring, but living in a rainy city like Bergen, one is rather outside on sunny days than inside sewing. And those are often the days I get loads of ideas and energy. But I guess, realistically, that I'm most creative under pressure, dealing with deadlines.
What's your sewing experience like?
I'm always multitasking. Sewing is not like meditation, and I need to be entertained in more aspects. I remember one Saturday several years ago, when I saw 16 episodes of House
while I was sewing… Do the maths and you'll get the hours of continuously sewing. I hardly do that any more, having become more restless, but I tend to do other things whilst sewing. I do the dishes and award myself with some sewing time. I do some laundry and award myself. My sewing is always abrupt by duties, and very often I end up doing neither duties or sewing because I can't choose.

A sneak peak at frkbustad's sewing studio
What is your dream sewing project?
The dream sewing project (or at least the result) would be a perfectly fitted pair of trousers and a perfectly fitted trench coat. The perfect dream on-going sewing project, however, is working with a pattern you know will be perfect.
How long have you been a member of BurdaStyle?
I've been a member since July 2007, but I didn't use it actively until after I finished my master's thesis. I worked part-time in a fabric shop and had a lot of time for sewing. BurdaStyle is great for inspiration and for discovering new people in the blogosphere.
What is the most frustrating thing about sewing for you? What is the most rewarding?
The most frustrating thing about sewing is that I can never ever buy a piece of clothing without thinking I could've made this, or, this is too expensive – I'll make it myself, or, if I just change this and that, it'll fit/look better. And to be honest, I don't really like sewing. Maybe that's an overstatement, but the process isn't what I enjoy the most. This has improved though, with my pattern cutting skills and the fact that I'm getting closer to a nearly perfect pattern. I need new sewing technique challenges, but if I don't know whether the finished garment will be well fitted, I'm just not interested. And I've just accepted that muslins are the answer.
The most rewarding with sewing is to get comments and compliments on my finished garment and the satisfaction when I am pleased with the result. And to feel great wearing something that is just a little bit quirky (like my cup cake dress) or feminine and quirky (like the flamingo shirt) or just simply feminine (my back to beat dress). And the fact, that I made this.
Check out frkbustad's top ten favorite member projects here