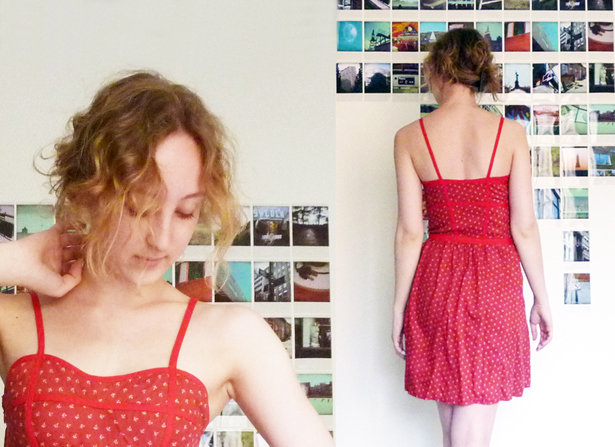 ShareThis
Where are you from and where do you live? What do you do other than sewing?
I come from the very small village of Normandy, France. I lived there until the age of 17, then moved to Paris to study architecture. During my studies I was lucky to stay a year in Göteborg, Sweden, thanks to an exchange program. Last year, after completing my Masters last year, I moved to Montréal, Canada where I have been living for nearly 7 months.
I think I have always been interested in crafty stuff. I used to draw and paint when I was younger, but not much anymore. Now I sew, and I will probably stay addicted to it forever. I knit too. I'm a true beginner but it is still nice. It is testing my patience and my nerves because, for the moment, not a project is turning out the way/size I want. With knitting, the thing is, I don't really see it is not turning out well until I am finished. With sewing I see when a project is going the wrong way but not with knitting. One day, maybe, I will figure it out.

Can you tell I have been a dress kind of girl for a long time!
Tell us about your sewing journey.
I've been a member of BurdaStyle since 2008 but did not upload my first project until 2010. I have always been attracted to sewing but never really got into it seriously. I'm a pretty messy person so I didn't really start to sew wearable things until my aunt lent me her sewing machine, then I uploaded my first patterns. Before that it was just tiny projects that I, most of the time, didn't finished.
My grandfather was a tailor (I'm really stupid because I didn't learn from him when he was alive, only a few skills: to thread his old Singer and make a simple hem) and I think he gave me the interest in sewing, that was the starting point. I then waited for the internet and an amazing site like BurdaStyle to really learn.
I'm still a real amateur so I would not say I have any great sewing achievements. The project I'm the most pleased with would be a pair of beige shorts, probably the most tailored piece I've made, involving: pleats, pockets, a zipper and belt loops – yoohoo!
Who or what inspires you?
I definitely have some people whose styles I adore: Alexa Chung, Charlotte Gainsbourg, Zoey Descahnel, Ulyana Sergeenko, Anna Dello Russo; but when it comes to inspiration I am more drawn to images and illustrations: women in Mucha's work, Elvgren's pinup art, the elegant silhouettes of Christian Dior's sketches, etc.
I love so many different styles but in everyday life I think I would wear anything that is a mix of comfy and simple but with a good amount of interesting details and great fabric and patterns with a retro vibe from the 50's, 60's and 70's, all my favorites. I also like 30's art deco, rock 'n' roll and even grunge accents here and there.
I'm really looking at graphic design as inspiration. I love abstract patterns, faded colors with bright accents, geometric shapes, cute drawings, etc. There are so many great designers and illustrators out there! Ffffound and Etsy are full of treasures!
In terms of fashion, I'm of course addicted to Burdastyle. I'm also loving independent pattern designers like Colette (I have to make that macaroon dress, it is classic!), Victory Patterns, and Salme Sewing Patterns. BurdaStyle member, AGoodWardrobe, created a great list of them on her, also great, blog: http://agoodwardrobe.com.

I'm obsessed with patterns!
What's your sewing secret weapon?
I'm not an expert in sewing techniques, I have so much to learn, so I'm playing with different tricks/details in my projects. I have a thing for fabric converted buttons, I think they are a really nice touch. Pockets are always a nice detail to work with, when it comes to dresses and skirts (let's be honest, there is nothing more practical than having pockets in a dress or skirt). Another thing, I would like to practice sewing is more collars because they are everywhere lately and starting to grow on me.
Tell us about your sewing experience.
I am always listening to music when I sew and usually the music compliments the style of the garment. When I was a student in Paris I sewed at anytime: in the evening, after classes, or all weekend. I would clear my computer, architecture models and drawings off of my desk and just start sewing.
When I moved to Montréal I gave my aunt back her sewing machine. I didn't have a sewing machine for 6 months and I missed it! A few days ago my wonderful boyfriend found me an old Brother in a second hand shop for $25.00. I've spent all my time-off cleaning it, buying new needles and threads and testing the thread tension.

Now I'm officially ready to get back to sewing!
What is your dream sewing project?
One day I would like to make a garment I would be truly proud of, something tailored with nice details. It would be well executed on the outside and the inside! Now that I have a sewing machine that is only sewing straight stitches, I hope I will improve my finishing techniques because I'm kind of a lazy overlock stitch kind of girl. The Tikva Trench has been on my dream sewing list for a while now, maybe in a nice navy fabric with beautiful patterned lining. Nicely fitted pinup dresses are on my dream sewing list like the Bustier Dress with Draped Detail and Feather Motifs On Cherry Cherry from the Whirlingturban Store.
Tell us about your BurdaStyle experience.
As I said before I've been a member of BurdaStyle since 2008 but uploaded my first project two years later. I visit the site every other day, sometimes more, sometime less.
I love it because it has everything I need. I can brows through projects for inspiration, download free patterns, get Burda Style Magazine patterns (which is really nice when I want just one or two patterns in a monthly issue), learn new techniques, enter in contests with great partners, and discover talented members (their work and sometimes their blogs). So many things!
What is the most frustrating thing about sewing for you? What is the most rewarding?
As I said before, I'm kind of messy and impatient, and lazy too so hand stitching is a nightmare for me, ripping seams is really annoying as well.
I would like to learn about pattern making and alterations because I have bought some commercial patterns that turned out to be totally wrong for me. I wasn't able to fix them, it was frustrating, a total waste of money and time and a big loss of hair! I would love to be able to make a garment from A to Z: draw the pattern, print the fabric, and stitch everything together.
The greatest reward is (or would be as I haven't yet) to create exactly what is on my mind. The most frustrating thing is when I don't seem to get the project going in the direction I want, no matter what I do! Nevertheless, every step, every mistake and every attempt at a new technique makes sewing so interesting and addictive! Every small thing I learn and every success is a great reward.
I've started to knit since being in Montréal, as I didn't have a sewing machine. There is a really nice website called Threads and Needle where I have a profile.

Check out emilief's top ten favorite member projects!