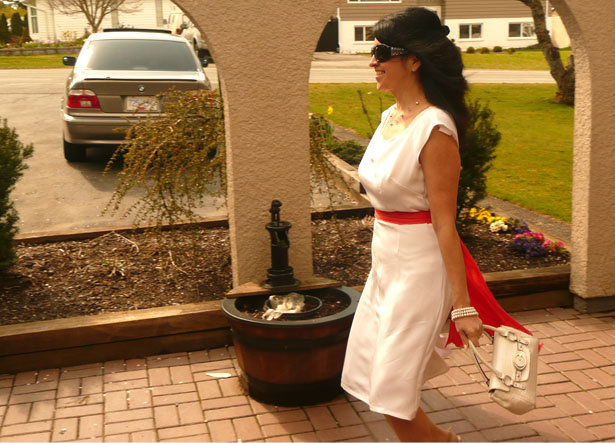 ShareThis
How did you start sewing?
I was a stay at home mom who wanted to learn how to sew eleven years ago. I bought a 1960's Singer sewing machine with desk and all attachments at a yard sale for $25. Using the manual as a guide I made lavender sachets, pillows, curtains for our RV and a few very simple little girl dresses. Fast forward 10 years later – I am back at my career and I cannot find a dress for a company party that fits me so I decided 2010 was the year I would dust off my sewing machine and learn to sew clothes.
BurdaStyle was the first site I came across online. No one in my group of friends sew, so I searched the internet for information and soon seamstresses welcomed me into this wonderful community of sewing! I bought a new sewing machine but my old one is always threaded in black, ready for use.
My fave BurdaStyle project is the Mother Daughter skirts I made with my youngest daughter, because it is the first project we made together. My husband and three daughters have been very supportive of my sewing. My girls are also my photographers, inspirations, critics and models. Although now I have to admit sometimes they run when they see with a dress, pins and tape measure in hand. I still do not have a dress form and shamelessly use them for models!

Denise's daughters
Where are you from and where do you live now?
I was born and raised in Vancouver, BC Canada where I took dancing lessons as a child and was a print model as a teenager. I now live in the suburbs with my husband and daughters. I am a Payroll Accountant by day who loves fashion, sewing, ballet, cars, perfume and all things glamorous by night.
Denise in her modeling days

All star gymnast!
Try describing your personal style in 5 words or less!
My personal style is ever changing, at this moment I will say feminine, modern and chic.
Do you have a style icon who inspires your sewing projects? Where do you go to get inspired?
My inspiration sometimes comes from my love of ballet. Trained in classical ballet, modern jazz and tap since I was five years old, I have a love for the movement of the dance, costumes and music. I am also inspired by my three daughters who each have their own style and thoughts for me to draw upon. My fave inspiration fashion designer is Alexis Maibille at the moment. I also like watching movies and sometimes see a dress or skirt I would love to make.
What time of year do you find yourself most creative?
Time has no boundaries with my sewing so far as I have been creative in all seasons.
What's your sewing experience like?
I listen to my iPod sometimes when I am sewing. My daughters also come and spend time with me while I am sewing, talking and seeing what project I am working on. My two oldest daughters have taken over the basement so I now have their bubble gum pink bedroom that used to be a master bedroom. I use it as my sewing studio and dressing room and lately I have been sewing at night.

The suburbs of Vancouver, where Denise calls home
What is your dream sewing project?
I would love to sew my youngest daughters graduation dress! I have six years to master this!
What is the most frustrating thing about sewing for you? What is the most rewarding?
The seam ripper drives me off the deep end. I love the ending of a project – when you try it on and it fits!
Check out her top ten member project slideshow!