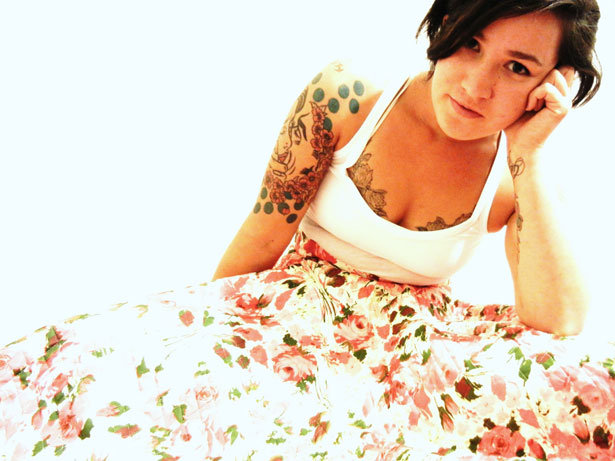 ShareThis
Where are you from and where do you live? What do you do other than sewing?
I am from Santa Cruz, California but for the past 5 months I have been traveling through South America. Before my trip, I was a buyer for a fabric store and did custom dressmaking and small design projects on the side. In addition to sewing, I like playing the ukulele, eating delicious food, drawing and traveling!
Tell us about your sewing journey.
My grandmother was an amazing fiber artist and designer whose entire life was built around creative expression. She was a native Hawaiian who taught me everything from garment sewing to traditional Hawaiian reed weaving. Those long summers I spent alongside her instilled in me a great passion for making things. I got really into making my own clothes in high school, and later on went to San Francisco State University to study apparel design.

A young chelsea888
My biggest sewing-related achievement would have to be a community craft and design fair I organized last summer, affectionately named the Craftacular Wonder Fair. I managed to wrangle together an amazing group of seamstresses, crafters, artists and designers who made it a total success! I also designed a small collection to sell in one of the booths.
Who or what are your inspirations?
When I was in tenth grade, I took my first stab at having my own style. I wore things like knee socks, skirts, blazers and Mary Jane's to school every day. It was the first time I would experience the power clothes have in shaping personal identity. I had seen the movie Clueless (don't laugh) and wanted to emulate Cher's business-y, school girl style. I know it sounds cliche now, but it opened my eyes to the fact that fashion can be a direct outlet for creativity and identity. Since then I've come to realize that I'm inspired by an eclectic group of style icons, from Audrey Hepburn to Frida Kahlo. I love expression through style. I also love Zooey Deschanel (obviously) and Debbie Harry. Also, as a fabric lover, I get really inspired by amazing fabric and designers like Marimekko, Heather Ross and Etsuko Furuya.
I have recently been inspired by the amazing, independent design scene that is all over Argentina and Chile. There are countless boutiques and markets filled with the work of local and sustainable designers. It was really cool to see so many people living off of their art. I like to constantly surround myself with creative people. It challenges me and forces me to constantly search for inspiration.
What's your sewing secret weapon?
I don't know about secret weapons, but I do have a Babylock Evolution serger. It's a wonder machine that makes every seam flawless and beautiful. It cost more than my car but worth every penny. Other than that, I recently discovered the joy of using temporary spray glue to secure hems on knits before sewing. It makes it so you don't have to use pins while also preventing wonky edges. This can be applied to other types of fabric, too!
Tell us about your sewing experience.
My sewing room looks like it was hit by an earthquake and hurricane simultaneously. I have huge callouses on my feet to protect me from the hundreds of pins embedded in my carpet. I wish I could say I was an orderly, methodical seamstress but in reality I'm the complete opposite.
An absolute must for me while sewing is podcasts! This American Life, Radiolab, Planet Money, Wait, Wait, Don't Tell Me and The Moth are some of my favorites. I am absolutely addicted; I have a podcast anecdote for almost any subject. Listening while sewing allows me to sew for hours without ever noticing the time.
For the most part I am an evening sewer. I can often be found sewing late into the night. Some of my best projects have been completed at 4 o'clock in the morning.
What is your dream sewing project?
My future wedding dress. It'll be a while, but it will be a dream dress to end all dream dresses. I can't wait to go into some fabric store and not only ogle the several hundred dollar a yard bridal fabrics, but actually buy them! Anyway, its going to be amazing.
Tell us about your BurdaStyle experience. How did you pick your username, and what do you enjoy about the site?
I have been a member since 2008. I chose my username before I realized how cool everyone else's usernames were. Its just my name and favorite number. I wish I had a witty sewing pun, or even just something more interesting, for a name.
I love BurdaStyle because it is the only online community of seamsters that I have found who are consistently making fashionable and interesting things. It's so inspiring to see what other people are up to. I visit the site pretty regularly. It's nice to cruise through the newest patterns and projects before sitting down for a sewing session.
What are your favorite BurdaStyle and/or burda style magazine patterns, and why?
I love the lingerie and underwear patterns, specifically the Bustier Top. Undergarments don't take much time or fabric, and you get something really fabulous and unique. The Bustier Top is awesome because not only is it a great pattern but you can attach any type of skirt to it and make it an amazing dress!
What is the most frustrating thing about sewing for you? What is the most rewarding?
I am really bad about starting new projects before finishing my last one. I get distracted and pretty soon find myself drowning in a sea of half sewn dresses. The most rewarding part is clipping the last threads off of something that I have put tons of love and care into, and knowing that there is nothing else like it in the whole world.
Check out chelsea888's top eleven favorite member projects!