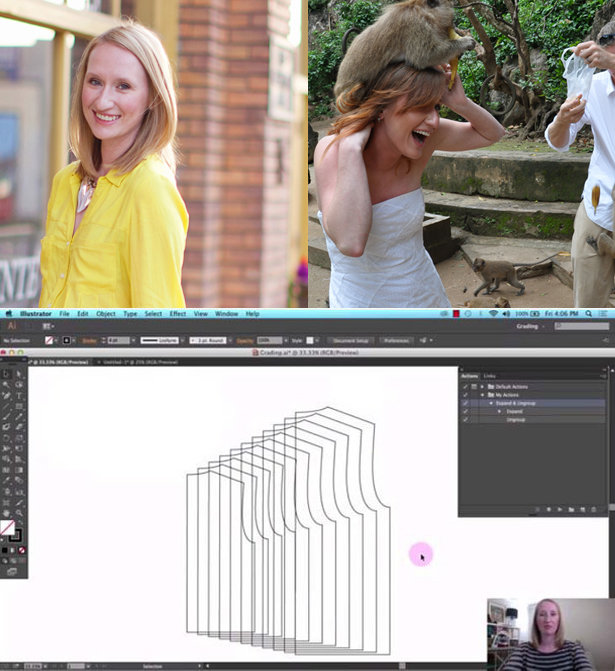 ShareThis
Lauren Dahl is a sewer, a mother, a wiffe and so much more! We so excited that she will be hosting our upcoming course on Digital Pattern Drafting ! We asked Lauren a couple of questions about her life as a full-time sewer.
Tell us a little about yourself.
Wow, that's a really wide-open question. Let's see…I was born in the 80s (barely) and could eat Italian food every day. I drive a minivan and think it's like the BEST. THING. EVER. (Seriously!) Prior to doing what I do, I got a master's degree and wore suits and expensive shoes everyday. (I like the current situation much better.) I love traveling and got married in a jungle in Thailand wearing a $6 dress and Chaco sandals. I can't keep a plant alive to save my own life, but I'm really good at baking and working under pressure. I procrastinate a lot but always manage to do a decent job at things to which I've committed myself. The two times I gave birth were both the hardest and best times of my life. Oh and chocolate. I require chocolate. How's that?
Where are you from originally, and where do you currently live?
I grew up in a little town named Andalusia near the southern border of Alabama (but not on the panhandle – straight above Ft. Walton Beach, Florida!). I lived there until I attended the University of Alabama in Tuscaloosa from 1998-2002. After that, I made my way out west and lived in Aspen and Denver. I currently live in Salt Lake City with my husband, Scott, and my two kids, Harper and Ezra. My husband and I have been here for 7 years and don't plan on leaving anytime soon (although every winter we pretty much decide on a different city and then change our minds).
Do you have a non-sewing "day job?")
My day job IS sewing! Ha! So my schedule works something like this: Monday, Wednesday and Friday I work on course materials, design patterns, sew, keep up the blog, mow the grass, wash dishes, fold laundry, etc. Harper (3) goes to preschool, and Ezra (13 mos) goes to a lady's in-home childcare with about five other kids. On Tuesdays and Thursdays, I try to completely dedicate myself to the kiddos. I occasionally check emails and such, but we mostly play at the pool, go to the playground, check out the zoo/aquarium/aviary and other fun stuff. I was a full-time stay-at-home mom until I launched Pattern Workshop in January 2014, and now I have this nice balance of work and family. I NEED to work, or I get very, very grumpy.
How and when did you start sewing?
I have been sewing for as long as I can remember. My grandmother retired from Alabama Textiles (Ala-Tex) when I was maybe 4 or 5, so I was always surrounded by sewing (and lots of shirting! She made men's dresss shirts on a production line!). My parents also owned a drycleaning business, and I hung out with the seamstresses in the afternoons and watched them work. They occasionally talked me into replacing on a button or two that had been destroyed by the presses.
In high school, I had my own sewing machine in the home ec department and kind of helped the teacher more than anything else. And in college, I used to sew handbags and kerchief tops to sell in concert parking lots so I could buy tickets! (I know. Such a hippie.) I quit sewing for most of my 20s, and I got back into it at around 30 when I started having babies.
Do you prefer to work from patterns, or draft your own?
This will shock a lot of people, but I really prefer sewing from patterns. I don't have a lot of time to spare, so I usually just want the instant gratification of pulling out a pattern and cutting my fabric. But I am trying to make more time for drafting and creating things that I really love.
How would you describe your personal style?
I am really trying to figure this out. Honestly, I could probably wear sweatpants and a t-shirt with a fleece jacket every day and be happy. But when I'm really doing it up, I might exchange the sweatpants for jeans. Ha! No, really, I wear jeans pretty much every day, even in the summer. I have been trying to recognize this tendency and to sew/design things that actually fit with my lifestyle. (Pencil skirt = no, raglan tee = yes.) I am actually really intrigued by my daughter's sense of style. Yesterday, she wore purple patent leather Doc Marten's with striped knee socks and a sun dress. I love that little kids have no filter – they just pick things they like (and that are comfortable), and they own it. She goes around telling everyone how pretty her "pinkish-purple" boots are, and I love that. I can't wait to see her style as a teenager.
What's your sewing secret weapon?
Basting tape! No, really! I use it all the time, especially when pins aren't the best idea or if I need a really accurate fabric match. It's perfect for zippers and hems and when I don't want to hand-baste something in place. It helps me get collars and cuffs just perfect, and it's super handy for matching waistband seams around invisibile zippers.
Who or what inspires you? Shop windows, magazines, vintage patterns…
I look at a lot of magazines and Pinterest. I love the model-off-duty/celebrity-mom look – you know, JEANS, slouchy tee, Birkenstocks (I never stopped wearing mine), etc. But I kind of just wear what feels good. I feel more beautiful in jeans and a tee than a fancy dress. Makeup? Optional. Bra? Often optional. Ha! I think this comes through in both my design and teaching style – I am all about efficiency and keeping things relaxed. If a clothing item requires special undergarments, I probably won't wear it.
What has been your favorite project recently?
Whatever sewing project I'm currently working on is usually my favorite one… But out of all my many other projects, creating my course for BurdaStyle ranks pretty high. It's really gratifying for me to be able to put tools in someone else's hands to see what they create. I joke that I'm a technician, not an artist…so teaching allows me to excel in that way.
If you were to give a beginner one piece of advice, what would it be?
The only hard things in sewing (and design) are the things you've never done before. You can always get more fabric. So just keep doing things, and you will get better at them.
If you had all the fabric, money, and equipment t your fingertips, what would be your dream garment to sew?
JEANS! I know, I know…people do it all the time. But I don't want just ANY jeans. I want THE jeans. You know, a perfectly high-ish waist, snug legs, the perfect length, wash and stretch. Like the ones I have on now…only, made by me. And drafted by me, too.
Anything else you'd like us to know?
I'm a perfectionist in most things, but not sewing. I take a lot of shortcuts and make substitutions. I'm trying to get better at this though with lots of practice (and patience!). It's funny – I will take months to knit a sweater, but I won't sew anything that takes longer than an afternoon.
What's your first step in creating a pattern?
I'm a stream-of-consciousness designer. Whether I'm working on a course or a pattern, I just kind of sit down and start working. I tend to get hung up on details if I don't just start DOING something. So if it's a course, I brainstorm an outline and start filling in the blanks. If it's a pattern, I actually sit down and start drafting it. I usually draft before I sketch because I work so much better in the digital world (as opposed to pen/paper). And because I'm lazy, I like to wait until I have pattern pieces to put together my line drawings.
What are your favorite fabrics to work with?
Knits! My absolute favorite is French Terry. I could wear/sew French Terry every day of the week and be happy. It comes in so many weights and prints and feels like heaven on the skin.
Thanks so much, Lauren!
Now that you've gotten to know our talented instructor, take a look at her upcoming class! Digital Pattern Drafting is an in depth 8 week course. You'll learn to quickly and accurately create your own library of digital pattern blocks using Adobe Illustrator, create a spreadsheet of your measurements, use Illustrator for pattern drafting, modifying, and illustrating, and see how digitally grade patterns. You'll also learn shortcuts like digitally marking up your patterns and tiling digital patterns on your home computer.