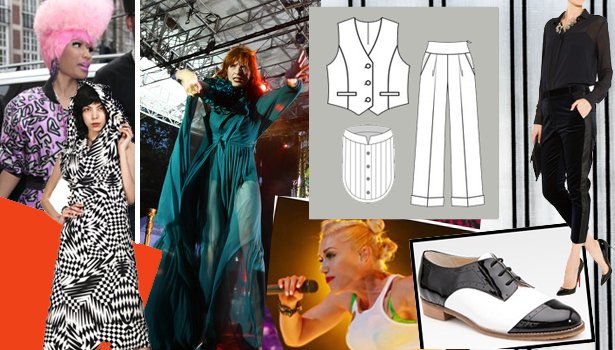 ShareThis
When I was younger I dreamed about being a rock star. To me it seemed as if they lived entirely by their own set of rules; they could get away with anything – fashionably speaking and otherwise. I loved and was inspired by women like Debbie Harry, Patti Smith, Shirley Manson and Kim Gordon, who were each beautiful in their own way – they didn't need to rely on the stereotypes of over-sexed, under-dressed airheads in order to be considered attractive or desirable. I also loved how each of these women cultivated their own personal style.
Rock stars have such strong stage presence and personality that it only makes sense that they would manifest that into strong personal style choices and while they may not always end up on the "best dressed" list, rock stars are certainly more interesting to watch on the red carpet than the all-too-safe, stylized starlets.
While I have a long list of female (and male) musicians throughout history whose style I admire, I decided to focus on 4 ladies who are currently causing a sartorial stir and cultivating (or in the case of Gwen Stefani continuing to cultivate) a style all their own. While there are loads of musicians, both hugely famous and on the fringes of fame, who have fantastic individual style, I decided to profile these 4 as I think they have unique and identifiable looks that define them not only as musicians but as individuals with killer personal style.
Gwen Stefani:
Gwen was one of my original rock star style idols and while she's a veteran of the music biz, rumors of a new No Doubt album coupled with her continued success with her clothing line L.A.M.B. solidify her as just as much a trend setter today as she was back in the 90s when she was rocking oversized Adidas pants and crop tops. She's a great mix of glamour and tomboy chic with her platinum blonde hair, blood-red lips and baggy trousers. Her style evolution has been a colorful journey, from bubblegum pink locks and braces to over-the-top Harajuku chic, but no matter what incarnation she takes on she is still that tomboy from Southern California who can keep up with the boys without smudging her lipstick.

Patterns clockwise from top right: Oversized Jersey Top, Cropped Jacket, Bustier Top, Oversized Tank, Utility Pants, Jumpsuit. Striped pants by Vivienne Westwood, jeans by R13, tee by Raquel Allegra.
Florence Welch:
Florence has some serious pipes and no matter how many times I listen to "Cosmic Love" I still get chills. Comprable to her powerful voice is her powerful presence with her bright red hair and penchant for dramatic ensembles. Capes, caftans, and kimono sleeves (she's a little bit of Stevie Nicks, a little bit of Karen Elson) are her style weapons of choice and designers like Riccardo Tisci and Frida Giannini are lining up to deck out the British singer in their one-of-a-kind creations.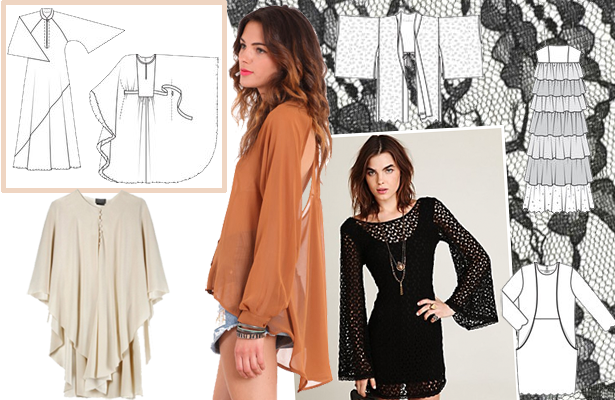 Patterns clockwise from top left: Caftan Dress, Caftan with Ties, Lace Kimono, Layered Maxi Dress, Lace Dress. Tunic by Halston Heritage, button up shirt from Threadscene, crochet dress from Free People.
Janelle Monae;
Miss Monae is my favorite performer to emerge in quite awhile and it's not just because we were both born in Kansas City and spent time in Atlanta (serious coincidence). Janelle not only has a style but a sound all her own – a sort of modernized version of the old soul and Motown sound that I love so much. She also has this wild, futuristic slant to her which makes for a nice juxtaposition between the past and her idea of the future. Her style is just like her sound – all at once retro and forward thinking from her pompadour hairstyle to her tuxedos and Esquviel brogues. She's out of this world in the best way possible.

Patterns from left: Cropped Jacket, Suit Vest, Tuxedo Bib, High Waisted Trousers. Jacket from J. Crew, tuxedo pants by Stella McCartney, shoes by Beatrix Ong.
Nicki Minaj:
Nicki Minaj sort of came out of nowhere but when she showed up to the 2010 American Music Awards wearing that crazy amazing Manish Arora ribcage dress, I knew this girl was someone to watch. She has a streetwear aesthetic, favoring bright colors and bold prints, mixed with avant garde tastes and she is totally fearless in her clothing choices. Oh, and that hair…

Patterns from top left: Blouson Jacket, Carol Leggings, Sean Skirt, Larissa Moto Jacket. Dress by Gareth Pugh, legging by Alexander McQueen, jacket by McQ, dress by Jean-Pierre Braganza.
I know lots of people are going to have their own opinion about this, so now you tell us: which female musicians do you think have the best personal style and why?
Images courtesy of The Fashion Spot, ShopStyle and Google Images.