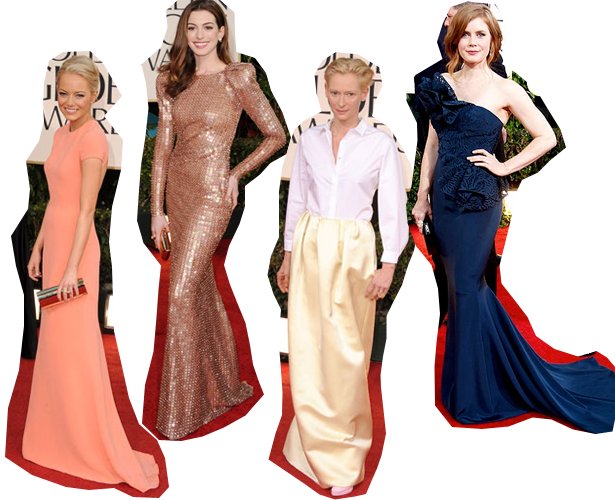 ShareThis
Who doesn't love a little glamour on a Sunday evening? Awards season kicked off last night with the Golden Globes and the Hollywood starlets were ready, setting the bar for what the rest of the season will look like – fashionably speaking. Read on to see my favorite red carpet looks and what trends were popular with the Silver Screen elite.
Best Dressed:Awards shows are usually such predictable affairs…one-shoulder gowns, sweeping up-dos, loads of diamonds…then BOOM here come Anne Hathaway in her amazing Armani Prive gown to shake things up. Hands down best dressed of the night. It's hard to do "fashion" on the red carpet because it really is all about looking pretty, not necessarily edgy or fashion forward. Anne strikes a perfect balance of the two with an interesting shape (big shoulders were definitely a trend this year) in a gorgeous and flattering color. By keeping the rest of her look really simple, she wasn't overpowered by the dress and looked (dare I say) better than Karlie Kloss on the runway.
The Minimalists: Tilda Swinton in Jil Sander, Emma Stone and Claire Danes both in Calvin Klein.
Sometimes it's the simple things that make the biggest impact, and all three of these ladies looked sleek and modern without all the pomp and circumstance of fluffy gowns and intricate hairdos.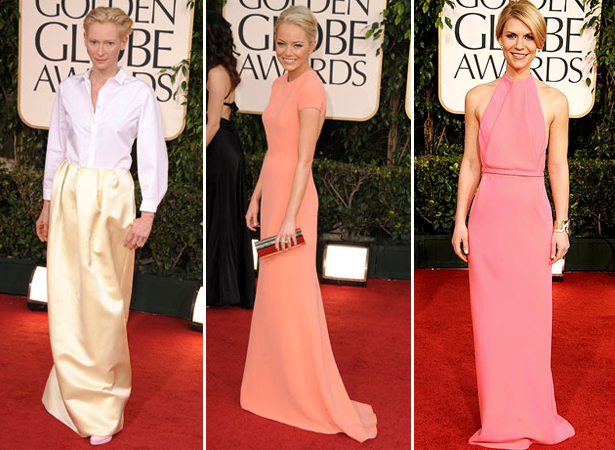 The Experimentalists: I love the kookiness of Helena Bonham Carter – she is always truly a fashion individual. The mis-matched shoes and massive beehive hairdo are the perfect compliment to her Vivienne Westwood dress.
Between Julianne Moore's Lanvin gown being a tad wrinkled, in a complicated (for most redheads) shade of pink and a poufy one sleeve silhouette, this whole look should have been a complete disaster, but she somehow totally pulls it off. Score one for confidence over intimidating fashion choices!
And while Leighton Meester wasn't the only girl rocking long sleeves on the red carpet, her ruched version with a high neckline and modest slit was a nice change from the usually overt sexiness (ahem, January Jones) of glam award show attire.
The Traditionalists: There are certain things you just know you are going to see on an awards show red carpet – hourglass shapes, serious cleavage and big jewels are just a few and it takes a certain something extra to make these glamour-girl standbys seem new and interesting.
The laser cut detail on Amy Adam's one-shoulder Marchesa frock added cool texture to a frequently used shape, while January Jones brought the wow-factor with a flashy fringed number from Versace and Scarlett Johansson kept it sweet and sexy with fluttery 3/4 sleeves and intricate beading on her Elie Saab gown.
The Trends:
Serious Shoulders
One often associates strong shoulders with bad padded blazers from the 80's, but Angelina Jolie, Jane Fonda and Anne Hathaway make the trend look fresh, effortless and anything but dated.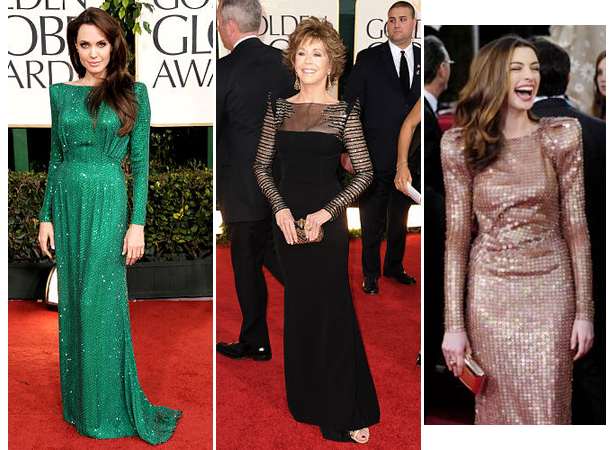 Ruching/Pleats:
As I've said before, ruching is some tricky terrain, except in the case of Elisabeth Moss, Mila Kunis and Kira Sedgwick, who all execute the trend gorgeously.
Hollywood Glamour:
What would an awards show red carpet be without it's fair share of one-shoulder dresses and Cinderella ballgowns?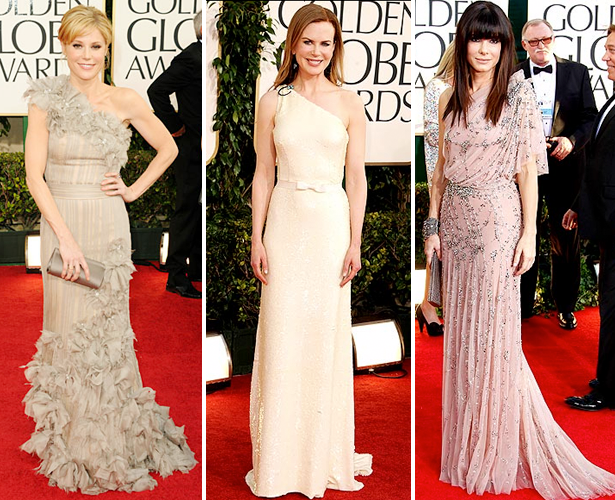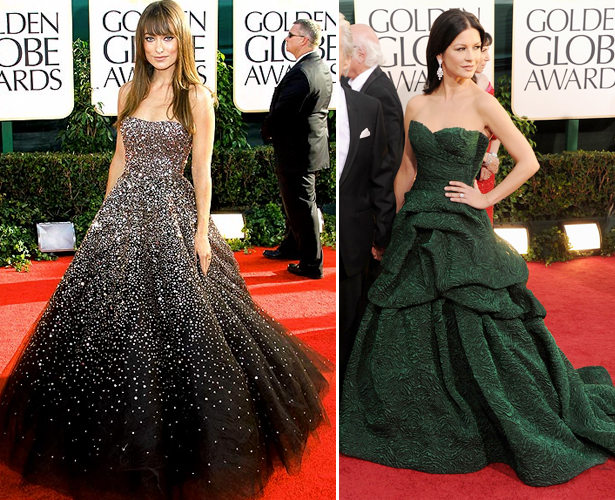 Other Favorites:
Julianna Margulies looks absolutely stunning in her vintage YSL dress, while newcomer Hailee Seinfeld not only stole the show in True Grit but also looks to be a budding style star in her adorable (and age appropriate) Prabal Gurung dress.
To be honest I don't usually like Eva Longoria's style (she's far too safe and predictable) but this dress fits her like a glove and the sweetheart neckline and mini train makes for understated elegance.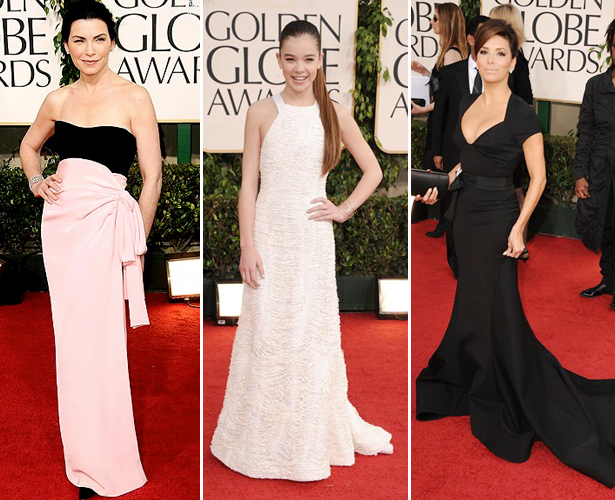 What were your favorite red carpet looks of the night? Which designers/trends/dresses would you like to see on the awards show fashion circuit?
(Photos courtesy of People, OK! Magazine and The Huffington Post)