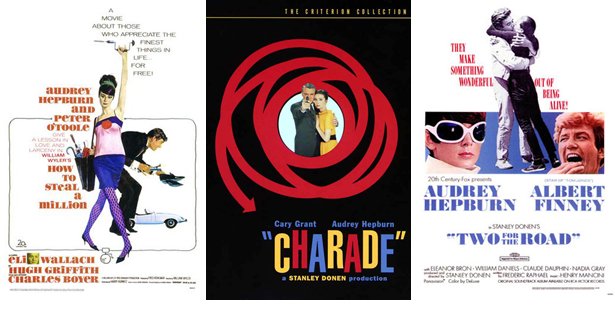 ShareThis
It's hard not to love Audrey Hepburn. From her gamine looks to her refined air of elegance, she was an icon for the ages. Everyone is well familiar with her creative partnership with designer Hubert de Givenchy, who outfittet her for several movie roles (most notably for her character in Funny Face). While many a book, blog and magazine has covered Audrey's personal style and influential film characters from Breakfast at Tiffany's, My Fair Lady and Sabrina, I wanted to take a look at some of the more underrated classics which capture the fun and quirky on-screen style of a few of my favorite film characters that Audrey has brought to life.
Don't get me wrong, I appreciate Funny Face and the gorgeous Givenchy ensembles showcased throughout Audrey's turn from mousey bookstore clerk to Parisian high-fashion model. However, I personally get a lot more inspiration out of a few of Hepburn's later films, including Charade (1963), How to Steal a Million (1966) and Two for the Road (1967).
Charade
One of my all-time favorite movies. How can you not love Cary Grant? And his on-screen chemistry with Hepburn is nothing short of adorable. I adore the Parisian-chic ensembles of Hepburn's character, Regina Lampert, who arrives back in Paris after a ski weekend to find that her husband is missing and a band of thugs is after her for money.

I love how overly dramatic and cheesy movie trailers from the 60's are! And the scene with Cary Grant showering in his suit could be one of the most charming on-screen moments ever.
For Regina, collarless jackets, pillbox hats and straight shift dresses are the uniform. Simple and chic, the looks are classics that can still be reinterpreted in a multitude of fresh and modern ways.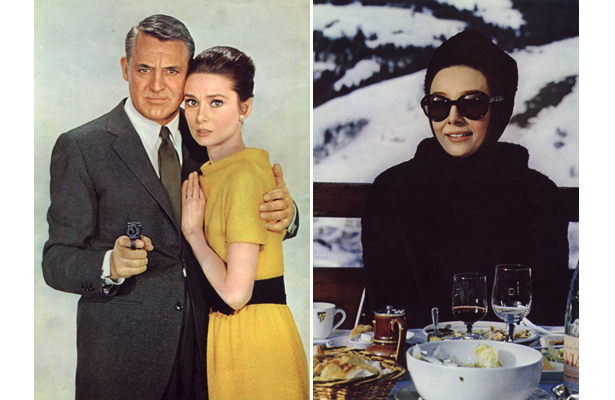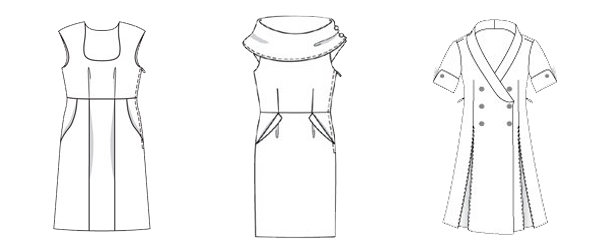 BurdaStyle patterns from left: Heidi Dress, Madison Dress and Paola Dress.

BurdaStyle patterns: Coat with Mandarin Collar, and Cropped Collarless Jacket.

BurdaStyle patterns from top: Tie-Front Blouse, Tulle Pencil Skirt, Swing Trench Coat. Image courtesy of Polyvore.
How to Steal a Million
By far my favorite Audrey fashion film. Hepburn is at the height of ultra-mod hip with her sleek Vidal Sassoon-esque hairdo and oversized white sunglasses. The opening scene of her driving through Paris in her minuscule Autobianchi outfitted in an uber-hip white suit seems all at once retro and totally modern.
As a matter of fact, her look is strikingly similar to Nicolas Ghesquiere's Fall 2006 collection for Balenciaga (which was heavily based on archival pieces from the house).

An editorial featuring pieces from Balenciaga's Fall '06 collection
Hepburn was outfitted in almost all Givenchy designs and the iconic black lace dress she wears in this promo shot with Peter O'Toole sold for nearly $100,000 at an auction in 2009.

BurdaStyle patterns from left: Cropped Jacket, Pencil Skirt, Ute Blouse, A-line Skirt, Short Coat and Tunic Dress.
Two for the Road
Definitely the least light-hearted of my three favorites, this film starring Hepburn and Albert Finney follows characters Mark and Joanna as their marriage is slowly unraveling and they head off on a road trip through Europe remembering how they first met. What I love so much about this movie is all the Mary Quant Hepburn wears, not to mention the two fantastic Paco Rabanne numbers including a psychedelic mini dress and space-age cocktail dress adorned with loads of silvery plastic discs.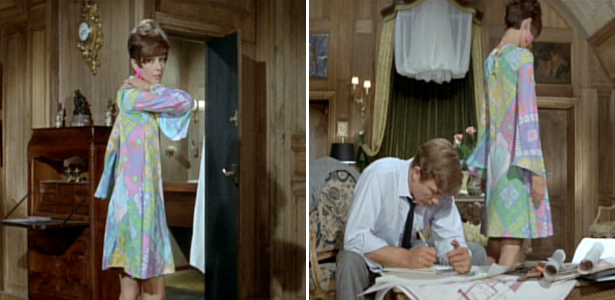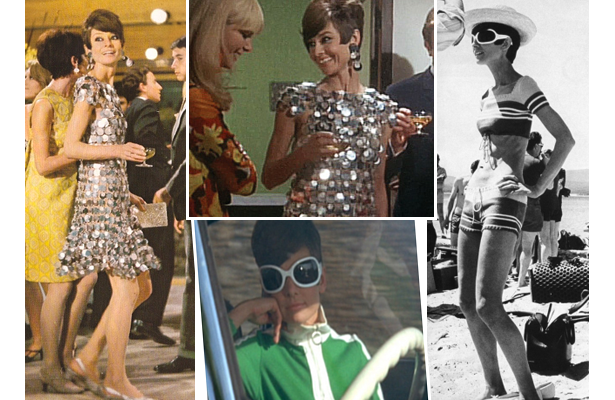 From left: Hepburn in her space-age Paco Rabanne cocktail dress, film stills from Two for the Road

Patterns from left: Rugby-style Shirt Dress and Fatina Dress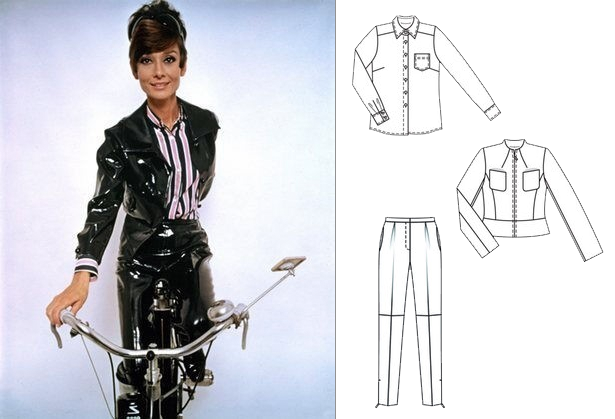 From left: Audrey in a PVC suit by Mary Quant, BurdaStyle's Long Sleeve Button Up, Zippered Jacket and Leather Trousers patterns.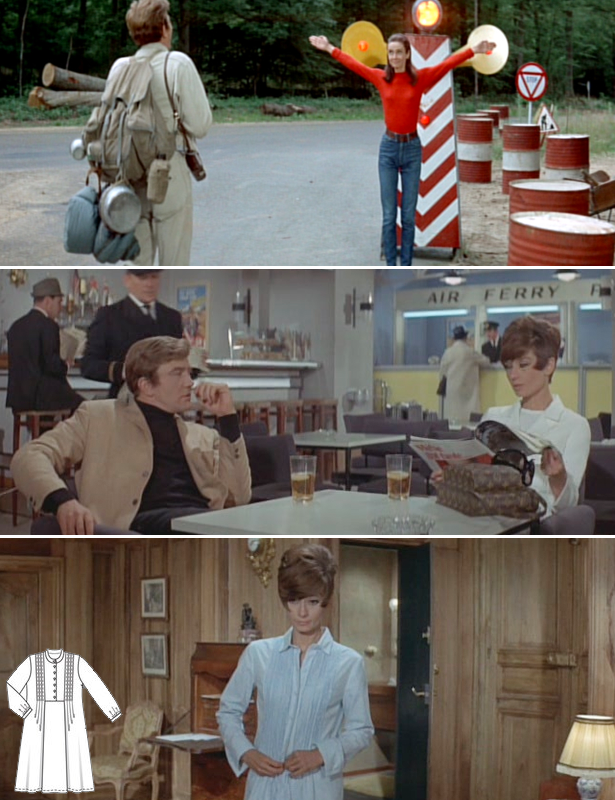 Bottom left: BurdaStyle's Pin Tuck Shirt Dress pattern.
Now that I've shared a few of my favorite Audrey classics, tell me which of her films inspires your fashion and project choices most!
Film stills courtesy of IMDB and Google images.