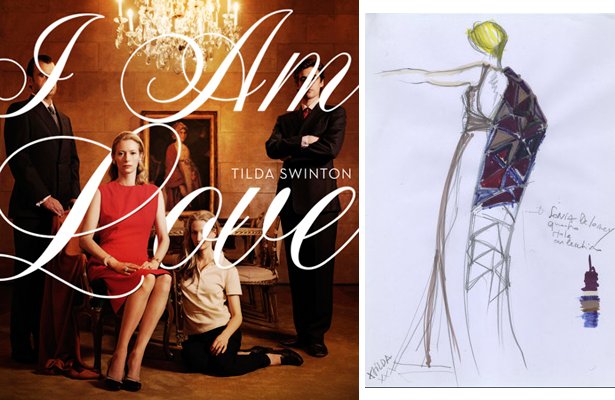 ShareThis
When it comes to fashion there are a handful of modern actresses who I think can properly wear the title of "icon", and with her androgynous cool and penchant for killing it on the red carpet in draped Lanvin gowns and sharp Jil Sander ensembles, Tilda Swinton is one of those actresses. While her choices are a bit less accessible than those of her tinseltown counterparts, Swinton's appearance is always a fresh contrast to traditional Hollywood garb.
I've expressed my love for Tilda before, however this musing is not really about her, per se, but rather about one of best her films – and one of my favorite films in general – I Am Love. To be more specific, it is in reference to Swinton's costumes for the movie and how they not only create their own sub-story throughout the film, but also translate beautifully into any modern wardrobe.
First of all – did you know Tilda Swinton spoke Italian? Yeah, me either – add another point to her cool scorecard. But back to the original subject…costume designer Antonella Cannarozzi (who was nominated for an Oscar for her work in the film) collaborated with both Italian fashion house Fendi and Raf Simons for Jil Sander to create looks that captured the character's emotional subtext and created a sort of central visual time line for the story.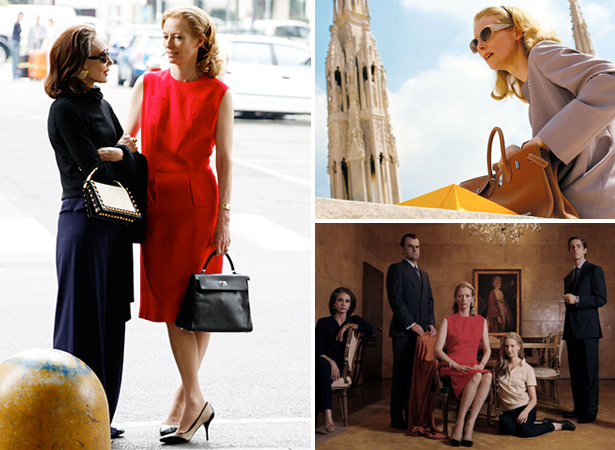 Swinton's character starts off in easy, neutral pieces, almost in an effort to blend into the Italian scenery. As she begins an affair with her son's friend, Antonio, the color choices become more intense – bright tangerines and seductive reds – and as the film rounds out with a family tragedy, the colors reign back in towards ashen grays and black. It's a full spectrum color evolution which is kept subtle by simple, minimal shapes and classic tailoring. Swinton's straight shifts, easy trousers and sleek dresses could easily jump between multiple decades and Cannarozzi was said to have been highly influenced by Hitchcock's Vertigo. You can feel the sort of fashion film noir aesthetic of a Hitchcock thriller in Cannarozzi's choices, but the looks steer clear of period drama with the help of Simons' sharp, modernist eye.

Get the look with BurdaStyle Patterns (from top): Short Spring Coat, Pleated Top and Cropped Trousers. Costume sketch for Swinton's character, Emma Recchi, Swinton in the finished Raf Simons for Jil Sander ensemble.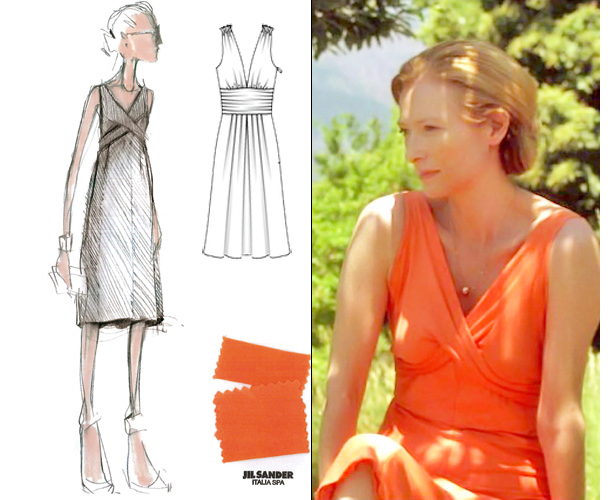 Costume sketch for character Emma Recci, get the look with BurdaStyle's Drape Dress pattern, Swinton in the finished Raf Simons for Jil Sander dress.
More looks to try

BurdaStyle's V-Neck Dress pattern.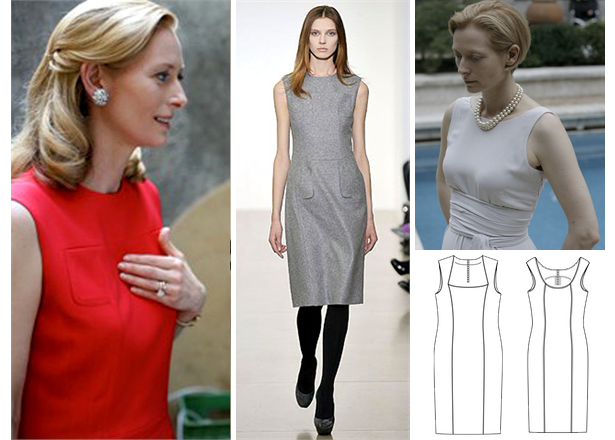 BurdaStyle's Shift Dress and Pencil Dress patterns.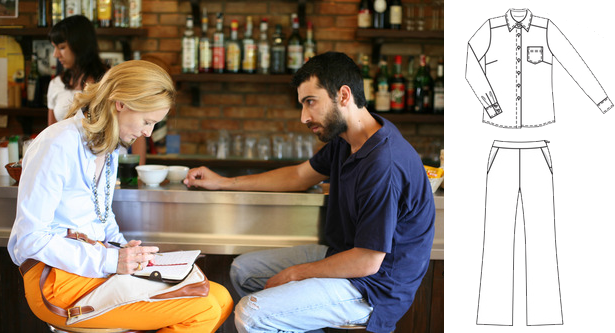 BurdaStyle's Long Sleeve Blouse and Wide Leg Trouser patterns.
Although I Am Love is nothing short of an emotional roller coaster, it is by far one of the best movies I've seen in a long time and a beautiful representation of what a powerful element spot-on costuming brings to visual storytelling.
Who are some of your favorite movie characters? Are there any costume designers whose work you find inspiring?