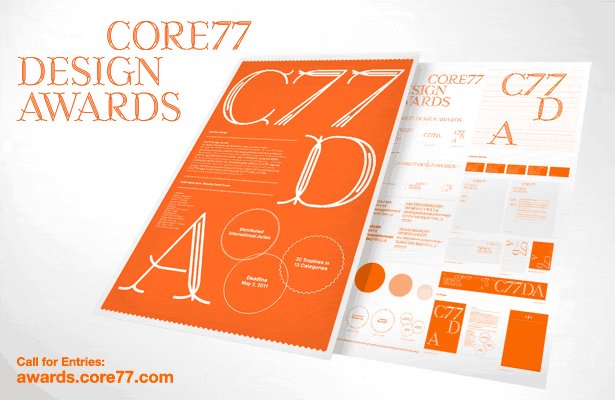 ShareThis
Core77, a leading resource for the design community, is announcing it's first international awards program called the Core77 Design Awards. Entrants can submit into one of 15 categories ranging from apparel and DIY to interactive and design for social impact.
Along with their design, entrants will also be asked to submit a short behind-the-scenes video to show the story behind their design concept, as well as to give a personal point of view and background story to their submission. Each of the 15 categories is open to both students and professional designers and awards will be presented for both levels in each category (30 awards in all).
Embracing the accessibility of the internet and a transparent judging process, Core77's teams of judges will announce the winners of each category via livestream broadcast over several days, allowing the judges to share both the reasoning and methodology that lead to their final decisions. Judges include Peter Kallen from the sustainable urban and outdoor apparel company, Nau; Max Fraser, editor and publisher of the London Design Guide; Eric Wilhelm and Christy Canida from Instructables; Steven Heller, Co-Chair of the MFA Design as Author program at the School of Visual Arts, and many more movers and shakers of the design industry.
Entires are due by May 3rd, 2011 so jump over to Core77 to learn more about how to submit your designs to this bold and innovative new program!