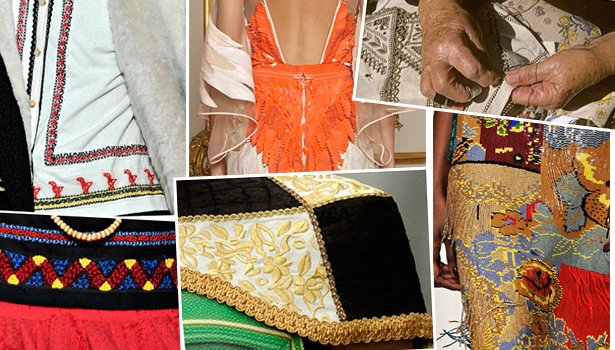 ShareThis
Whether done with thread, beads, lace or sequins, embellishment adds a luxe texture and dimension to garments or accessories. Are you an embroidery maven or just an admirer? Check out some gorgeous examples including garments by Mary Katrantzou and Oscar de la Renta, as well as loads of tips and how-tos so you can get started.
Prada caught my eye for Spring with Miuccia's kooky banana prints, but it was this fantastic embroidery that really reeled me in.
Mary Katrantzou's bold, graphic dresses stand on their own just fine, but when you get up close and see that some of the subtle details have been enhanced with embroidery and trim, it adds a whole new dimension to the beauty of her work.
British design duo Meadham Kirchoff are known for their signature "unfinished" look and added an ethnic vibe to their Fall 2011 collection with quirky embroidery in bright primary colors.
Speaking of ethnic flair, Oscar de la Renta is the king of gorgeous, culturally-influenced embellishment. Whether it's embroidery inspired by South American textiles or intricate bead work reminiscent of chinoiserie, de la Renta knows how to enhance a pattern, graphic or silhouette with embellishment.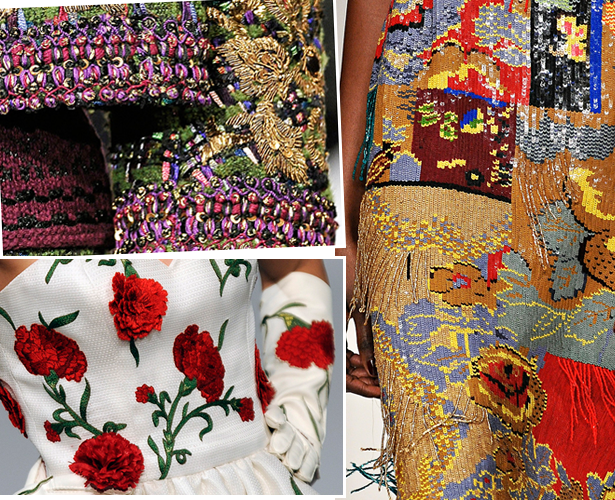 Florence Welch wore this stunning Givenchy Couture gown to the recent Grammy Awards ceremony. The embroidery and applique work is incredible, I can only image what this piece looks like up close.
Chanel's expert seamstresses and artisans come together to make some of the most intricate and amazing couture pieces in the world. A few weeks ago I posted links to the documentary Signe Chanel and if you want a birds eye view of the painstaking process of creating couture, I definitely recommend carving out some time to watch this flick. It's also interesting to note that an old superstition says if you weave a single strand of hair into the wedding dress you are embroidering, you will be married within the year.
From episode 4 of Signe Chanel, watch how quickly the embroiderers do their work! Amazing!

Embroidery is a great way to add a personal touch to garments you already own, or take ones you are making to the next level. Whether you're just getting started or are well in the know, I've pulled together a few links to aid the process and maybe even teach you something new!
-If you're just staring out, you're probably going to want to know all the different types of embroidery and a few basic stitches.
-Once you've mastered the basics, head over to Sharon B's amazingly comprehensive Stitch Dictionary filled with all the hand embroidery and needlework stitches you'll ever need. Complete with pictures to guide you along, you'll be a pro in no time!
-Did you know that there is an Embroiderer's Guild of America? Check out their list of correspondence courses including German Schwalm and Italian Drawn Thread Embroidery.
- Fellow BurdaStyle members have even created some helpful guides including esewingworkshop's Chain Stitch Embroidery Essentials video, mirela's Free Hand Embroidery tutorial and handmadebyfreya's instructions for how to applique an embroidered piece (in this case, embroidered lace) on to a garment.
- Alicia Paulson's Embroidery Companion comes packed with 30 different patterns as well as guides and instructions for how to do decorative embroidery, counted cross-stitch and crewelwork.
Other great titles to check out:
Mary Thomas's Dictionary of Embroidery Stitches
The New Crewel
Yvette Stanton's guides for both left-handed and right-handed embroiderers
-After you get the hang of embroidering with thread, take it to the next level by adding beads or sequins to your stitches. Learn what you need to get started as well as tips and techniques here. If you want to get more in depth, Yukiko Ogura and Stanley Levy both have books full of great information, pictures and guides for embroidering with beads and sequins.
-Looking for fun, modern stitch patterns? Sublime Stitching has what you need. As their tag line says, "This Ain't Your Grandma's Embroidery" and Sublime's cute and quirky designs will add a fun kick to any of your projects, while their embroidery kits and great range of tools will help you get started fast.
-If you still can't find the pattern you need, make your own! There are a few companies that make great software to guide you along including Creative DRAWings® 5 and Janome's Artistic Sewing Suite which are both helpful tools for making your designs come to life.
-Have any of you ever used an embroidery machine? I test ran a model at a fabric store a few years ago and was thoroughly impressed. If you're looking to take your embroidery to the next level, check out BERNINA's 830LE or Viking's Designer Ruby™.
How do you use embroidery in your projects? If you haven't yet, how would you use needlework to enhance your work? Leave your answers in the comments below by Friday, March 4th and you could win one of three prize packs including a BurdaStyle Stitches tee and stitch kit!