ShareThis
I don't know about you, but this year has flown by, I can hardly believe it's already November. Whether or not you're ready, it's time to start gearing up for the holiday season and that means planning your holiday party attire.
Here in the U.S. we'll be celebrating Thanksgiving in a couple of weeks – the rest of the holiday season just seems to snowball from there – and I thought I would pull together a few outfit ideas and BurdaStyle patterns to help get your wardrobe holiday ready, hopefully with some time to spare.
Fancy Dinner Party
Gorgeous table settings and an elaborate menu call for equally beautifully attire. Pretty little dresses, chic pants, stunning accessories – you can pull out all the stops for this one. Try out one of my favorite patterns, the Three Quarter Sleeve Lace Dress, or keep it casually elegant in a pair of wide leg pants and an oversized sweater.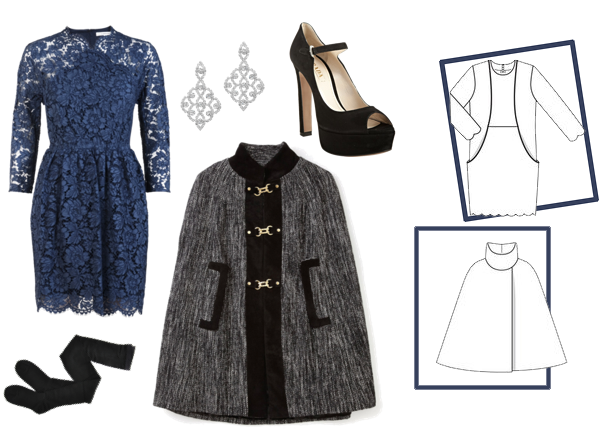 Patterns: Three Quarter Sleeve Lace Dress, Cape. Outfit: Dress by Carven, earrings from Debenhams, shoes by Prada, cape by Mulberry, tights by Wolford.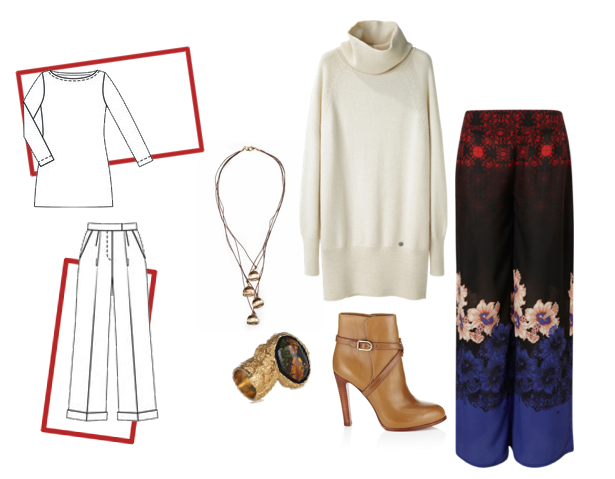 Patterns: Long Knit Top, Satin Trousers. Outfit: Turtleneck by Viktor & Rolf, trousers from Topshop, boot by Tory Burch, ring by YSL, necklace by Janis Savitt.
Family Get Together
Catching up with family members and loved ones is what the holidays are all about, but just because it's your nearest and dearest doesn't mean you get to show up in sweatpants and a hoodie. Keep it comfortable with classic pieces like our Andrew Cardigan and skip anything complicated or tight because you know that just one slice of grandma's pumpkin pie is never enough.

Patterns: Hooded Parka, Cuffed Trousers (animal print fabric optional), Elena Hat. Outfit: Sweater from J. Crew, hat from Nordstrom, parka by Scotch & Soda, trousers by Malene Birger, loafers from Topshop.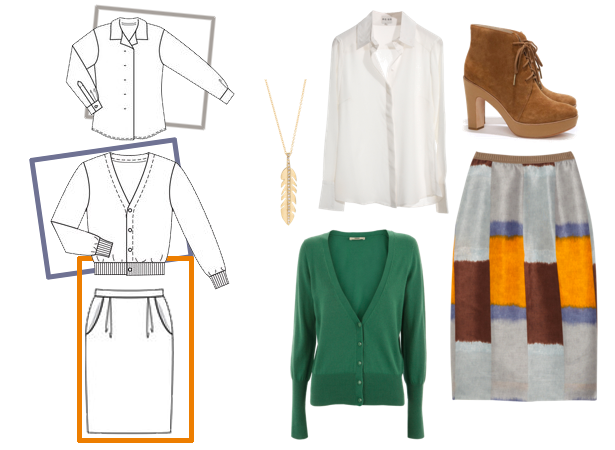 Patterns: Hidden Button Blouse, Andrew Cardigan, Knee Length Skirt. Outfit: Blouse from Reiss, boots by Michael Kors, skirt by Marni, cardigan from Oasis, necklace by Ileana.
Catching up With Friends
Otherwise known as "The Orphan Dinner", holiday get togethers with friends are often (in my opinion) a much less stressful affair. I enjoy the orphan holiday because it usually means dinner is potluck style so not only do you get to sample all of your friend's various cooking styles, but you also get a small glimpse into their childhood based on what dish they choose to bring (I always volunteered to make green bean casserole, as it was hand-down my favorite holiday dish growing up). Keep you attire casual and fun, but don't be afraid to dress up a little – after all, it is still a party.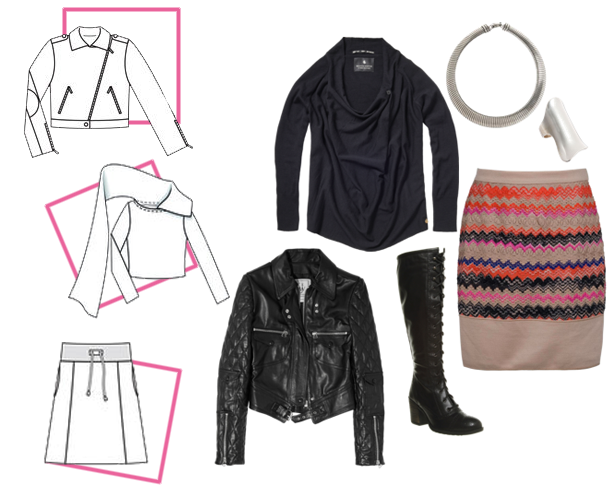 Patterns: Larissa Jacket, Top with Scarf, Knit Skirt. Outfit: Top by Scotch & Soda, necklace by Janis Savitt, ring by Lynn Ban, skirt by Missoni, boots from Office, jacket by JW Anderson.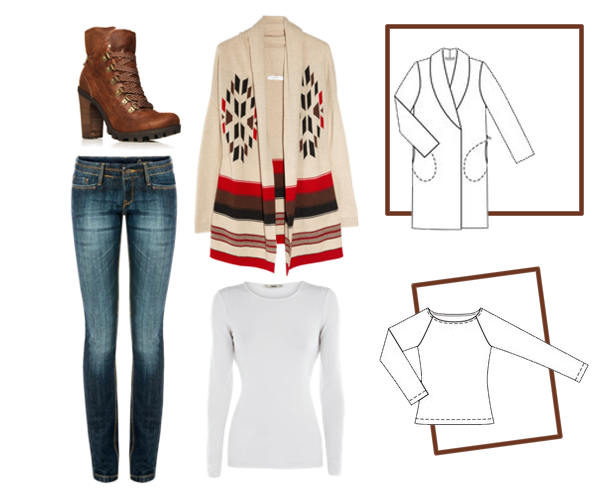 Patterns: Sweater Coat, Long Sleeve Top. Outfit: Boots from Debenhams, sweater by Sandro, tee from Debenhams, jeans from Mango.