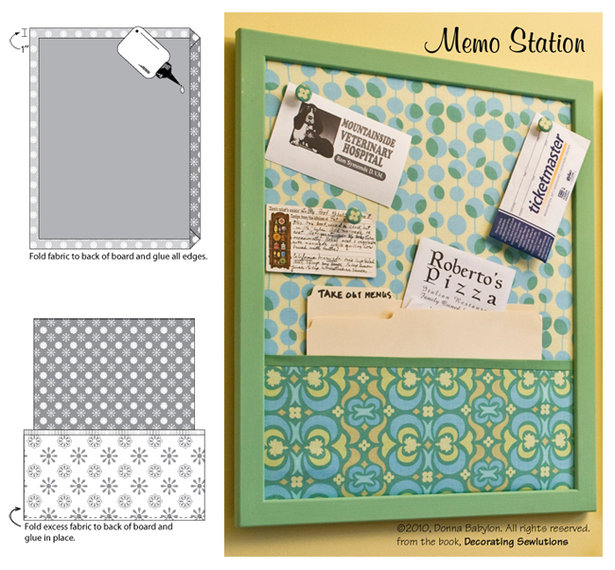 ShareThis
Memo Station
Materials Needed:
Wooden picture frame, 16 inches by 20 inches
Sturdy cardboard, 16 inches by 20 inches
White all-purpose glue
Thread to match fabrics
Cotton fabrics (two coordinating prints and an accent fabric)
Base fabric: ½ yard
Coordinating pocket: ¼ yard
Accent fabric on pockets: 3/8 yard
Cutting
1. From the base fabric, cut an 18-inch by 22-inch rectangle.
2. From the coordinating fabric, cut an 8½-inch by 18-inch rectangle for the pocket.
3. From the accent fabric, cut a 10½-inch by 18-inch rectangle for the pocket.
Pocket Construction
1. Using the accent fabric and the pocket fabric, place the rectangles right sides together with the 18-inch sides matching. Note: The accent fabric will extend below the pocket fabric. Stitch across the top edge with a ½-inch seam allowance.
2. Open the fabric and press the seam allowance toward the accent fabric.
3. Fold the pocket so the wrong sides are together and the accent fabric border extends ½ inch beyond the decorator fabric. Press smooth. Along the bottom edge of the pocket, stitch a ¼-inch seam though both layers of fabric.
Assembly
1. Cover the board by centering the wrong side of the base fabric over the right side of the cardboard. (The fabric will extend 1 inch around all four sides.) Neatly fold the raw edges of the fabric to the back of the board and glue the fabric in place. Allow the glue to dry.
2. Turn the covered board right side up. Place the bottom edge of the pocket even with the bottom edge of the board.
3. Glue the side edges of the pocket to the back of the board.
The Finish Line
1. Remove the glass from the picture frame. You won't need it for this project. Place the fabric covered cardboard into the frame. Secure the board in place with the metal tabs on the back of the frame. If the picture frame came with a cardboard backing, place it on top of the memo board before securing the tabs.
2. Hang on wall where desired.
Donna Babylon's enthusiasm for teaching sewing and decorating is unmistakable through her many books, patterns, television appearances, and seminars. She formed her own indie publishing company because she wanted total control of her destiny (and she hated attending 8 a. m. meetings). She publishes books and patterns under her brand, More Splash Than Cash®. Her latest book, Decorating Sewlutions, is an all-in-one sewing and decorating book that focuses on three basic sewing techniques to create over 100 items for the home. Visit her at MoreSplashThanCash.com.