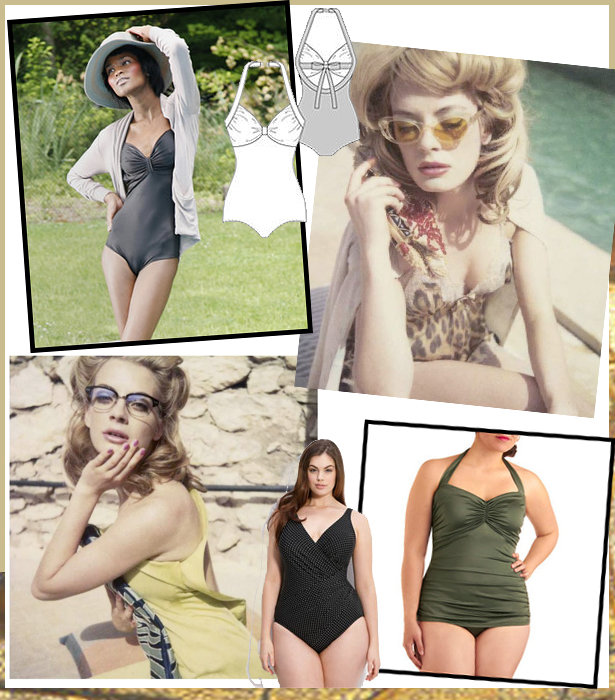 ShareThis
In case you didn't know, July is National Bikini Month in America, so I've put together some patterns and tips for DIY-ing your own swimwear— read on for the patterns + tips!
50s Maillot (as pictured above):

I love retro swimwear with a modern twist. If you do too, try our Alison 1950s maillot. 56 of our members have made one too, click here if you'd like to see them.

Metallics:




If you're into rusching + gathers or just have a thing for tankinis, you should try our golden rusched swimsuit. It has a good amount of coverage and it's also chic and fun.

Itsy Bitsy Teenie Weenie:




If you love the look of a string bikini, then our Jessica bikini can be your new playground for experimenting with fabric scraps and remnants. If you like a halter top bikini, try this free download.

Now onto the tips— The color, fabric and style of your swimwear is totally up to you, and have fun personalizing your swimming costumes. I know that Spandex can be tricky to sew with, so sometimes I'll opt to use rayon or cotton jersey for variety. Below I've put together some mood boards to share my favorite three swimsuit patterns and inspiring ways to interpret them. Here are some of our top tips for sewing swimwear:

FABRIC: Nylon Spandex is your best bet for a stretchy, quick-to-dry and versatile swimsuit. Women's and girl's swimwear call for two-way stretch fabrics, the most common being Spandex and Lycra. These materials have a body-conscious stretch and dry quickly.

LINING: A four-way stretch fabric made from 100% Nylon prevents a wet bathing suit from becoming see-through and keeps certain body parts from peeking out.

STRETCH NEEDLE: A stretch needle in your sewing machine to sew Nylon Spandex or similar materials is a must. Not to be confused with a ball point needle, which may not have quite enough of a scarf for stretch knits. A scarf is the indentation at back of needle. A long scarf helps eliminate skipped stitches by allowing bobbin hook to loop thread more easily. A shorter scarf requires a more perfectly timed machine.

ZIG-ZAG STITCH: This stitch allows for the swimsuit material to be sewn but able to stretch without the stitches breaking or ripping, which will better accommodate a body hugging suit.

ELASTIC: Be sure to add elastic banding for the top of a men's swimsuit, as well as around the leg openings or bodice openings of a women's suit.

MAKE A PATTERN LARGER or SMALLER: Click this link to learn how to make an existing pattern larger or smaller to accommodate yourself or someone else.