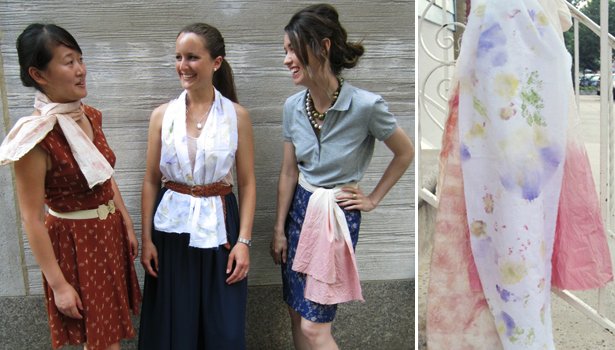 ShareThis
A few weeks ago Jamie, Martyna and I decided to try a little DIY project of our own. Inspired by a book we recently received in the office, India Flint's Eco Colour, we embarked on a eco dyeing adventure in my tiny apartment in Brooklyn. For our project we decided to focus on three different types of dyeing: fruit-based, onion skin and flower smashing. These are three of the easiest techniques and a good starting point to try your hand at eco-conscious dyeing.
India's book goes into much more detail and is great for those of you who want to expand your knowledge and play around with plant-based dyeing. The book also offers some beautiful pictures of her results which are, needless to say, much more professional looking than our own. However, if you're looking for a fun weekend project you can tackle with friends (it's also a great way to keep kids occupied for the afternoon!), read on to get the instructions and check out the results of our DIY experiments!
Fruit Dyeing
The first dyeing technique we tackled was using fruit. India's book recommends the following fruits for cold berry dyes:
Raspberries
Mulberries
Elderberries
Blueberries
Cherries
Blackberries
After further internet research, I read that plums also offer a nice pinkish/purple color for dyeing so we opted for those. For fruit-based dyes you want to make sure to fix your fabric first in either a salt or vinegar bath. Here are the supplies you will need to get started:
Water
Salt or Vinegar (we used salt for this one)
Measuring Cup
Plastic Strainer
Natural Fabric (silks work best as they absorb the most color – however linen and cotton are also suitable choices. We used muslin left over from one of Jamie's sewing projects)
Cooking Pot (make sure you are using pots that you are ok with destroying – you may or may not be able to use them again after this experiment!)
Berries (we ended up using the skin of about 6 plums)
Start by bringing 1/2 cup of salt and 8 cups of cold water to a boil in a large pot (or if you choose to use vinegar: 4 parts cold water to 1 part vinegar). This is your fix and you will start by boiling your fabric in the fix for approximately 1 hour. While your fabric is boiling away you can start on your plum dye. Dump your plum skins (or berries) in another pot with water – you can adjust the amount of water based on how intense you want your color and also how large your piece of fabric is – and simmer for around an hour.
Once your fabric has been in the fix for an hour, rinse thoroughly with cold water and ring out excess. Strain your plum dye into a separate bowl and place fabric into dye. You can submerge the whole piece or even wrap or tie it up to get a cool tie-dye/shibori print. Lately I've been inspired by dip-dyeing and decided I wanted to try to achieve the same effect with this project – so we chose to only place the ends of our fabric (about 10 inches or so) into the dye.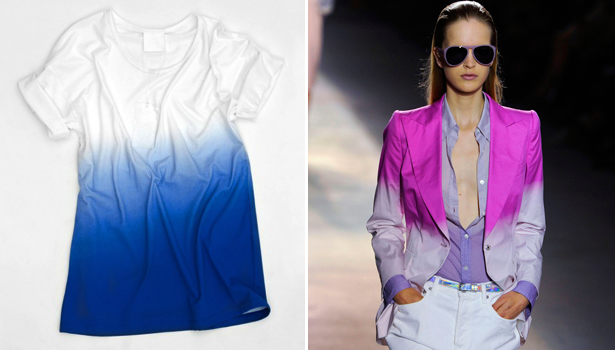 The Inspiration: tee by Future Sentiments, jacket by Dries Van Noten.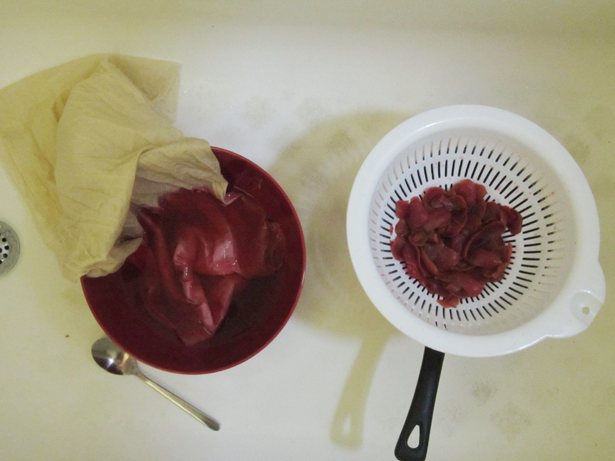 The Process: our attempt at dip dyeing with plum skins.
India recommends leaving your fabric in the dye for around 3 days (she submerges hers in a tightly sealed jar), while other recipes said a few hours would do the trick. We ended up leaving ours in the dye for around 3 hours and achieved a nice magenta-ish pink. Doing this a second time around, we probably would have opted for plain white cotton or silk, as we think the muslin might have distorted the depth of color we achieved.
Onion Skins
The second dyeing technique we took on was using onion skins. This one is so simple and requires nothing more than the skin of a few onions, vinegar and fabric. Here are the supplies you'll need:
Red, Yellow or Brown onions (just the skins!)
Vinegar
Fabric (once again India recommends using silk – but we opted for more of Jamie's left over muslin!)
Spray Bottle
Trash Bag
Extra Fabric for Ties
Plastic Snap Lock/Freezer Bag
This technique lets you bring out your inner artist! Lay out a large plastic trash bag and place your fabric on top. Lay out your onion skins in whatever pattern you choose – it can be random or you can try making different images or shapes. Once you have all your pieces of onion skin in place fill your spray bottle with vinegar and moisten the fabric and skins. You don't want to soak the fabric, just spray enough to start to draw the color out of the skins.

The Process: our onion pattern.
Start at one end and begin rolling up your fabric with the onions inside. We lightly spritzed with vinegar as we rolled. Once you have your fabric rolled up into a sausage shape make sure to moisten the outside with a little more vinegar, then take extra strips of fabric and begin to tie up the bundle.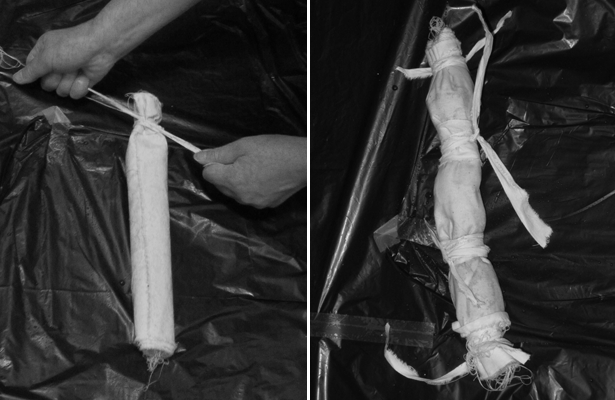 Place your bundle into a plastic ziplock bag and stash in a cool, dry place for about a week. Once you've opened your bundle you can unroll and remove the skins and allow to sit for another couple of days so the rest of the color can fix to the fabric. Afterward, Jamie ran ours through a quick hand rinse to remove any lingering vinegar smells. For this technique India suggests giving a final spray with a protein-rich post mordant – like a mixture of egg whites beaten in water – to bring out the greens and browns. We stuck with the regular method without the post mordant and got a series of cool brownish-reds and yellows.
Flower Smashing
This was by far the most fun and the results were not only instant but so pretty! You don't need much to accomplish this technique either, here's the short list of supplies:
Rubber Topped Mallet
Flowers and Leaves (stick with varieties that are moist and vibrantly colored – we chose irises, and a few tiny yellow and reddish-pink buds, along with some large green leaves)
2 Plastic Trash Bags
Fabric (we used a super thin cotton)
A few crafters suggest fixing your fabric in an alum/baking soda mixture for up to 8 hours. You can also fix with vinegar. If you choose to do a fix before you start to smash, try this one courtesy of glitter soup 101.
For this one we skipped the fixing and got straight to the smashing! We recommend that you do this on a surface that can take a beating – ie: not your brand new hardwood floor – we opted for a big, empty sidewalk space outside of Jamie's apartment. Start by laying out a large plastic trash bag, place an old towel on top and then your fabric. Place your flowers in desired pattern and lay the second trash bag on top.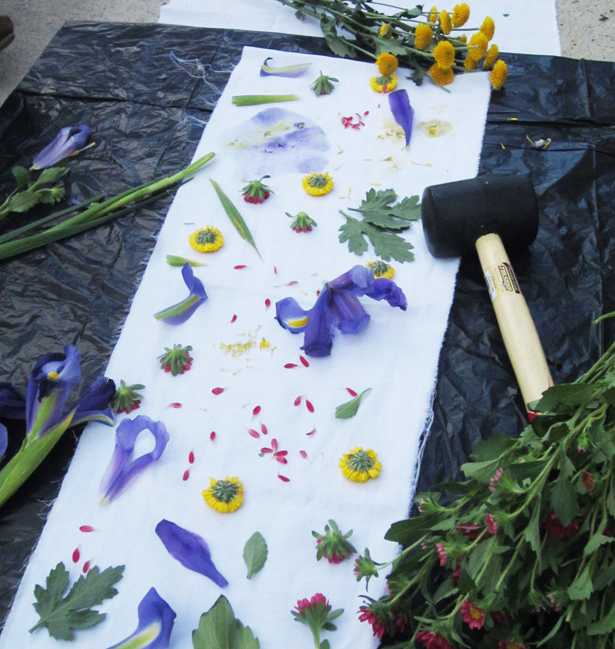 Hold down the edges of the top plastic bag tight (you can have friends or family jump in to help out, or place heavy books on the corners of the bag) and begin pounding the fabric from one end to the other. You can periodically lift up the bag to check your results as you go. Once you are finished you can shake off the excess flower pieces and marvel at your awesome new print! This would also be fun to try with stationary – making your own notecards or postcards with thick paper.
All Finished:
Here are our three projects side by side. Which one is your favorite?
I attempted to steam the finished projects before we took this picture and unfortunately ended up diluting some of the color, especially on the plum dyed fabric. I suppose I should have taken India's advice and let the dye sit for a few days! Or used more fix!
What we know for next time:
Use silk in a bright white color – the muslin we used for this project may have distorted some of the colors and caused them not to appear as vibrant as they might have on a bright white. And according to India Flint, the natural colors adhere to silk better than any other fabric.
Allow fabric to sit in the the berry dye for longer. India suggested 3 days, we let it sit for 3 hours. Longer dyeing time equals more vibrant colors (that hopefully won't disappear after a quick steaming!)
Let the colors of the onion skins cure a bit more before washing. Once again this is a matter of letting the colors sit for longer to get the best possible effect, in this case the best pattern from the skins. Also it would be cool to try a post-mordant next time around to see what other colors we can bring out.
Anyone else have any tips or techniques for eco-friendly dyeing? Share with us what has worked best for you!