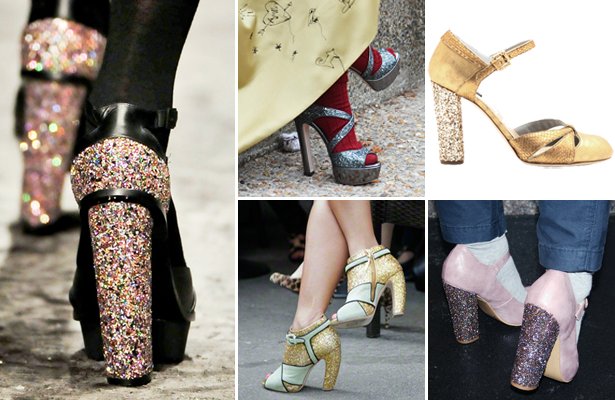 ShareThis
One thing I couldn't help but notice during the month long fashion week marathon was that the undisputed shoe choice of the season was Miu Miu's glitter booties. Editors, stylists, show attendees – no one seemed to be able to escape the allure of the sparkly shoe. Ask most girls and we will tell you that we never really outgrow our childhood love of all things sparkled, spangled and glittered, so it makes sense that this girlish fantasy manifested into shoe form would make even the most matured of fashion hearts swoon. After seeing these and other glittery versions by Louboutin, Marc Jacobs, and Versus, I thought to myself (as most of you probably have at one time or another) hey I could do that – or at least I could try!
First, the inspiration:
Miu Miu's glittery footwear was everywhere during fashion week…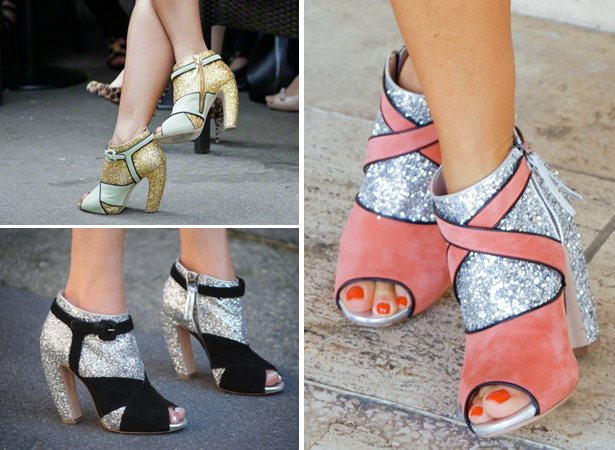 Especially on the feet of editors, stylists and buyers…
But Miuccia wasn't the only one with sparkles on her mind. Rather than attempt to glitter an entire shoe and run the risk of ending up with nothing more than a sticky eyesore, for my version I opted to follow in the footsteps of Versus (left) and Marc Jacobs (bottom right) and keep the glitter contained to the heel.
So, ready to get started?
I wasn't prepared for how difficult it was going to be to find a shoe with a substantial heel (so many stilettos…). I toyed with the idea of using a wedge shoe but nothing was quite what I was looking for. I found these mary janes online and thought the heel was the perfect size and just begging to be glittered.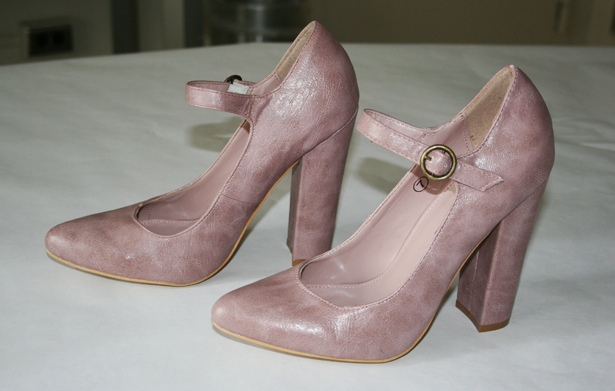 My lovely assistant (and resident BurdaStyle sewing wonder) Jamie and I started out by taping off the heel using blue painters tape. We recommend painters tape because it pulls off easily so you don't run the risk of damaging the rest of your shoe. For the bottom of the heel, we decided to tape off the plastic tap just in case it ever needed to be replaced.
For the portion of the heel where it connects to the rest of the shoe, we found that it works best to use smaller strips of tape to fit the curve perfectly. Also make sure to tape off the underside of the shoe where it meets the heel so you get a clean, defined line.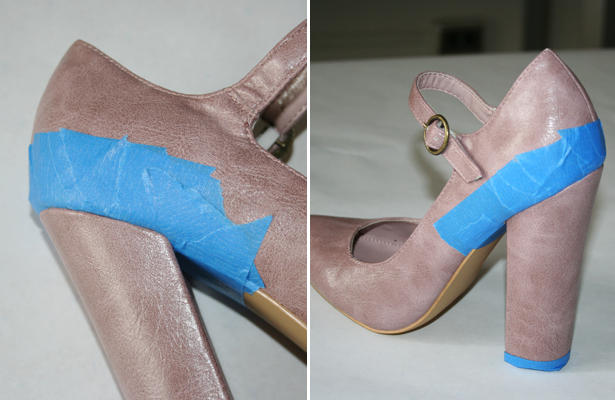 What's so great about this project is that not only can you use it to revive a pair of tired old heels shoved in the back of your closet, but you can find all of the tools you need in the craft section of any store. We chose glossy-finish Mod Podge and large flakes of rainbow glitter. You could opt for smaller, finer sparkles – but you won't get the same texture and reflection as you will with larger flakes. If you really want to make an impact, I say the bigger the glitter the better! Don't forget you'll also need a small paintbrush or sponge applicator to apply your Mod Podge to the shoe.
Start by painting on small section of Mod Podge onto the heel of the shoe and then sprinkling glitter over the painted section until it's covered. I recommend sprinkling with your fingers rather than shaking the glitter straight out of the container, as you can better control the distribution of the sparkles.
Continue painting adhesive and sprinkling glitter until you've covered both shoe heels. Let your shoes dry for at least 2 hours, after which you can go back and touch up or add another coat of sparkle.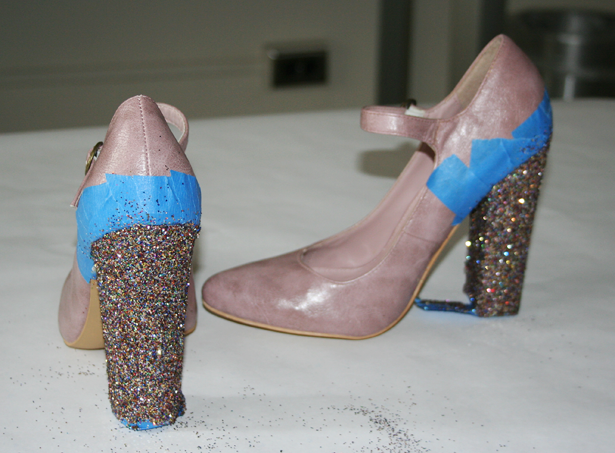 Once the shoes have dried and you're happy with the results, it's time to make sure those sparkles stay in place. I picked up a can of Krylon Clear Acrylic Coating. Because I knew I would be wearing these shoes outside and often in unpredictable New York weather, I opted for the waterproof version to make sure I can get the most wear out of my new glitter shoes. Any clear spray adhesive or shellac will work for this, just make sure you use a clear one so you don't distort or alter the color of your glitter.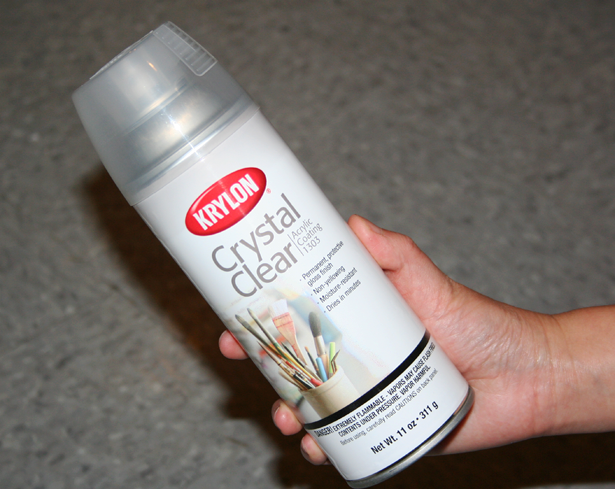 I did an initial spray over the shoes and let them sit for a couple of hours, then went back for a second spray. I really wanted to make sure those glitter flakes weren't going anywhere.
TIP: If you use a spray adhesive, make sure to clean any stray glitter from the rest of the shoe before you start to ensure that you don't accidentally shellac glitter where it doesn't belong!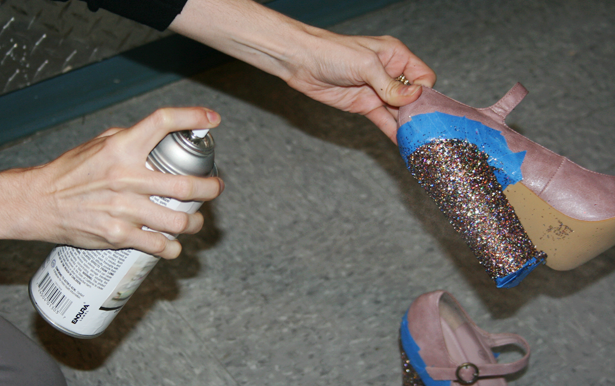 I let these puppies dry overnight and voila! My very own pair of fashion-editor approved glitter shoes!