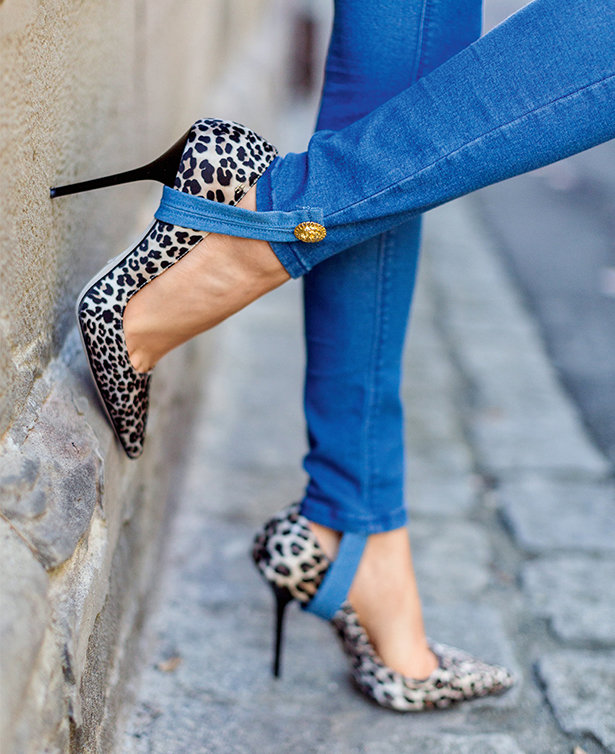 ShareThis
Stirrup pants – a must-have of the 80s are back again! This time around, the stirrups are worn visibly over the shoes. Read on to see how you can transform your jeans to have stirrups…
MATERIALS:
- Jeans
- Denim fabric
- Sewing thread (regular and extra-strong)
- Tape measure
- Straight pins
- Scissors
- Ruler
- Chalk pencil
- Snap fasteners
- Needle
- Thimble
- Buttons
- Ruler

Try jeans on. Measure the finished stirrup length. On denim, draw a strip with this length x 7 cm (2¾"). Cut out two such strips, adding 2 cm (¾") wide seam allowances.



On each strip, press long edges to wrong side, twice 1 cm (3/8") wide.



Pin pressed-under allowances in place and edge-stitch in place, using extra-strong thread and backstitching at beginning and end of stitching!



Turn ends of each strip under, 1 cm (3/8") wide, and pin then stitch in place.



Pin each stirrup to inner side of inner leg seam and stitch in place.



Sew snap fasteners to outer side of side seam and inner side of second stirrup end.



Sew decorative buttons to outer sides of stirrup ends.


New interpretation: Instead of adorning stretch trousers, stirrups are now on skinny jeans!

In order to change the color or style – (sequin) trims also look fantastic – don't sew the stirrup in place. Instead, attach it to the inner leg seam with a snap fastener. Double buttons are also a cool alternative.



Make a truly custom pair of denim pants and sew your own using the below patterns!



Skinny Pants; Floral Skinny Jeans

Need help sewing your jeans? Register for our Jeans sewing course with patterns included.