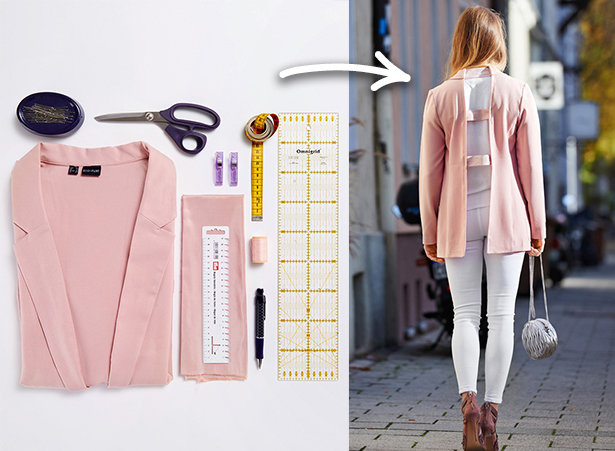 ShareThis
Clear cut … and unmistakably chic. A casual jacket which allows an enticing view of a sexy back, cool T-shirt or darling blouse! Read on to see how you can transform a blazer in your wardrobe.
No matching fabric?
If you can't find a fabric to match the jacket, you can use wide satin ribbons – or sew the strips from the piece of fabric which was cut from the jacket back.
Materials:
- Unlined blazer (from a store or handmade)
- Fabric (matching to the blazer)
- Sewing ruler
- Chalk pencil
- Scissors
- Pins
- Ruler
- Clips (buy here)
- Tape measure
- Thread
Step 1- Mark the center back line with straight pins.
Step 2- Then draw lines 3 cm (1¼") to the right and left of centre back, with the chalk pencil.
Step 3- Cut along the chalk lines. Finish the cut edges with a serger (overlock stitch).
Step 4- Press each cut edge to the wrong side, 2 cm (¾") wide.
Step 5- Cut 3 fabric strips, each 12 × 10 cm (4 ¾" x 4").
Step 6- Fold each strip in half lengthwise, right side facing in, and pin.
Step 7- On each strip, stitch long edges together, 1 cm (3/8") from edge. Press seam open. Turn strip right side out. Finish ends.
Step 8- Pin one strip to collar, right sides facing.
Step 9- Pin remaining strips to jacket, spaced 14 cm (5 ½") apart. Stitch 0.5 cm (3/16") from edges.
Step 10- Edgestitch strip ends in place.
Step 11- Working from the outer side, topstitch 1 cm (3/8") from each back edge of jacket.
Wearing the jacket on bare skin is admittedly quite sexy. We have closed the front with a glamorous brooch. If you like it even more extravagant, add wide fabric bows to the horizontal strips or sew the strips in different widths.
Wear a blazer to the party? Sure! The alluring back will be the talk of the evening!
Try it out with these blazer sewing patterns…