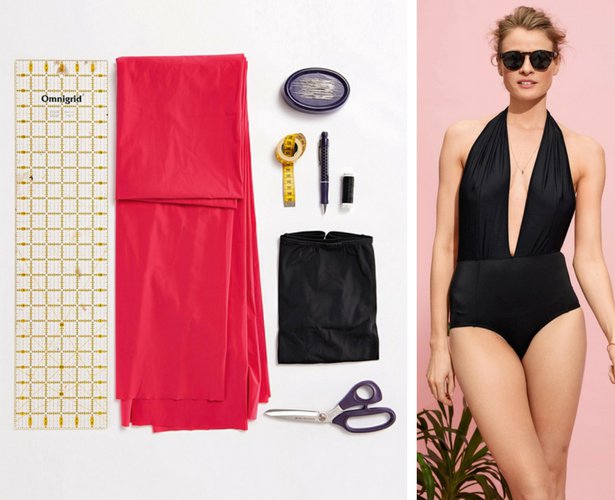 ShareThis
HOT STUFF; 30 minutes of work for innumerable hours of fun. This one-piece garment is super-easy to sew – and can be styled in many different ways. Read on to see how to make one for yourself.

Here is what you will need to make your suit:



- High-waist bikini bottom
- Swimsuit fabric/Lycra
- Ruler
- Tape measure
- Chalk
- Straight pins
- Scissors
- Thread



STEP 1: Mark center front of bikini bottom. Stretch fabric and measure from center front to side seam.



STEP 2: On Lycra, draw four strips, each with width = half of measurement from step 1 × 150 cm (60"). Cut out strips.



STEP 3: Pin pairs of strips together along one long edge.



STEP 4: Stitch long edges together with a serger/overlock machine. If you don't have a serger, use zigzag stitch, with fabric stretched.



STEP 5: Pin finished strips to front of bikini bottom, right sides facing. Begin at center front and pin along edge, ending at side seam and stretching fabric as needed.



STEP 6: Stitch straps in place with zigzag stitch, stretching while stitching. Tip: Edges of Lycra do not need to be finished, since the fabric does not fray.



Cross or twist the straps or wear them as a halter with plunging neckline – have fun playing with the innumerable ways to style this garment. To make sure the fabric strips fit well across the bust, we added vertical seams.



Also have fun playing around the the back!



Cool with jeans and elegant with a skirt. It also makes a great bodysuit! If you plan to wear this as a bodysuit only, the straps can be sewn of satin or silk.



Can't find high-waisted bottoms? Try making your own with out lingerie high waist panties pattern here.


TIP: If you have a larger bust area cut double the width of the strips and gather to fit into the top of the suit. This will provide more coverage!