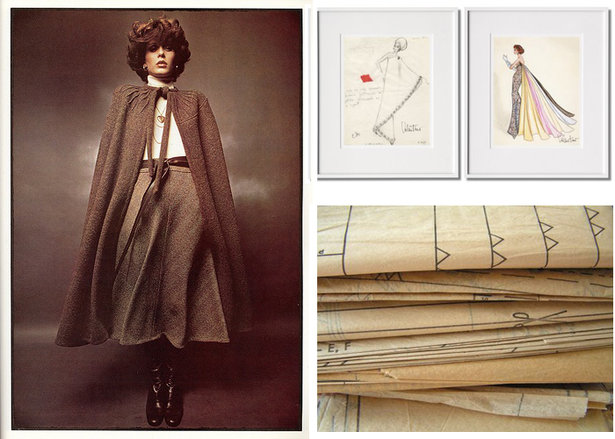 ShareThis
I was just looking at the popular blog Weekend Designer to see what had been posted lately and I was sad to see that the blog, after it's 100th post, has come to an end. I did, however, stumble upon some extremely valuable tips that I will strive to apply to my own life as a designer and I hope they can help you too. Below are Don from Weekend Designer's tips to turning your inspiration into productivity.

"If you're in a hurry or if the ideas come too fast, it's difficult to convert them into a design." Be Disciplined – Pattern-making can be hard work and takes concentration. A defined work-space and a preplanned
time frame are often helpful. Try to plan creative time every day, or whatever time is available to your lifestyle. Planning a time frame in a space where you can concentrate will help slow down your ideas so you can actually be productive with them.

"The more you know about sewing construction, the more you can expand on your pattern-making." Prepare — Take precise and accurate measurements. It does not matter whether amounts are in imperial or metric but be consistent with whichever you choose. The applied math is basic but if you cannot convert fractions then use a calculator as an aid. Get a long straight ruler (yardstick) to draw lines, a set square to make 90° and 45° angles, a French curve to draw curved lines and a tracing wheel. You are only as good as your tools you use. Get a good sewing reference book.

"Let your goals grow as you grow in your knowledge of pattern drafting." Set Goals — Perhaps your goal is to resolve a particular design challenge or to redesign a fashion detail and integrate it into your next design. Know that pattern drafting will eventually free you of "cookie-cutter" fashion and develop a personal made-to-measure style. One technique that I always use is to begin each project with a list of "what do I see". This will set up your thinking as to how to proceed with your pattern-making.

"Believe it or not, mistakes can be beneficial." Value Mistakes — Mistakes cause us to search for a different and often better way. They facilitate experimentation with new materials, techniques, or styles. Mistakes or challenges are an important part of the design process because they provide unique opportunities for creativity. Always make a toile or muslin fitting to test your pattern before cutting into your fashion fabric. Don't be disappointed if it does not 'turn out ' on the first attempt as planned; that is what toiles are for. These mock-ups allow you to modify the end result, correct the pattern, and work out the sewing/assembly process.

"Let it go; do something else. " Creative Block — When you have a creative block or cannot find a resolution to a design problem, there comes a time when it may be more productive to stop working on the pattern drafting. While you have consciously stopped thinking about the problem, your mind is still working on it. Sometime we get too close to see the answer; however when we step back there is room for clarity.

"Is this your hobby, your career, your creative release, your personal time for indulgence?" Enjoy the Process — Even if your concentration is on the end product, don't forget to have fun with the process of pattern drafting.

And for those of you who think the <a href= "http://wkdesigner.wordpress.com/2009/08/23/sunburst-cloak/&#8221;&gt; SUNBURST CLOAK pictured above is to-die-for, Weekend Designer takes you through, step by step, how to make the pattern! Sweet. Thank you Don!