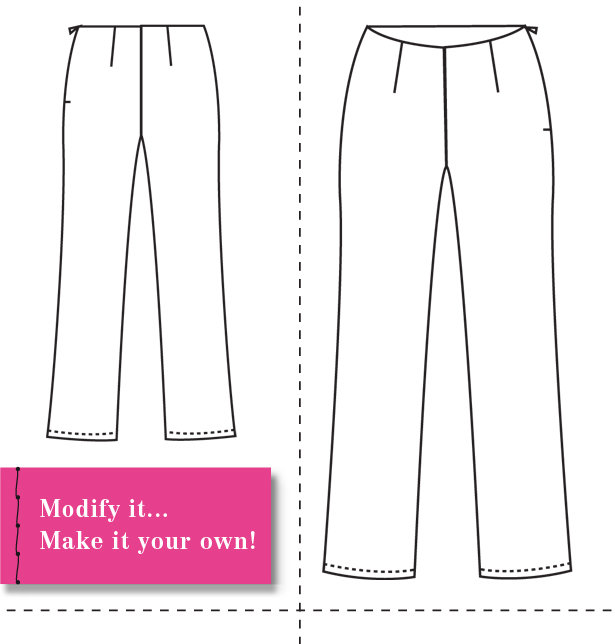 ShareThis
A little while ago we released our basic Bodice and Skirt Slopers, so now we want to further complete your sloper library with this Basic Pant Sloper. A sloper is a template and starting point for any fashion designer and sewer as it has no styling and just a perfect fit! New to pattern making? No problem, check out this post for great references in drafting your own patterns form basic slopers.
This Basic Pant Sloper is a great foundation to transform into any pant style! Add pockets, panels, pleats, whatever you want to make your ideal pair of pants or shorts. Add fullness to make them wide leg pants, or adjust the waistline to make then high-waisted there is no limit on what you can turn this sloper into as long as you have the skills and tools.
The basic pant sloper is available in sizes 34, 36, 38, 40, 42, 44
Don't have the basic bodice and skirt slopers yet? They are avaliable in sizes 36, 38, 40, 42, 44:
Bodice and Sleeve Sloper
Skirt Sloper
If you want to learn more about perfecting the fit of your sloper to your body measurements then be sure to check out our Pattern Grading Web Seminar where you will learn how to compare measurements on your body with those of the pattern and make the necessary alterations BEFORE sewing the first sample.
For very visual tutorials on pattern modifications check out the BurdaStyle Video streaming site, specifically these sections:
Working with Patterns
Pattern Making
These Web Seminars are also very extensive and provide excellent instruction when working with flat pattern making:
How to Modify Pattern Styles
How to Transfer Style Lines from your Fashion Sketch to your Pattern
For tips on designing patterns you can also check out this informative Fashion Principles: How to Design an Aesthetically Pleasing Garment.
Happy Sewing!