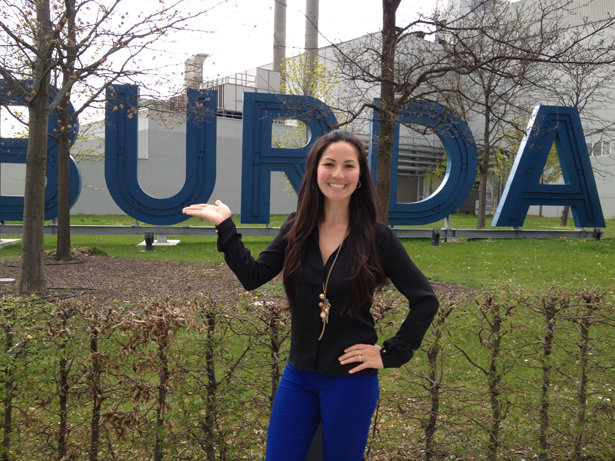 ShareThis
Hello Burda lovelies!
I'm so excited to be here with you! I'm BurdaStyle's new Content Director, so you might start to see me around quite a bit. I joined the Burda team mid-April (here's the announcement I made on LoveSewing.com). My job is to ensure you're getting more of the quality content you love in the ways you already know and trust plus in many new and exciting ways!
So who am I? I started my career as a magazine editor. I'm Canadian (big smile) and I've always loved sewing, and when I was working as a Beauty Editor for the largest fashion magazine in Canada, I started teaching sewing classes to friends in my one-bedroom apartment. Those classes grew into The Sewing Studio Toronto and The Sewing Studio New York (keep reading to get $25 off any of our sewing classes!), and I also launched LoveSewing.com, an online sewing portal with a focus on fashion and style. (Can you see how it's all coming together?!)
In addition to working with the incredible BurdaStyle.com team (can we have a "woop woop" for the über amazing Meg Healy??), I'm also working with the Burda team in Germany (do you know about the whole Burda history stemming back to 1848? I'll fill you in next week!) plus the incredible F+W Media family (again, I have so much to tell you!), all to bring you more of what you love: Sewing!
I'll be posting regularly here on BurdaStyle.com about Burda happenings, sewing news, business and marketing, the sewing industry, growing your passion, you name it. And I do the same on, LoveSewing.com, where we have daily articles about sewing and fashion. I've got lots to share with you about what we're working on at Burda, and over the next little while, you'll even see BurdaStyle and LoveSewing/The Sewing Studio team up on some pretty great things, one of which is happening this week. Our third Burda webinar (happening this Thursday — register here!) is hosted by The Sewing Studio New York's wonderful instructor Kimberli MacKay (of The MacKay Way). Be sure to join us to learn all about selling your DIY goods on marketplace sites like Etsy.
So stay tuned for more of what's happening. There's so much underway that I know you're going to love. In the meantime, be sure to keep in touch. I'm on Facebook and Twitter, and I want to hear what you love and what you're looking for. And come visit me at The Sewing Studio Toronto or The Sewing Studio New York! Say hi, or better yet, take a class! And because you're my new Burda friends, you're invited to take $25 off any sewing course using coupon codes LOVETO25 (Toronto) or LOVENY25 (New York).
Happy Sewing!