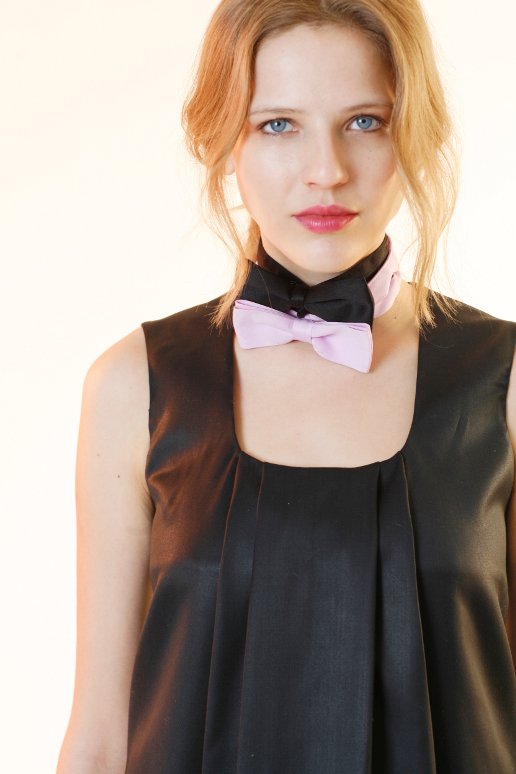 ShareThis
Welcome to the first sewalong of 2009!
As you may know, BurdaStyle aims to donate 150 bow ties to the American Cancer Society's Pink and Black Tie Gala. The bow ties will be auctioned off at the Gala, and the funds raised will help support the ACS in their life-saving work, including patient services, national research, education, and advocacy initiatives. Unfortunately, cancer is something effects all of us, either directly or indirectly. In the United States alone, cancer accounts for 1 in 4 deaths, and 1.5 million new cases will be diagnosed this year.
Help us help make a difference and join our Bow Tie Sew Along. Download the free David Bow Tie pattern and check out our many bow tie How To's. Using pink and/or black fabric, we'll all sew ours up, then send them in to donate to the good cause. The sew along will last two weeks starting from today, and Nikkishell will be answering any and all questions in the forums. While you're at it, sew one up for yourself… If you haven't noticed, bow ties are all over fashion right now, from the Gossip Girls to the tailored looks strutting down the runway.
There are a few points to remember while sewing for the American Cancer Society:

1 The ties must be pink or black or a combination of both.

2 We need to receive them by May 4th.

3 Send your bow tie to:BurdaStyle 325 Gold st Suite 201 Brooklyn, NY. 11201.

4 Include your personal story on a note card if you wish.

Head on over here to download your pattern which is FREE then check out the Sewalong thread in the forums. Let us know your plans, what combination of pink and black you will choose, whether you will make any alterations to the pattern and if you decide to make one for yourself, how do you plan to wear it.
We're looking forward to seeing your wonderful creations!!