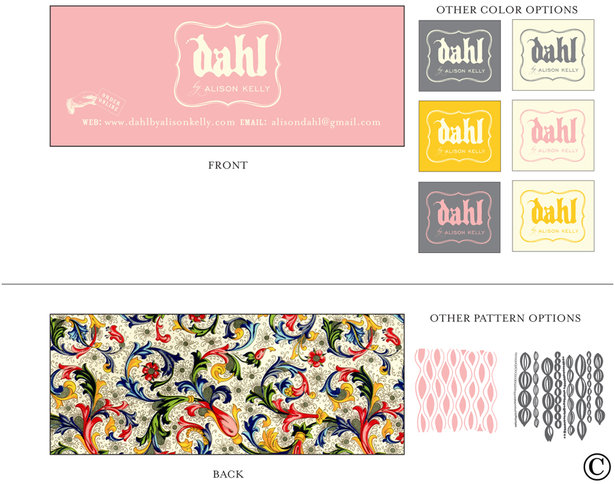 ShareThis
The winner of the EcoSalon and Dahl t-shirt giveaway has been announced and the lucky lady is Jennifer Miller. Does this happen to be a BurdaStyle member? Thanks to everyone who commented on the EcoSalon website, the traffic gave my friend, the EcoSalon fashion columnist Amy DuFault, many props from her editor!

My older sister Megan is working on my Christmas present: she's making me business cards, stickers & mailing labels for my company Dahl. She's an amazing graphic designer. I am to chose from the template above which color ways and pattern I like best and we'll then go back to the drawing board until we're both very excited. At first I thought it would be quirky & fun to use a fiore motif I fell in love with when I lived in Florence, Italy, but have since changed my mind once I saw her hand-drawn shapes (lower right). Which colors do you like best? Last year everything was strictly black & white and this year I want to add some pizazz. Importantly we are keeping the logo & font the same, but we had to change my address and showroom information. And soon- my sister is about to have a baby any minute!! Yay!!

On another note, GenArt has extended the deadline for the Plastics Makes It Possible design competition. Here's your chance to win $10,000!