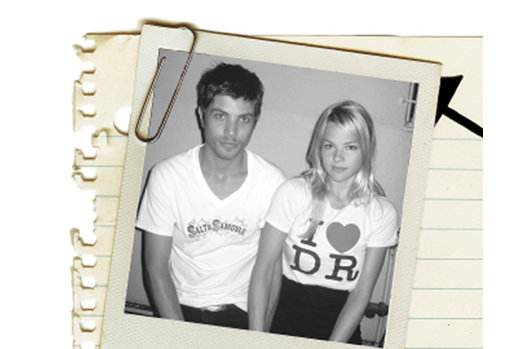 ShareThis
This week has been an exceptional one. I have been working on a collaborative project with my boyfriend called Dahl & Dane (named after us respectively). We want to do a series of limited edition projects focusing on certain art forms and the first one to launch this series is called: Dahl + Dane = True Love Always.
We are offering custom, screen printed "I heart_____" organic t-shirts & tote bags until Christmas 2008. We hand-screen each custom t-shirt in our loft (yes, we're crazy) with the initials of your secret crush or whomever/whatever you'd like to admit your love for.
Have you ever scribbled the name of your crush all over your notebook cover, or write your name plus his or hers along the sole of your sneaker? The inspiration for our website came from that:thereslifeinthislandyet.com/truelovealways
One day I was musing over the "I heart" phenomenon and thought wouldn't it be sweet to have a custom one…I think it's really nice to make people happy & spread the love. We designed & built this website ourselves over the past few weeks. We wanted it to look a bit naive with drawings and notebook paper ripped & torn. We use an interface called Squarespace.com and I would recommend it to someone who wants to build their own website and has a lot of time to troubleshoot. We have actually transformed the template they offer and went to it and entered a lot of HTML ourselves to make it look authentic (gosh what a headache!), but they do have templates you could use as a sewing blog or a place to upload photos of creations…
Monday was the official launch date for our website & we were featured on dailycandy.com
We had 37,000 hits on the first day! And the orders are pouring in…I'd better get back to work!