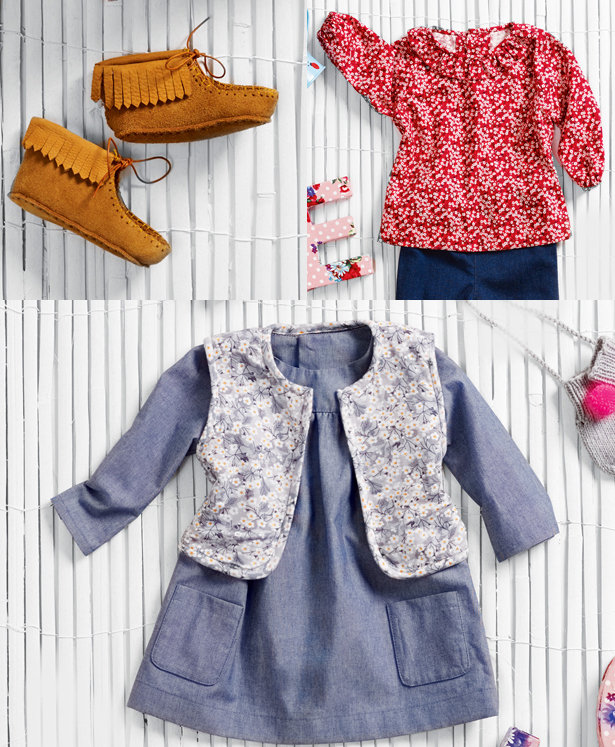 ShareThis
This week's collection is just for little ones. Make a sweet wardrobe complete with ruffled top, denim pants, a quilted coat— even moccasins! This collection is from the September 2013 issue of Burda Style magazine.
Everyone needs a good pair of jeans, and that includes babies! These Denim Baby Pants look sweet with a bowtie, preppy polo, or simple tee. Make sure your baby has all-American style in these comfy pants with an elastic waistband.
America's original footwear looks so sweet on tiny feet. These suede Moccasins are as comfortable as they are stylish, and the soft style is perfect for toddlers. This project would make a great gift for any stylish new parent.
Top off your baby's outfit with the toasty warm Quilted Baby Coat. With only two buttons, its easy to get on, and has a hood for extra warmth. Practice your quilting skills and have fun with a coordinating print for the lining!
Carry a change of clothes, favorite books, or packed lunch in the Soft Satchel. This bag is a great project for using fabric scraps, and makes a great back-to-school bag for little ones.
Easy outfits like this Criss Cross Onesie staple of everyday baby wardrobes. Make this basic unisex style in a variety of fun prints. The criss cross neckline is cute, and snaps at the legs make changing easy. Dress it up with decorative buttons.
Make a Baby Dress that works for all seasons. Patch pockets and a gathered yoke give doll up this basic dress. Pair it with brightly colored tights and moccasins for an adorable fall look. You could even make the pockets in a contrasting print for a folky patchwork feel!
Slip the Baby Vest over any outfit for a little extra cuteness. Make them in different patterns to pair with casual outfits. The open style is easy to slip on and off for quick changing.
Going on a long car ride, or spending an afternoon out? Bring the Baby Sleeping Bag to keep your little one snug as a bug. This padded cozy would also work for plane rides or camping. Be adventurous!
Make your baby's everyday outfit a little more fun with the Baby's Ruffle Top. This shirt buttons up the back for easy changing, and the ruffled neck looks adorable without being fussy. Pair it with leggings or a skirt for a cute and casual look.
Kids of all ages will love this Rag Doll. The soft body is especially nice for babies, and is safe for little hands and toddlers. This is a great stash-busting project, and looks great in patchwork colors.
Make these projects for your own cutie pie, or whip up adorable gifts for your favorite parents-to-be. These designs are timeless, so have fun with prints and colors. We love the folk style of the moccasins and rag doll. What's your favorite?
Happy sewing!