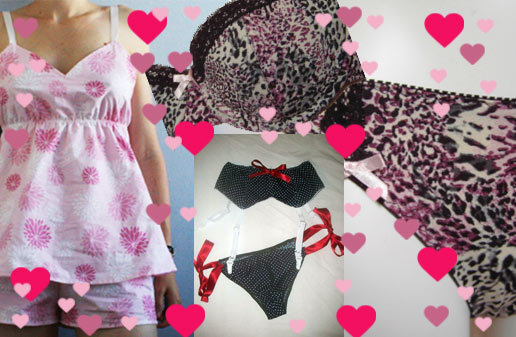 ShareThis
Have you ever thought about sewing your own bras? With Valentine's Day fast approaching, it would certainly be a crafty and unique way to celebrate! I recently sewed my very first bra and I think I'm hooked! It was a lot more straightforward than I thought it would be, and I can't wait to sew more in lots of fancy fabrics and trims!
Or if starting from scratch sounds a bit too intimidating for you, you could always customize one you've already got with fancy trims, fringes, and tassels (ooh la la!). Haberdashery shops have a huge range of fancy trims these days, and you won't need very much to decorate a bra so you can really splurge on the expensive stuff. Just watch out for any under wires or metal fastenings when you're attaching the trim or you'll risk breaking a needle!
Another idea is to sew up some special lingerie in the form of Jane, Bambi, or EmilyKate's popular Cheeky Panties. Take a bit of fancy fabric and embroider your sweetheart's name somewhere special inside, and let Cupid do the rest…
And don't think the ladies have all the fun – Andre in some silky fabric could be the perfect way to impress, gentlemen!
Photos by reggiebaby, floatingworld, and queenb