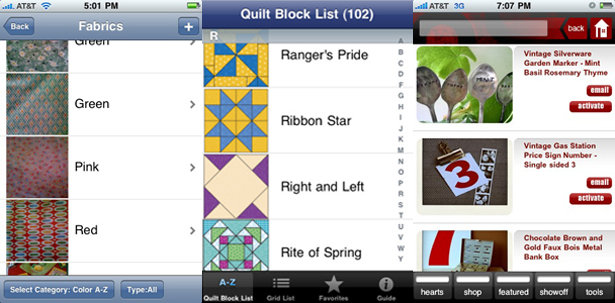 ShareThis
With the new iPod pre-sales starting last week, it got me wondering what sorts of crafty apps are available for the new phone:
Want to know the fabric lurking in your stash? The Fabric Stash inventory\organizer will keep all your goodies right at your fingertips. Not only is it a great way to see what you have on hand, but you'll always have a fabric swatch available while your out shopping.
Quilters will love the Quick and Easy Quilt Block Tool. This application allows you to construct blocks to make your one-of-a kind dream quilt – plus piecing instructions, yardage, and cutting information is included!
Have an Etsy shop? Now you can manage your shop right from your phone – update your store information and keep up with your feedback.
Spend a lot of time on the go and are looking for a new, 'portable' craft to take with you? Why not learn to knit? This video application will teach you the basic stitches needed to put those needles to good use! Of course after you learn the basics, you'll want to download 1-2-3 Knit. This program will help you keep track of how many rows you've knitted or purled – although it's handy for cross-stitchers and crocheters too!
Have a favorite app not listed here? Be sure to share it with everyone here!