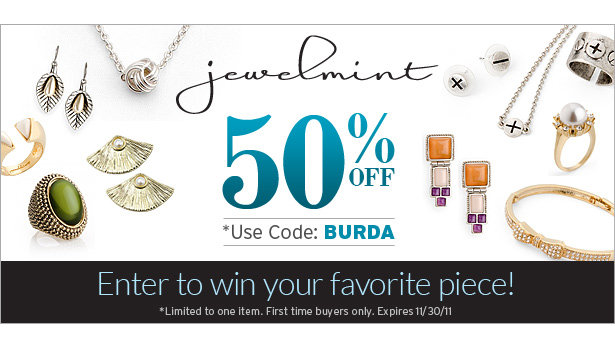 ShareThis
Attention all jewelry lovers: JewelMint is a great club that offers you personalized, affordable jewelry picks straight to your inbox each month. Designed by actress Kate Bosworth and Hollywood stylist Cher Coulter, JewelMint is like having your own personal shopper on hand. Membership is free and each month you will receive personalized jewelry picks based on your style and aesthetic profile. Whether you're trendy or timeless, JewelMint has something to suit just about every taste and at just $29.99 for each piece you can experiment with new looks, try a whole new style or find your perfect piece of jewelry without breaking the bank.
Even better – JewelMint is now offering BurdaStyle members the opportunity to comment to win a piece of their fantastic jewelry! Simply head over to JewelMint.com and sign up for a free membership, choose your favorite piece and leave a link to it in the comments below along with how you would style your new jewels.
Comments must be left by 9:30am EST on Wednesday, November 30th – we will choose 5 winners at random who will each score their piece of choice from JewelMint!
And don't forget now through November 30th, 2011 you can take advantage of JewelMint's sweet 50% off offer just for BurdaStyle members! Sign up for a free JewelMint membership and get half-off and free shipping on your first piece – just enter code BURDA at checkout.
Reminder: because JewelMint is a U.S. based company these promotions are only open to BurdaStyle members in the United States.